My top F2P MMORPG | Gaming Blog # 1

Hello steemians. Today I'm going to show you my top list of Free-To-Play MMORPGs. MMORPG (massively multiplayer online role-playing game) is any story-driven online video game in which a player, taking on the persona of a character in a virtual or fantasy world, interacts with a large number of other players.
There are many MMORPGs around the world that surely do get the attention of players, but these games did get my attention and a lot of time! So here's my list starting from top 5 down to top 1!
RAGNAROK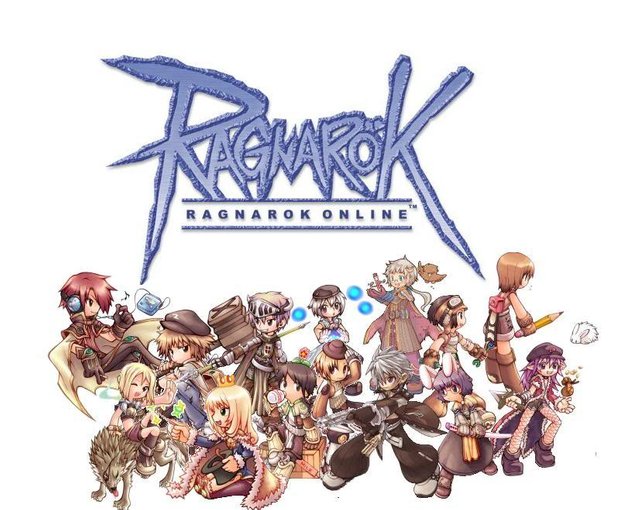 Image Source
| | |
| --- | --- |
| Developer | Gravity |
| Designer | Lee Myung-jin |
| Platform | PC |
Ragnarok online is a MMORPG created by Gravity based on the manhwa ragnarok by Lee Myung-jin. Player characters exist in a world with a player environment that gradually changes with the passage of time.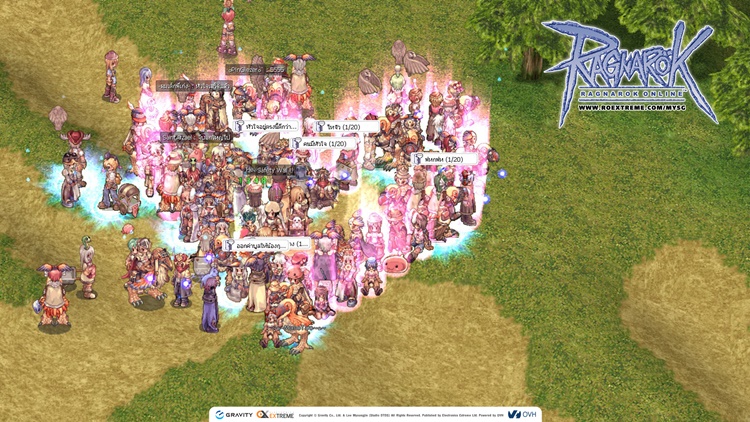 Image Source
The major types of server-supported game play are Player Vs. Environment, Guild Vs. Guild, Player Vs. Player. There are also wonderful adventures that is featured in this 3D environment. Ragnarok Online is divided into a series of maps on two major continents, each of which has its own terrain and native monsters, though many monsters are present in multiple regions.
The job system initially consisted of 13 classes, which has increased to over 50 via several updates. Each class specializes in certain skills corresponding to archetypes in a role-playing game.
In my personal experience, this game is fun and exciting, especially going to an adventure, to see new maps, new monsters and more. PvP system is good since you need to ask permission yet it ends quickly (Some can deliver 1 hit blow, some can't). Overall i rate this 7/10.
ELSWORD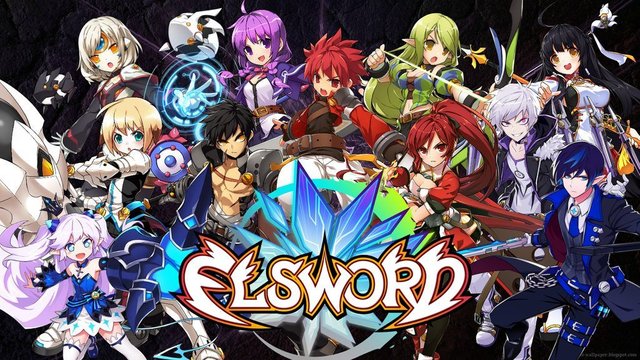 Image Source
| | |
| --- | --- |
| Developer | KOG Studios |
| Designer | KOG Studios |
| Platform | PC |
Elsword is a free-to-play, 2.5D action MMORPG developed by the South Korean company KOG Studios. It features real-time action gameplay and includes both player vs. environment and player vs. player modes. Elsword features skill-based action game play combined with role-playing elements and community features typical of an MMORPG, such as guilds, chat, and item trading.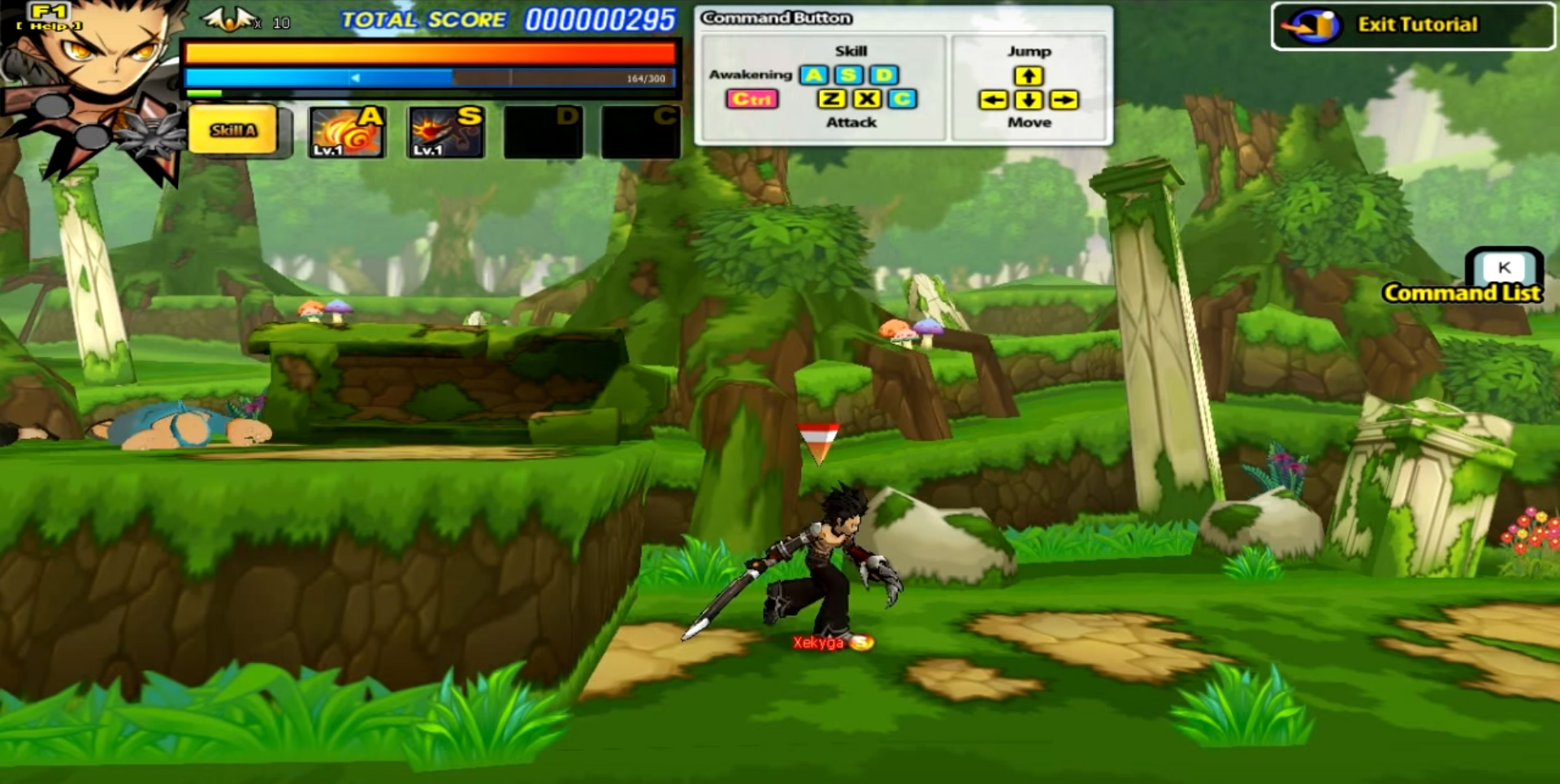 Image Source
With manga influenced visuals, it is a fun side-scrolling beat 'em up game that gives you the unique virtual experience of playing a moving comic book. There are twelve playable characters within the game, each with unique backstories and distinct abilities.While playing the game is free, some items and costumes can be purchased through an in-game "Item Mall" using real currency.
In my personal experience, this game is very challenging and doesn't need money in order to win. It is just about how you play the game, how you strategies your moves and more. The PvP system is very complicated, because sometimes your enemy has higher skill base than you. But overall i give it a 7.8/10
Guildswar 2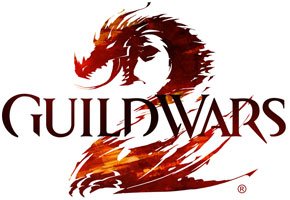 Image Source
| | |
| --- | --- |
| Developer | ArenaNet |
| Designer | Colin Johanson, Eric Flannum |
| Platform | PC |
Guild Wars 2 is a massively multiplayer online role-playing game developed by ArenaNet and published by NCSOFT. Set in the fantasy world of Tyria, the game follows the re-emergence of Destiny's Edge, a disbanded guild dedicated to fighting the Elder Dragons, a Lovecraftian species that has seized control of Tyria in the time since the original Guild Wars. The game takes place in a persistent world with a story that progresses in instanced environments.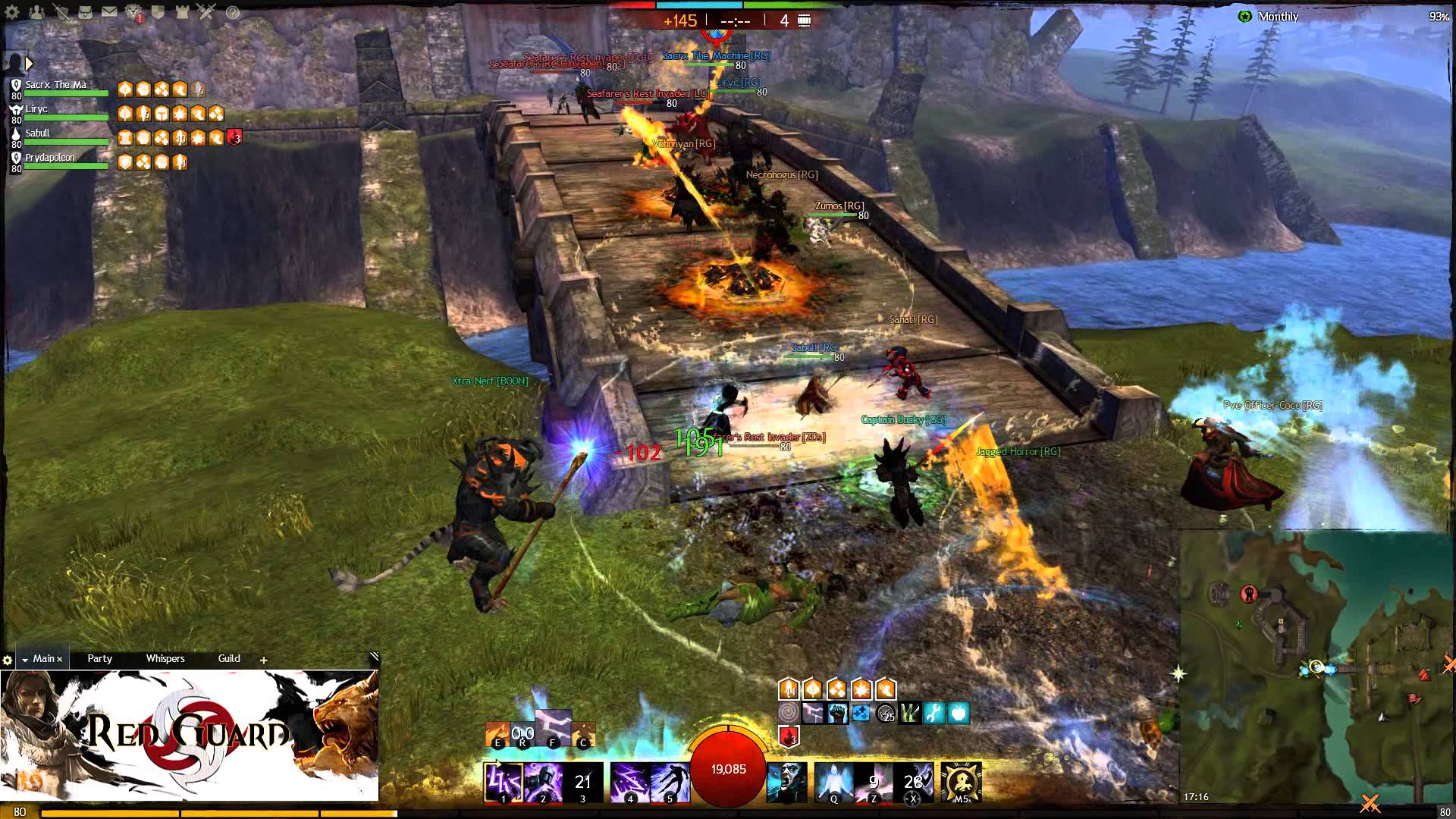 Guild Wars 2 claims to be unique in the genre by featuring a storyline that is responsive to player actions, something which is common in single player role-playing games but rarely seen in multiplayer ones. A dynamic event system replaces traditional questing, utilising the ripple effect to allow players to approach quests in different ways as part of a persistent world. Also of note is the combat system, which aims to be more dynamic than its predecessor by promoting synergy between professions and using the environment as a weapon, as well as reducing the complexity of the Magic-style skill system of the original game.
In my personal experience, this game is very exciting due to its big environment. It looks like a single player game due to its quest system that merely base on what the player decides. It has a good feature of adventure and combat system. It even have fishing! Overall i rate it 8.3/10
Maplestory

Image Source
| | |
| --- | --- |
| Developer | Wizet |
| Designer | N/A |
| Platform | PC |
Come on, who does not love this game? Many gamers know this game because of its cute yet awesome gaming style. Maple is a free-to-play 2D, side-scrolling MMORPG developed by Wizet. In the game, players travel the "Maple World" defeating monsters and developing their characters' skills and abilities as is typical in RPG.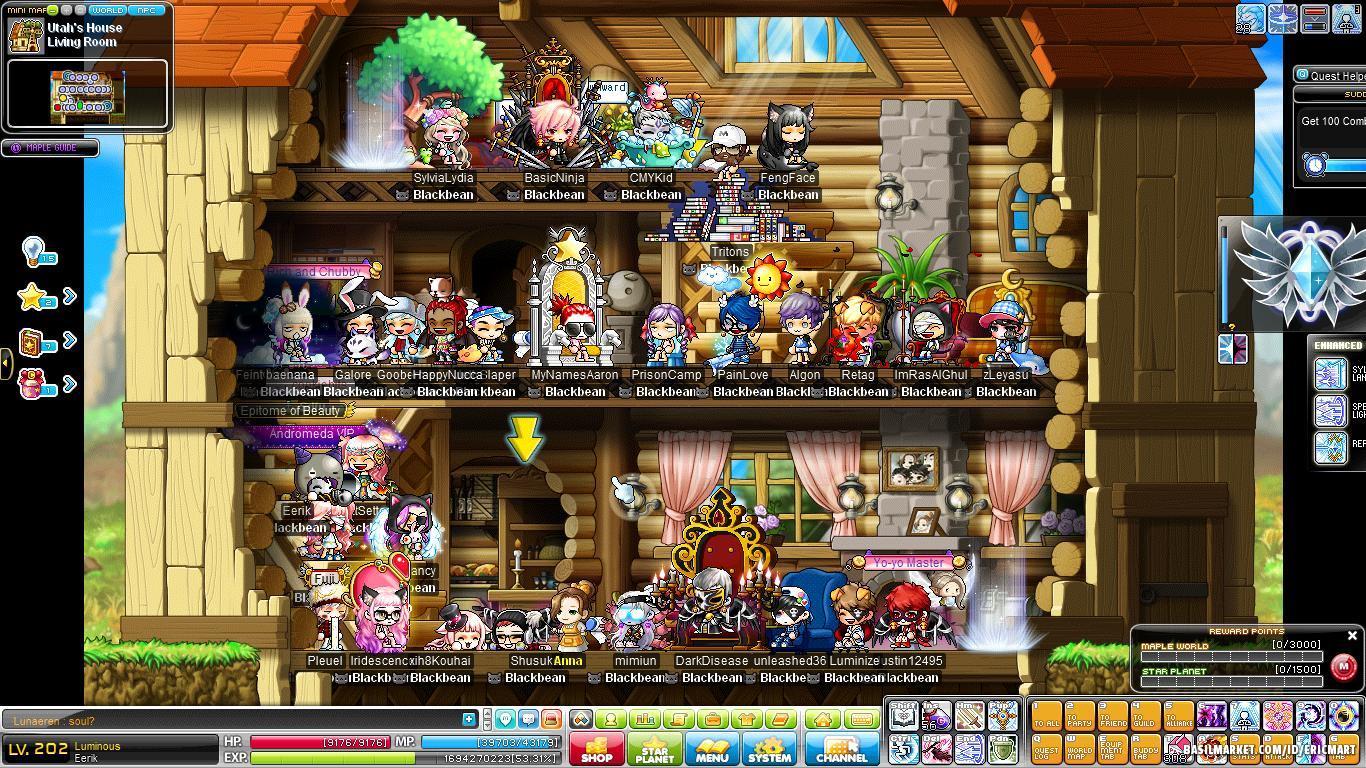 Image Source
Players assume the roles of citizens in the Maple World with no specific objective to win the game, but to work on improving their characters' skill and status over time. It basically more about adventures, gain friends, build up memories, and adventures again and again! It has a lot of good maps. It even has a very marvelous OSTs. Listening to the OST can be a nostalgic experience! Overall i rate it 9/10
RF ONLINE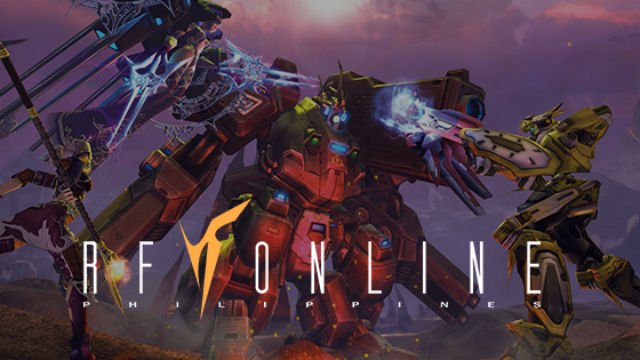 | | |
| --- | --- |
| Developer | CCR INC |
| Designer | CCR INC |
| Platform | PC |
A mixture of science fiction and classic fantasy, RF Online is set in a distant planet in the Novus system where magic exists alongside high technology. Like most MMORPGs it follows the typical fantasy setting complete with swords and sorcery, but it also emphasizes the three-way Race vs. Race vs. Race (RvRvR) concept and modern/futuristic technology such as mecha and nuclear weapons.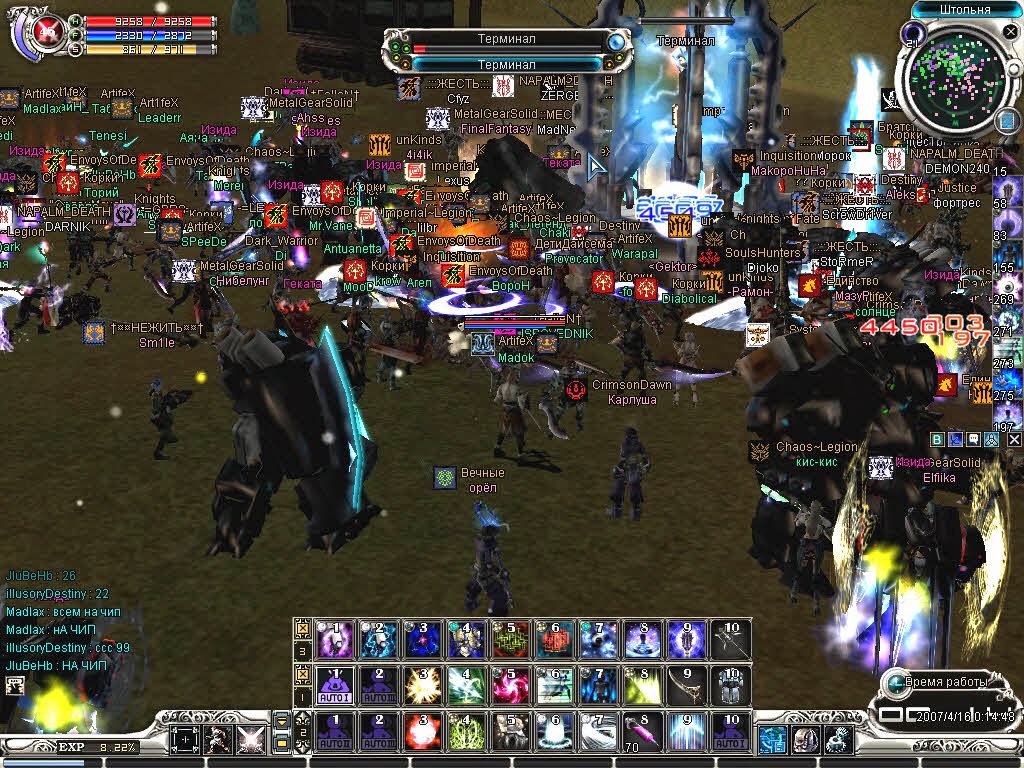 RF online is my favorite MMORPG of all time. Not only it has a good settings and story, but because of its unique game play. It has a combat system that features Race Vs. Race Vs. Race where you can be player killed without permission in game. The amount of challenge is getting higher upon leveling up. Players above level 35+ are invited to join the chip war, where all of the races attack another races' chip while also defending their own chip from another hostile race. It is a combination of a strategic game play and a good coordination WITH ALL THE PLAYERS in your race. Without teamwork, it would be a sure defeat. Overall i rate it 9.5/10.
What are your thoughts? What are your top favorite MMORPG list? Leave your comments so we can talk about it! Thank you for your time!