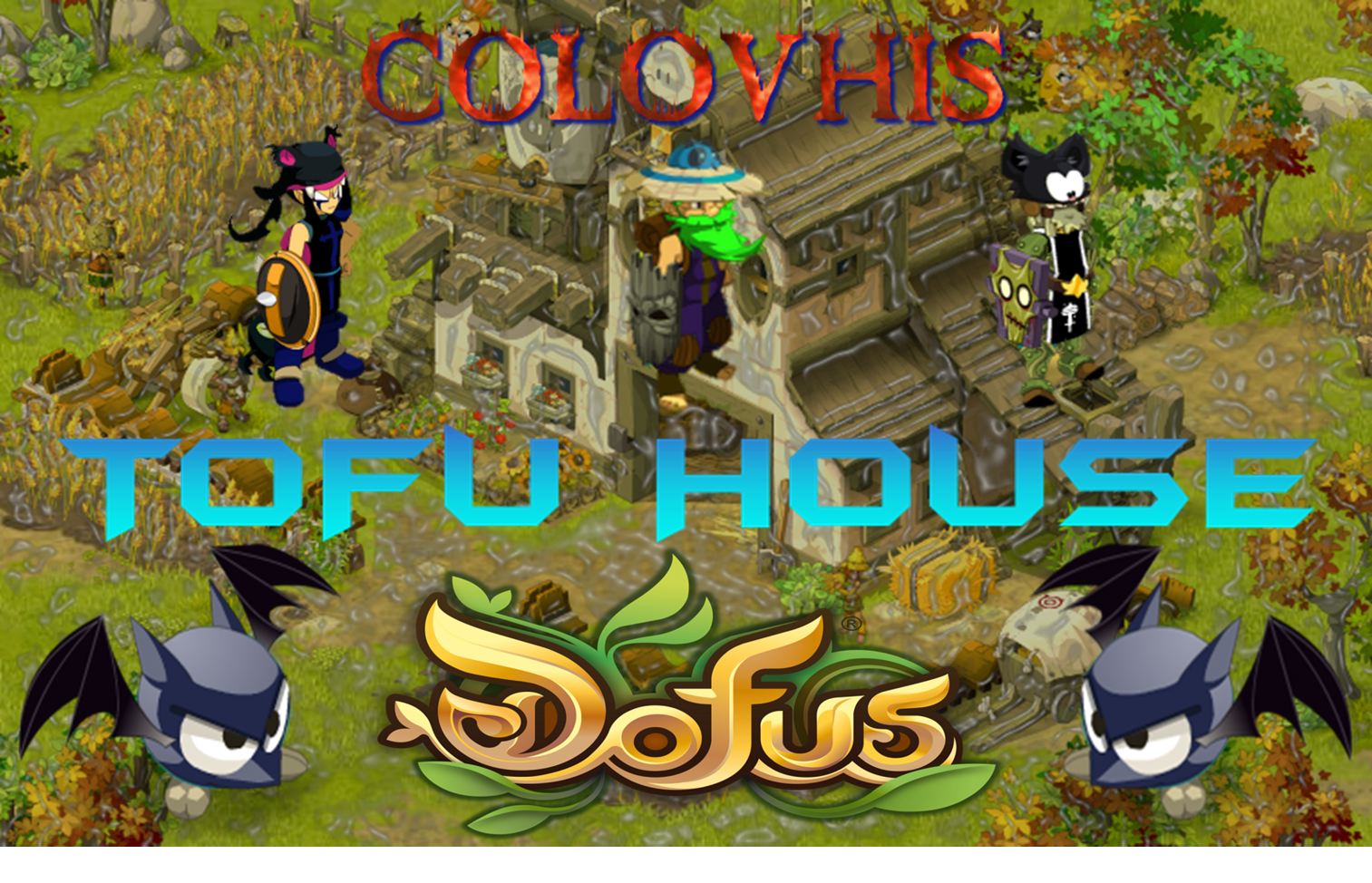 Anyone who has played Dofus should know that the Tofus are quite annoying creatures, I am almost certain that more than one has died on their hands. Tofu House is not such an important dungeon, in fact I consider it one of the least valued at present, since what is achieved there is not very valuable, besides the hassle of chasing Tofus all over the henhouse.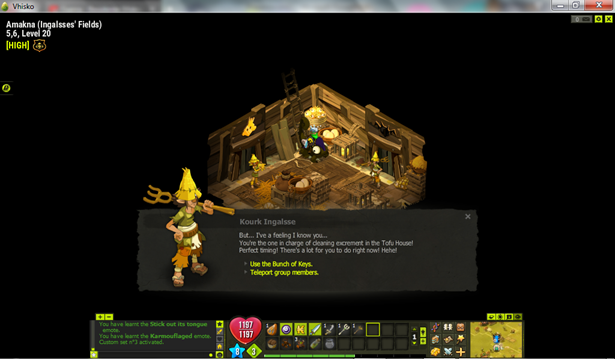 Previously if there were high value resources that were used to create popular armor, but those times ran out since the arrival of the Koliseo and the achievements, since players tend to level up at a much faster rate than previous times, This is what Ankama did as an strategy to bring new players, trying to make the game more fun and not so complicated to play.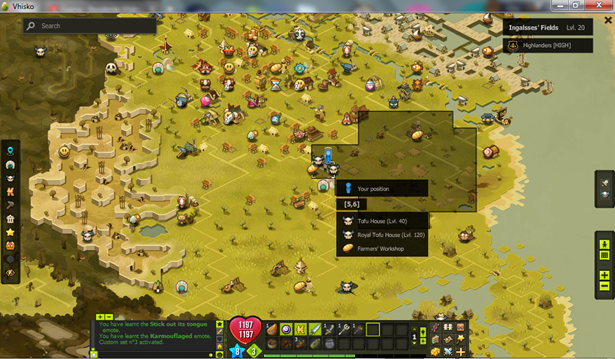 Tofu House is located in the Amakna fields, exactly in position [5,6]. To enter the dungeon we must enter the workshop of the peasants and go down to the basement, in that basement we will find two farmers willing to help us, one can take us to the Batofu dungeon, while the other would take us to King Tofu. In this case, we will talk to the farmer located on the right, you can identify the entrance with a Batofu painted on the top.
Monsters
Dofus in the attempt to make a video game quite unique and fun, has given the name of "Tofus" to what we know as "Chickens", that's why the Tofus are literally quite annoying. The curious thing about these creatures is that they are not only found in Amakna, the variety of Tofus that there is is very wide, besides that depending on the area where they are they can have different characteristics.
Tofurby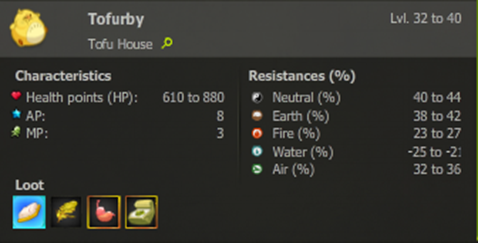 The Tofurby is a large and thick creature, turns out to be one of the largest Tofus in the dungeon, plus it can also invoke stuffed Tofus that work like bombs around us. This tofu is able to tolerate many hits, since its points of life are quite high, although it is generally afraid of water, with at least 25% weakness to that element.
Tofukaz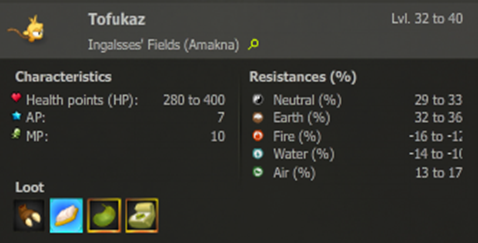 The Tofukaz is a very peculiar Tofu, since in addition to having the basic characteristics of a tofu, it has a skill that characterizes it, the ability allows it to become invisible during several game turns, unlike other creatures, it can remain invisible even in the attack. Probably this is one of the most tedious creatures of the dungeon, it is better to attack with fire or water to kill it before it becomes invisible.
Tofu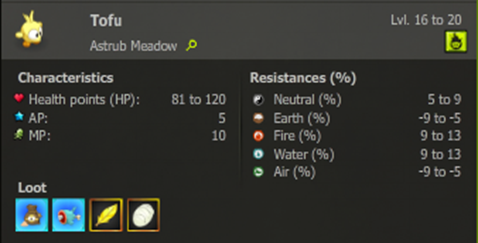 This creature represents what we know as a classic Tofu, being one of the most popular creatures of the game, no matter how many years they spend, they are as popular as the Gobball. Tofu has few life points and resistances, killing him is not so complicated if he is close to us, what is really tedious is to chase him, since he is dedicated to hitting us and escaping.
Tofoone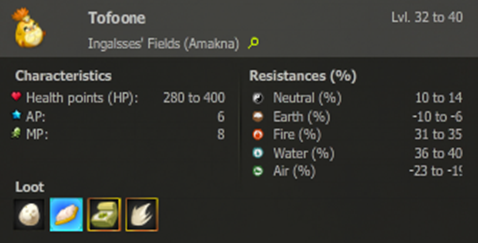 The Tofoone is basically a Tofu mom, more specifically a chicken. The creature functions as a support for the other Tofus, being able to give them key attributes such as action points and cure them, in addition to the strong damage that it also does when it hits us. I recommend killing him first if possible, since nobody will want to have support from the other side, it turns out that that would complicate things a lot.
Mutant Tofu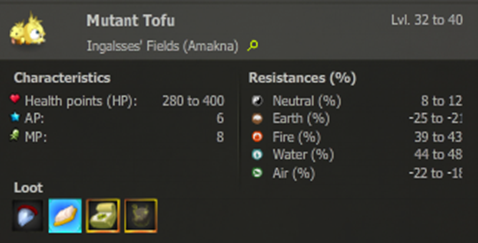 This curious creature of unpleasant appearance has been the result of years of experiments that scientists have done with the Tofus, it turns out that the creature inherits the basic characteristics of a common tofu, but unlike the others this one is quite clumsy, since the The only thing he does is go to his rivals and attack them, running is not a very important characteristic, although his damage is quite high.
Black Tofu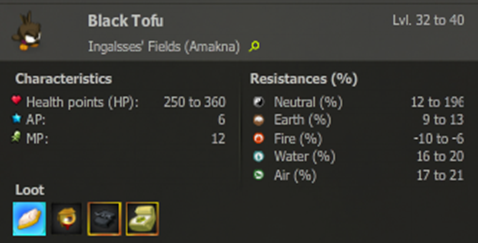 Black tofu has the same characteristics as a classic tofu, but it has improved a lot. The creature has many more points of life than a classic Tofu, in addition to that, unlike the other, is able to attack several opponents simultaneously, without the need to hit one by one, as the classic, the work is hit and run.
Batofu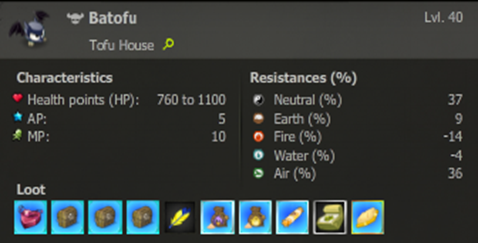 The Batofu is the boss of the dungeon, apparently this curious Tofu is extremely fanatical of Batman, it is enough to see the name and the appearance to realize it. Being the head of the dungeon, he has very high life points, in addition to inheriting many points of movement as the rest of his species. His job is to invoke other Tofus to help him in combat, but he literally does not depend on them, since the Batofu has extremely high damage, could kill anyone who underestimates it.
Achievements
Tofu House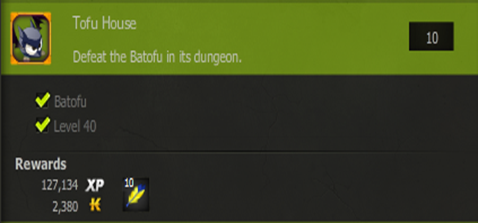 This achievement is to beat Batofu inside Tofu House, since his dungeon is his home, the most correct thing is that we defeated him there. If we are able to beat the Batofu inside his house beyond the many complications, we will be rewarded with 10 points of achievement.
Batofu (Statue)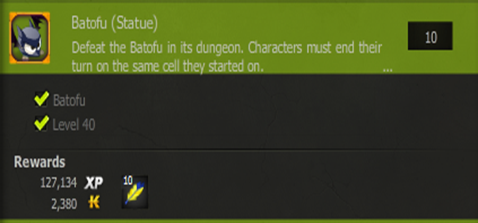 This is the most difficult achievement to achieve, since the achievement is to finish the game's spin just where we started it, that is, we can walk all the frames we want in our turn, but we must always return to the square where we started the game. It is quite annoying to chase Tofus and we have to return, since the creatures have too many movement points, if we manage to do it we will get 10 points of achievement.
Batofu (Versatile)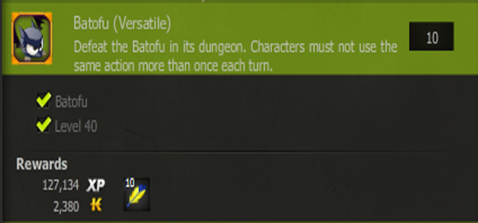 Only once is allowed to perform the same action per game turn, that is, if we only have one remote ability to kill the Batofu, we can not abuse that ability by using it several times in the same turn of the game. In that case, we must attack it only once per turn. When we complete the achievement we will get 10 achievement points.
Batofu (Duo)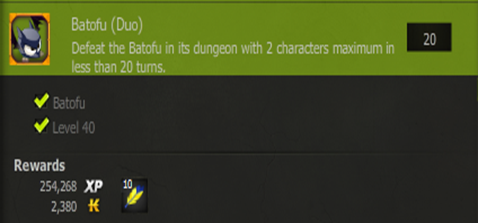 Obviously we already know that the Tofus are quite annoying creatures, so we can expect to have a great team of 8 people to defeat Batofu and his followers, but the truth is that this is not possible if we want to fulfill this achievement, since it simply consists in beating Batofu with a maximum of one partner, that is to say that we must defeat him as a couple. If we manage to beat the Batofu with only one partner, we will obtain 20 points of achievement.
Batofu (Score 70)
If we are people who like to save money, probably the same idols that we use in the Scaraleaf dungeon will also be useful for this, considering that both dungeons have something in common, which is the number of enemies and invocations in combat. If we achieve the proposed goal, we will obtain 10 points of achievement.
Batofu (Score 300)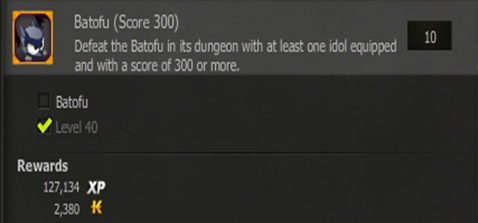 To reach the score 300 in this dungeon you must think twice, since the tofus are too annoying and versatile, according to my experiences, I recommend using idols of positioning and damage, since what we least want is to give more movement points, which really it would be a suicide. If we achieve the score of 300 we will get 10 points of achievement.
Rooms
R - 1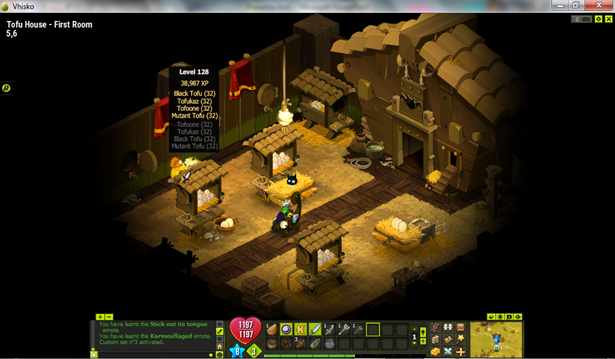 R - 2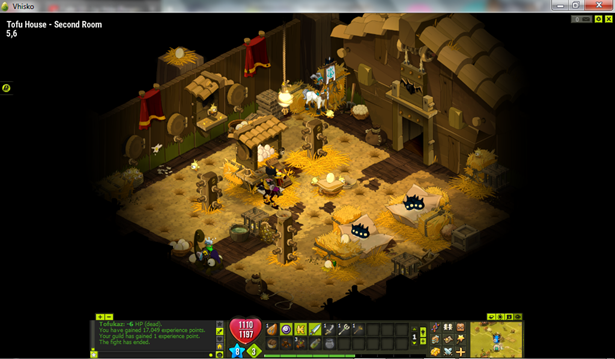 R - 3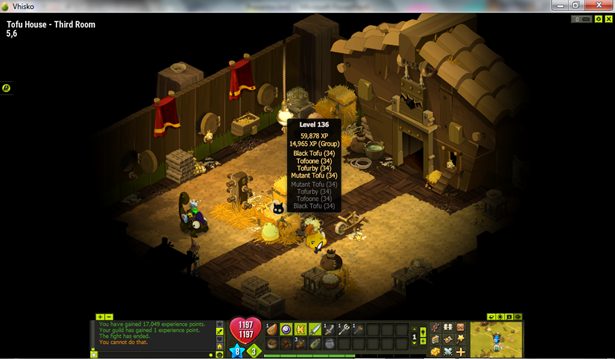 R - 4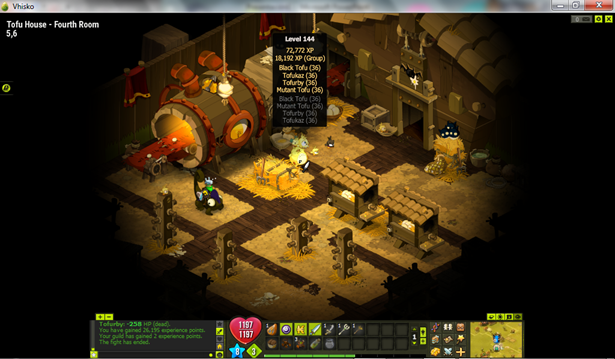 R - 5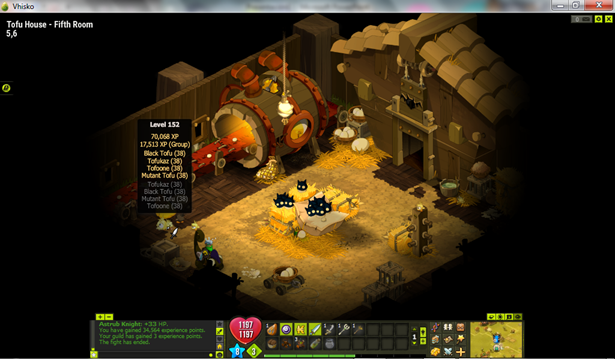 R - 6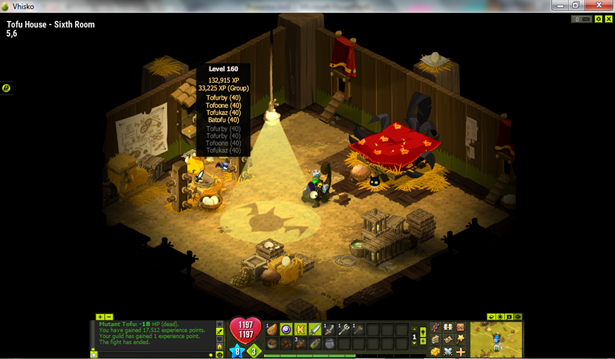 Exit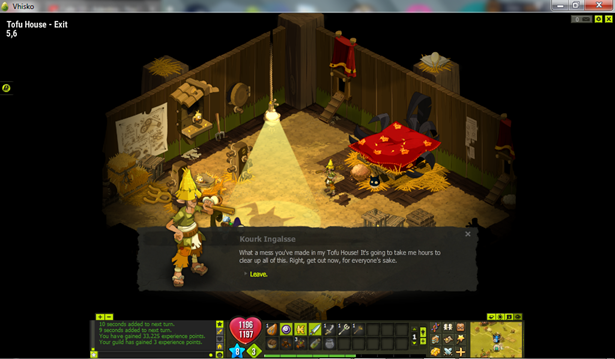 Conclusion
Any player who wants to change the mechanics of the game a bit and knows that the limitations do not exist, should go to Tofu House, because in it we will find something very different from what we are used to seeing, besides that surely make us think a lot about How to solve the possible problems that arise, the achievement statue will probably be the biggest headache.
To beat the Batofu, I recommend going with characters that attack from a distance or have a good position, since taking into account that the Tofus have many movement points, attacking in short distances would be to die in the attempt, it is better to take someone to support or attack from afar and take care of your back.
If our goal is to go to pass dungeons to get money, I really do not recommend reaching this dungeon, because the resources that are here are extremely cheap and easy to obtain, it is probably better to invest the time in level up some operation that generates more money, or we could go to another dungeon with more expensive resources.