Hello everyone and welcome to the Axie Infinity Breeding Session #7: "Fuzzy Hot Butt Tank" !
This one is pretty straight forward -> I just want a tank with Hot Butt that I need to be competitive in tournament. I also want it to be fuzzy but just because it looks cool :p
-------------------
Let's start the explanations!
For this breed I selected 2 fuzzy axies with a good probability to get hot butt and other tank part.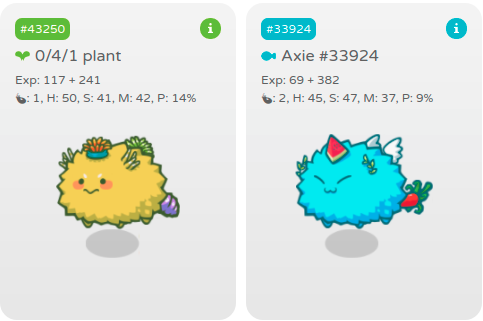 Let's have a look at their genes: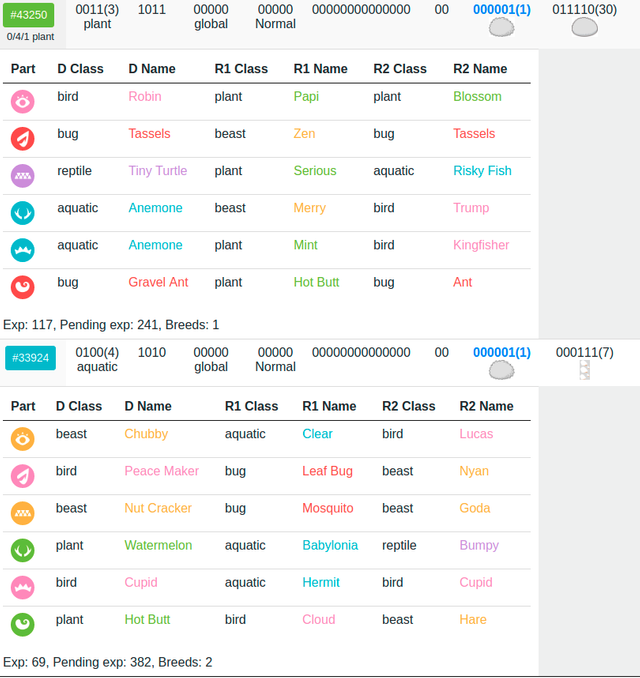 As you can see above:
-Both are fuzzy and one of them has curly in R1.
-There is a fair chance to get hotbutt.
-There is some good tank parts either in D or R1 for mouth(tiny turtle&serious), horn(watermelon,merry), back(hermit, anemone, mint).

Probabilities :
So what are the probability to get a fuzzy hot butt tank ?
-The probability to get a fuzzy is 75%
-The probability to get hotbutt is 46.875%
-The probability to get other good tank part I stated earlier is 46.9%(mouth) * 49.9%(horn) * 56.3%(back) = 12%
0.75 * 0.489 = 35% -> For the fuzzy hott butt
0.75 * 0.489 * 0.12= 4% -> For the fuzzy hott butt to be a good tank
Can I beat the odds ? Rendez-vous in 3 days to discover the result!

Thanks for following the serie!
Still 3 axies to giveaway, post your eth address in comment if you want one!
---
---
How to support me and Axie Infinity:
Follow my twitter page: https://twitter.com/AxieFrance
and the official one: https://twitter.com/AxieInfinity
Buy one of my axie: My shop
I'm also willing to sell them for steem to power up!
There is also a landsale going on here.
You can learn more about the landsale on my previous article: Start your kingdom in Axie Infinity today!
Join us sur Axie Infinity: https://axieinfinity.com/#
and on our Discord: https://discordapp.com/invite/68DeTqc
Also, I decided to write this serie in English so it's available for more people but if you're french and need advice/ tutorials to get started with Axie Infinity don't hesitate to contact me!