Going global with over one hundred games by the next year-end
https://steemit.com/gamexcoin/@gamexcoin/going-global-with-over-one-hundred-games-by-the-next-year-end
"Korea's gaming industry is well-recognized worldwide. Blockchain technology combined with games has a good potential to go abroad from Korea. It may start at the earliest toward the end of this year with which the target is to reach about 100 games by next year-end. China, Japan, Southeast Asia are in the scope for core marketing."
Kai Kim is CEO and founder of a leading blockchain game project in Korea called Game X Coin (GXC), and he has shown confidence on gaming industry from the recent interview with Edaily on October 1st. Kai emphasized that "Games are most compatible when it comes to blockchain," and promised GXC will be ready to show its own Mainnet by the year-end with popular games to be ready for the global market. After graduating from Yonsei University with Computer Science major, Kai started his career at SK Hynix as a researcher. Kai left SK Hynix and started his own company Whooper (Payment solution provider), and he cooperated with NICE Information & Telecommunication to start a payment service application called Payat.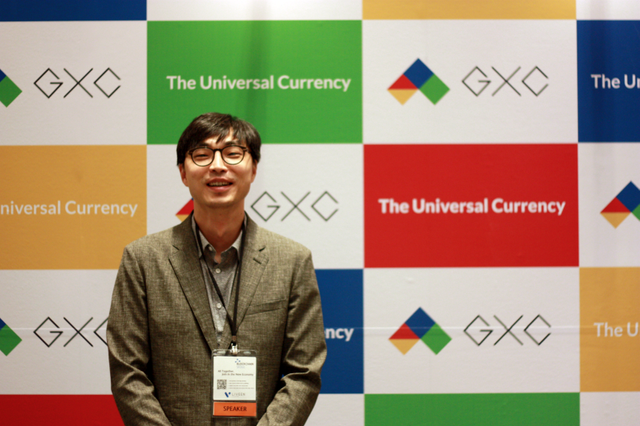 Q&A with Kai Kim
Is it true that core developers are known to be members of blockchain research group called Decipher from Seoul National University?
Including CTO, Jin Yang, three developers are Decipher members. I'm not a member of Decipher, but I have many years of experience in payment solution industry. There are 14 employees working at the moment. We have senior officers with over 15 years of game industry experience in Silicon Valley, and also one of them was a team leader at Netmarble.
What motivated you to join the game industry?
I trust the future of blockchain is promising and also games in general seem to be best compatible with blockchain technology. Even before blockchain technology surfaced, game monies were already available whereas the in-game economy has been around. For this reason, in-game economy will be transparent when blockchain technology is applied. Korea is strong especially in game industry, so it would be a good place to start off this business.
Any plans of going abroad?
As we become competitive in Korea, we will pursue going global. We are aiming to penetrate the market in China and Japan that already have established market, and we are also considering to enter Southeast Asia. There are many game users and many utility applications ready to be applied for countries in Southeast Asia. This region is a good market to enter for cryptocurreny as the value looks to be bigger considering the market situation. We first want to focus on these regions before going elsewhere.
There are already similar projects which combines blockchain and game. What makes GXC any different?
Compare to other game projects, our system is much more focused on cryptocurrency. This allows game items to be easily available in games which that benefits the users. Korean game market is top 4 in the world which means there are many talented developers with strong network. I believe GXC has a competitive edge for such market situation.
GXC doesn't develop its own brand games?
We don't want to risk of losing neutral position by meddling with the ecosystem, so we decided not to develop our own game. Any game developers are welcome to join this ecosystem. There's a mobile payment solutions company called Toss, and its growth is something that the local banks cannot achieve. I believe our situation is similar that we just specialize in making the ecosystem, not the game itself.
How do you make the Mainnet?
We used open-source of EOS to develop our own Mainnet and it will be ready toward the end of this year. Technology of EOS as a Mainnet is good, but the downside is that it is too expensive. It is too costly to use EOS platform for small and medium size game developers. Lowering the cost is our goal, so we developed on our own.
When will the game service launch?
After launching the Mainnet this year-end, we will be fixing bugs to stabilize the system. Once it is stable, we will start the service. Either this year or early next year, we are going to start the service with three games. By the next year-end, we should be ready with about 100 games. 20 to 30 games will be above average hit games that are already released, the rest will be new. One of the games currently under the negotiation to be remade is a popular game that has over 1 million users. It is difficult to just start with newly released games.
ICO was successful even in this bear market.
I received many advices that pre-sale should be postponed considering the market situation, but I had no other choice since the project needs additional funds in order to move forward next year.
Any plans of listing GXC coin on cryptocurrency exchanges?
It is currently under discussions with cryptocurrency exchanges. We are even considering of listing in multiple locations. We need to strategically choose which exchanges to list. It will be tough to be listed on the major exchanges. Finding a strategic partner that understands our project is the key, and of course listing cost will be considered. For going global, we are meeting the ones in Southeast Asia as well. Liquidity is important, so we are first aiming for widely recognized exchanges.
Any difficulties along the way of your business?
It's not the game industry that is difficult to persuade game developers to partner with, it's the blockchain, because it is new to everyone. Decentralization and transparency are too heavily regarded by some people, and this time-to-time raised certain contradictions to game industry. To resolve these issues, I've been meeting with game developers for the past three months.
Source: EDAILY (http://www.edaily.co.kr/news/read?newsId=01348086619368984&mediaCodeNo=257&OutLnkChk=Y)