How 'Pokémon GO' Can Lure More Customers To Your Local Business
 Seemingly everyone is playing Pokémon GO. If you're not already playing it yourself, you've no doubt heard about it. It's not an exaggeration to say that the new mobile and augmented reality game from Niantic Labs and The Pokémon Company is having an enormous impact on people's daily routines. We as a species of obsessed Pokémon Trainers are trying to be the very best, like no one ever was. And that means 2 a.m. trips to our local PokéStops, unusually long walks with our canine friends and a co-pilot double-fisting smartphones while you're driving to dinner (please don't drive and hunt Pokémon — get someone in the passenger seat).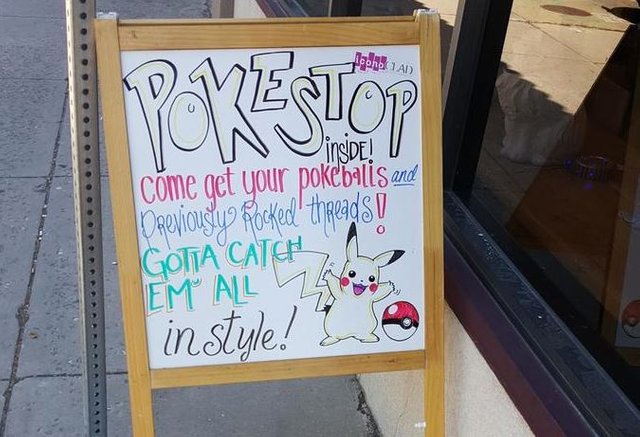 For those not yet in the know, Pokémon GO uses your phone's GPS and camera to turn the real world into a massive hunting ground for the iconic creatures, but it also transforms local landmarks and businesses into Pokémon Gyms (where trainers go to train their Pokémon and battle other teams) and PokéStops, which players can physically visit to stock up on free accessories and items like PokéBalls. 
 If you're a local business owner and haven't yet checked out this game, I'd highly recommend downloading it for free from the Google Play Store (where it is at #1 ahead of Snapchat and Facebook Messenger) or the Apple App Store – there's a good chance you could be one of these Gyms or PokéStops! If that's the case, prepare for the influx of foot traffic and potential customers. 
Don't Turn Them Away, Lure Them In! 
Though the image below has been photoshopped ("Restrooms" was replaced with "Pokémon"), it's not hard to imagine that many businesses might take a tone-deaf approach and turn the influx of Pokémon Trainers into a negative experience. That's a wholly unimaginative and forceful way to lure in a paying customer.
I've had several business owners asking how they can apply to become PokéStop or Pokémon Gym. Unfortunately, these locations are pre-determined by the developer, Niantic Labs. That being said, they have to recognize that there's a fantastic marketing and revenue opportunity here. I'm reaching out to them directly to ask about their plans in that regard.
UPDATE 2: Niantic Labs' PR firm has responded to my email requesting more information, explaining that the developer is so inundated with requests for comments, interviews, etc that a direct answer may not be immediately possible. However, they assured me they'll do their best to get us an answer to what is becoming quite the pressing question: Will local businesses have an opportunity to apply to become a Gym or PokéStop if they aren't already, and what other potential revenue streams is Niantic considering alone these lines?Niantic CEO John Hanke confirms sponsored locations coming to Pokémon GO.
We're getting warmer. You can submit a request to have your location considered as a Pokemon GO Gym or Pokestop via this Niantic support page.