Greetings loyal followers.
My executive assistant Vera, whose presence makes every day feel like a vacation, has informed me that you people have been incessantly inquiring about my whereabouts.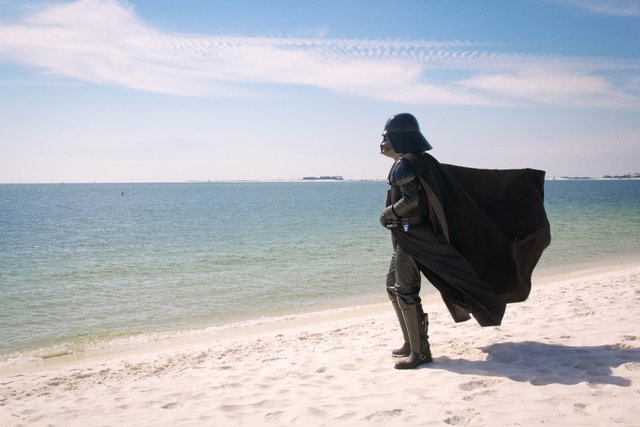 The views at The Vader Intergalactic Golf Club are so breathtaking (get it) that they remind me of how fantastic I am.
First of all, that is none of your freaking business. I'm Lord Vader. Whatever! I do what I want!
But as a favor to Vera, in order to get these morons to stop bothering her, I will let you know what I have been doing.
At this point in the non-linear timeline, I finally convinced my idiotic, putrid smelling, hideous boss to seal off the thermal exhaust port. I got sick of him telling me that the scumbag rebels were going to pay for this defensive structure so I finally raised the credits on my own. Seriously, what a freaking moron. Why would those dangerous rebel instigators pay for a structure that was going to keep them out? That makes absolutely no sense at all. But anyway, the Death Star was going to be under construction to install one of these...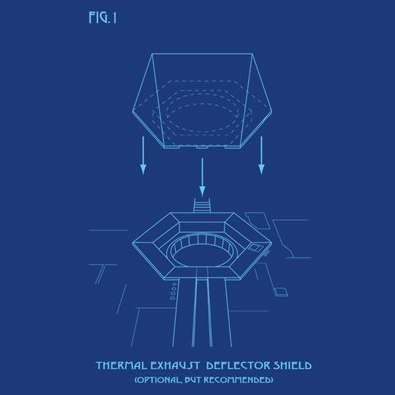 With the planned construction project scheduled to start, I decided to have the Empire send me on a working vacation to
The Vader Intergalactic Golf Club.


If you have never been there, let me tell you, it is simply terrific. It is amazing. You should all come and pay to visit it if you get a chance. You will have a tremendous time. I'm telling you, it is amazing.
Some of the Imperial Officers asked if they could take a vacation too. Ummmm no. They have really important jobs to do. What do they think? Do they think they can just take a vacation every weekend on the Empire's credits? That's preposterous. Next thing you know, they will want to take "vacations" to their own dwellings and charge the Empire rent. What tools! I needed a vacation just to prevent myself from Force choking every one of those losers.
But more about me.
Although I was clearly working on important Imperial issues nearly every second of every day, I did manage to work in a little bit of golf.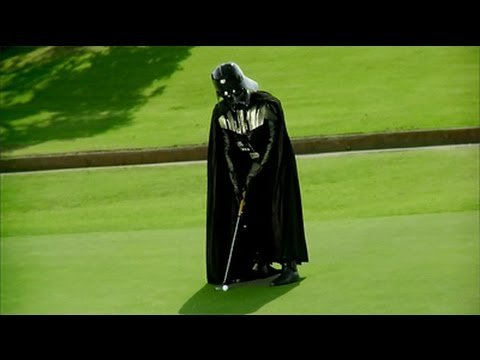 By "a bit" I mean that I shot 180 holes of golf every day.
Guess what my score was every day.
180
I was only golfing 16 hours a day. You would think these dipwads could wait to bother me. But noooooo! At least every other day, one of my disloyal underlings would bother me with some "really important crisis".
I mean I was already planning on having several meetings and engaging in many Empire related transmissions. What more did they want?
This was in addition to my daily intelligence briefings. Actually, this was probably my favorite part of each day. One of my underlings would approach me and say, "Would you like your intelligence briefing now?"
I would say, "Yes".
Then he would say, "You are still tremendously intelligent."
Just like that. Out of the blue. Someone would tell me, without any coaching at all, that I was super intelligent. I mean I am really smart. I mean my smartness is absolutely terrific. But for a paid underling to just come up and say that out of nowhere every day was really amazing.
When I wasn't golfing, I played a little tennis at the
The Vader Intergalactic Golf Club.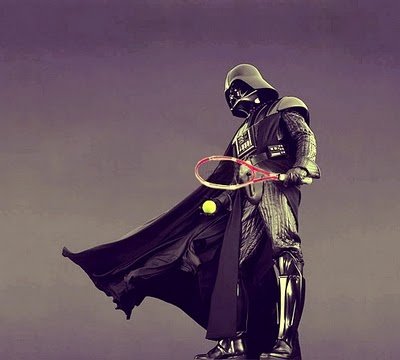 Of course I am absolutely amazing at tennis. I mean I serve the ball with fire, fury, and, frankly, power the likes of which this galaxy has never seen before. When my opponents face me, they better get their act together or they are going to be in trouble like few tennis opponents have ever been in trouble.
There were a few days when it rained at
The Vader Intergalactic Golf Club.

But rest assured, we have the finest in-room entertainment at
The Vader Intergalactic Golf Club.

One day I decided to kick back and enjoy a few entertaining transmissions. To be honest, I was hoping to find something like this...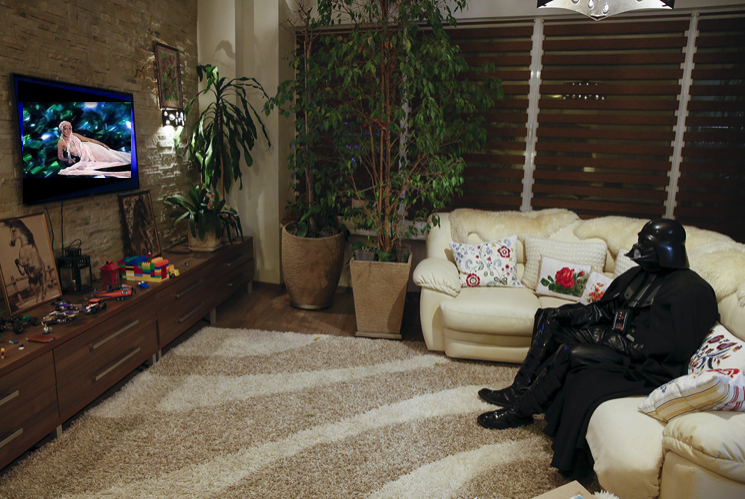 This is the only part of Life Day that I like.
But they kept on breaking into the show with "news" stories. It was some of the worst and most dishonest fake news broadcasts I have ever seen. There was not one mention of how much better the galaxy was under my leadership. There was nothing about how amazing our new indestructible battle station is. They did not even mention how much safer the Empire had become and that there was zero chance rebels could possibly exploit a weakness and hurt the Empire in any way. I bet if the battle station happened to be blown up by one small fighter, they would report on that!
It's disgusting. Those dishonest reporters are very bad people. Some of the absolute worst.
Instead of moping around about it, or incessantly sending short transmissions complaining and attacking those horrible reporters, I decided to go and make the day of some of the guests at
The Vader Intergalactic Golf Club.

It turns out that many people came to get married at the
The Vader Intergalactic Golf Club

during the two and one half weeks I was there. It was almost as if someone had told couples that if they paid to get married there, I might show up and take a picture with them. It was amazing!
People love me. I mean they really love me. They show up in huge crowds and are constantly saying, "Lord Vader, we love you." It happens everywhere I go. People can't help it. So I decided I would make their lives 1 million times better by inserting myself into the happiest day of their lives. What could make the best day of your life even better?
Me!
Here are some of the happy couples whose day I made even better.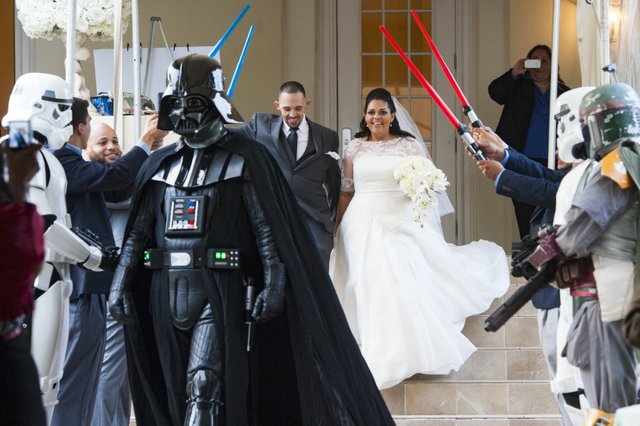 Some people said it might be in bad taste for me to go first and to upstage the bride and groom. But those people are weak and stupid so I killed them.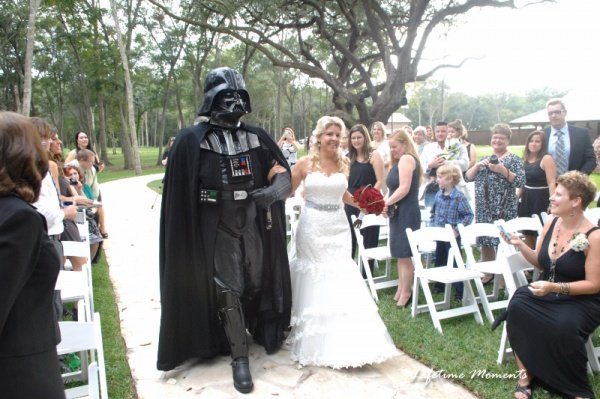 I liked this bride a lot. I could tell she really wanted me more than her groom (all women do... they can't help themselves) so I stepped in for him. Not sure what happened to him. But if you think you see something hanging from that tree back there, you don't. You see nothing. This is not the groom you are looking for.
I'm not sure why this guy wanted to marry a Wookie, but that is not my call. As long as their offspring doesn't think it can be a citizen of the Empire, I'm totally fine with it. Actually, I don't think the Wookie should be a citizen either. But it's fine. And what is wrong with that guy? He's trying to marry a Wookie? He shouldn't be a citizen either. But I'm fine with it. I made their day better. Then I kicked them out of the club (after getting their credits).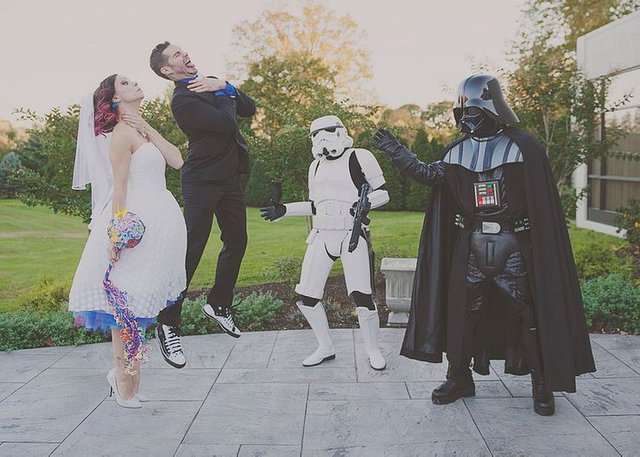 This couple was clearly delirious. They said a picture with the most evil being in the galaxy would ruin their special day. Morons.
Although I truly enjoyed my stay at
The Vader Intergalactic Golf Club

and I got a tremendous amount of work done while I was at
The Vader Intergalactic Golf Club

(far more work than any other Sith Lord has ever completed on any vacation ever in the history of time)
I am looking forward to returning to The Death Star so I can continue to make the Empire great again.
But because
The Vader Intergalactic Golf Club

is so fantastic and amazing, I can hardly wait until I return in five long days.
If you would like to stay at
The Vader Intergalactic Golf Club

please contact Vera. But don't expect the Empire to pick up the tab. They only do that for me.
Images
What a fantastic view... of me.
Cover me!
Address the ball
40-Love
It's none of your business where my left hand is.
Here comes the bride... who cares? It's Lord Vader!
Everybody wants me
Give me your credits. Now get out.
No?