Howdy folks and greetings from the Great Plains of North Texas!
My internet connection is blinky today so I'm throwing together a fast post so I know I'll have it for later in case we go offline..which happens from time to time. Small price to pay for living out in the country though!
These are just a few memes that I've collected from facebook this year, they struck me as funny but I've been told I have a strange sense of humor so maybe they aren't funny. Let me know.
lol!
The wisdom of a child!


I don't know if this really happened, I think it did and if so, it's a classic move!

This one here..well, it's so silly I can't believe I think it's funny, let me know if you do too!

Now this one is about Mrs. J. She's intensely private and I'm not supposed to talk about her job because it involves legal and privacy matters etc.
But you might get an idea of what she does by looking at this meme. This is such an accurate image of her situation!
She's an unstoppable force of love and joy!

And lastly, this one is dedicated to the brilliant, kind, generous and gracious
@melinda010100
. We were talking about this very topic this morning because we're the same age:
Lol..life ain't fair!

I hope these gave you a few laughs to start the week with!
Thanks for reading folks, God bless you all!
-jonboy
Texas
PS- Everyday I've been posting a photo which supposedly represents each state, this is from a ridiculous but fun article I found on www.livingmgz.com.
Today's state is the great state of Iowa! Their state motto is"Our Liberties We Prize and Our Rights We Will Maintain." I'm not sure if I know any Steemians from Iowa, give me a shout if you are!
Iowa is a great agricultural state, mostly known for corn, soy beans and hogs but they also raise large amounts of cattle and tons and tons of great vegetables.
So that means land. Lots and lots of open fields. With few towns in much of the state. So you need something to drink when you're driving for hours between towns.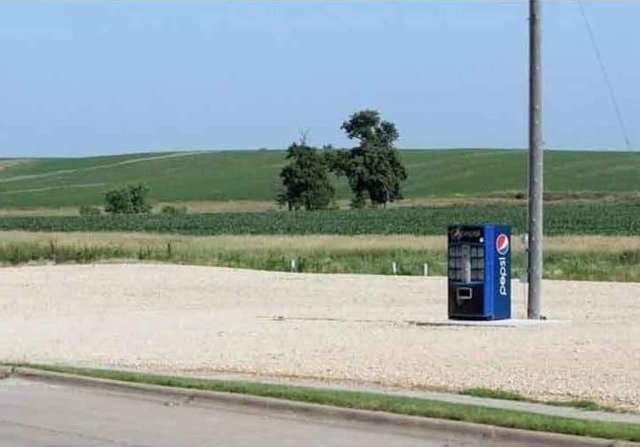 source
lol. When you see that you hope the delivery guy has been here in recent memory!