Laughing Your Ass Off Can Kill You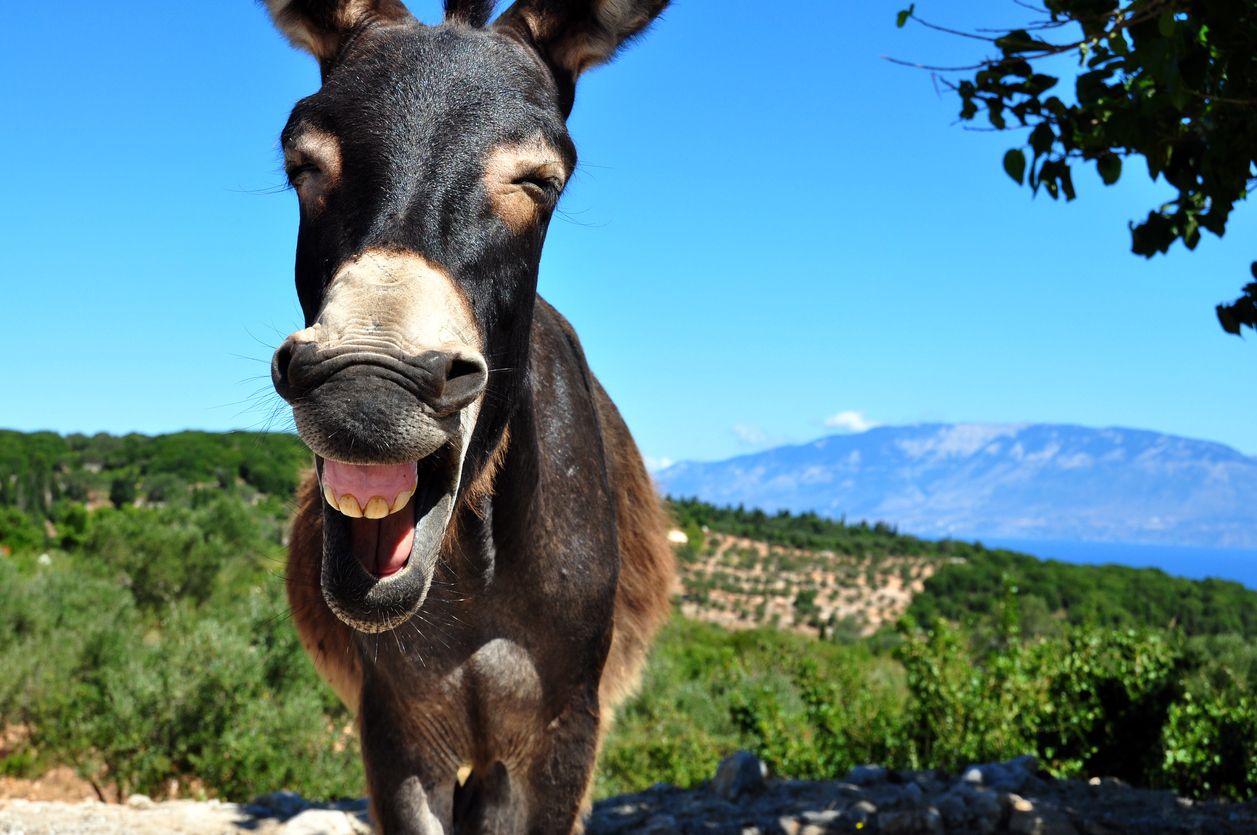 How would you like your gravestone to be etched with the words "Killed by a donkey"? Please don't laugh so hard. It may be hazardous to your health. Indeed, laughing can be deadly!
There is a rumor on the Internet that donkeys kill more people each year than die in airplane crashes. For those who care to look, there are news stories from around the world about people being mauled by donkeys or getting in car crashes trying to avoid hitting donkeys in the road. However, according to Snopes.com, there are no reliable statistics on donkey-caused deaths.
Next time you're being chased by a pack of wild asses, there's another way to die before they even reach you: laughing your ass off. Yes, you can die of laughter. Bitten by your own ass.
That's what may have happened to Chrysippus, an ancient Greek Stoic philosopher. There are two accounts of Chrysippus' death, which occurred during the 143rd Olympiad in Greece. He would have been 72 years old.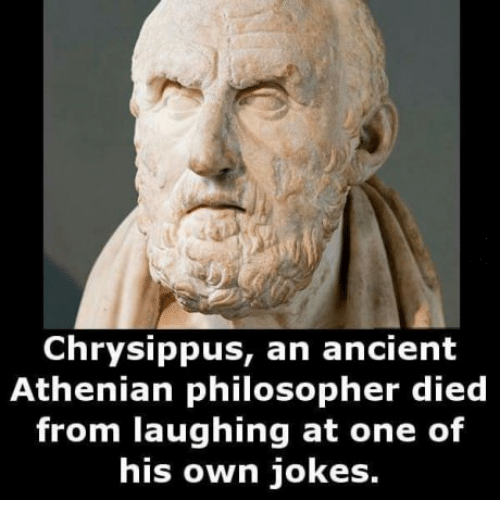 Chrysippus. Source: Commonly used meme image. Not sure who captioned it.
One account claims he drank some bad wine. The other also involved wine. According to the second version of his death (from biographer Diogenes Laertius), Chrysippus was watching a donkey that had found some figs. The donkey ate the figs, which Chrysippus found quite funny. He called out for his slave to give the donkey a drink of fine wine with the figs. And he laughed so hard he died. Not bad for a Stoic philosopher.
For someone to die of laughter, donkeys do not need to be involved. There are many other reports of this cause of death throughout history. People have died after hearing jokes, while watching comedy skits, or upon hearing something that made them laugh. Cleopatra's retainer, King Martin of Aragon, Pietro Aretino, Thomas Urquhart, William Cushing, and Ole Bentzen are a few of the people known to have died from laughing too hard.
Death by laughter is firmly engrained in our culture, being used as a plot device in stories, movies, and video games. Batman, Seinfeld, South Park, the Ice Age movies, Mary Poppins, Little Shop of Horrors, and the Sims series provide some examples of modern use of the theme. "I'm dying of laughter" is a popular saying when a person finds something very funny.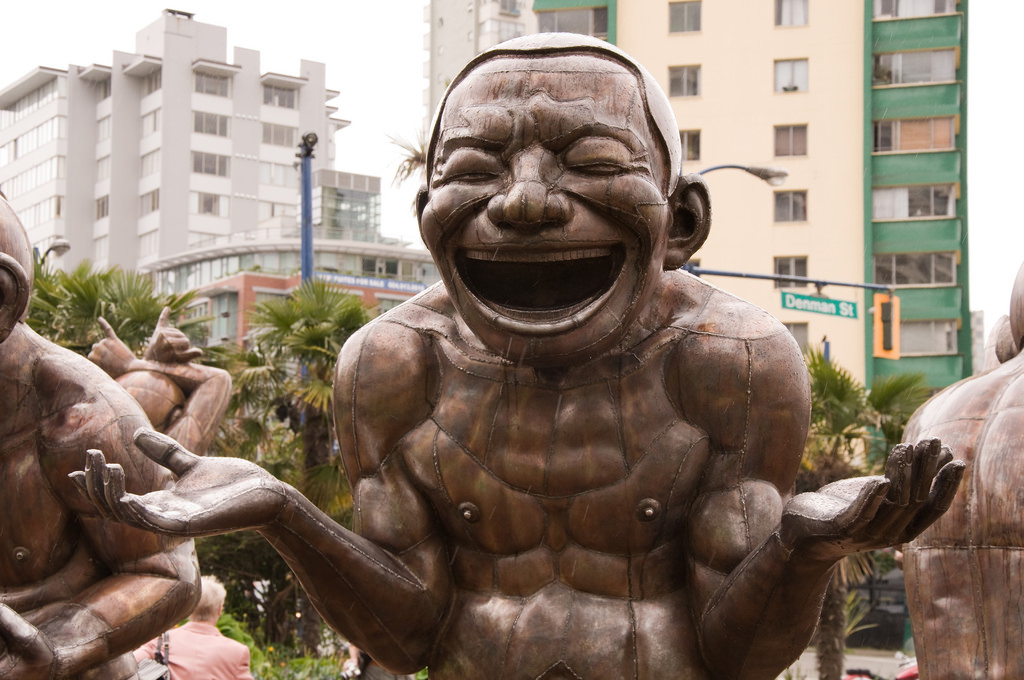 Laughing Statues, Vancouver. Creative Commons via Flickr by Matthew Grapengleser.
In the 1970's, as Kung Fu movies became increasingly popular, the TV show The Goodies created a phony martial art called Eckythump. The rules were similar to Kung Fu except that a person could fight with a black pudding (a type of sausage) and use it as a weapon. On one episode of the show, the Eckythump master, armed with a black pudding, fought with a Scottish bagpiper wearing a kilt.
Alex Mitchell, a fan of the show from Kings Lynn, England, found this so funny that it caused him to laugh for 25 minutes. He then keeled over on his sofa, dead. Instead of suing the TV show for causing his death, his widow sent the show's producers a 'thank you' letter instead. She said Mr. Mitchell's last few moments on earth were very happy ones.
Of course, it's not the laughing that kills a person, since laughter sometimes is said to be the best medicine. In a fit of intense laughter, a person can suffer a heart attack, stroke, or asphyxiation. One of those would be the technical reason that he or she kicked the bucket. The laughter merely precipitates it.
There are many ways to die. Maybe death from laughter is not the worst of them. To be sure, let's consider a few others first.
Sigurd the Mighty, a Norse earl from Orkney in the Ninth Century, died after being 'bitten' by a man he had beheaded. While riding his horse, he was carrying the man's decapitated head; it slipped and the head's teeth cut into his leg. Sigurd died of the infection.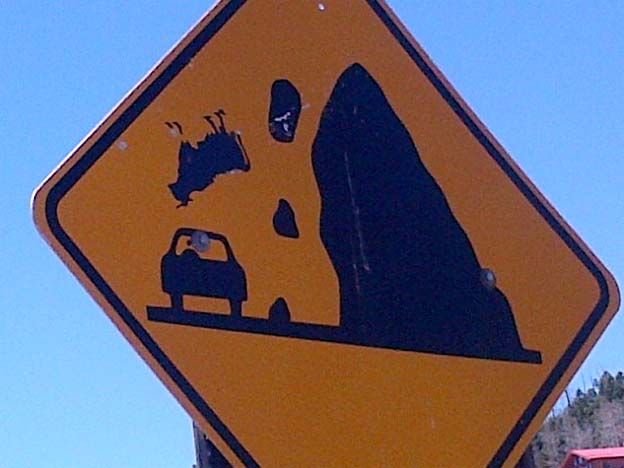 Falling cow sign. Source: thedetroitbureau.com
In 2013, a Brazilian man was killed in bed when a cow fell on top of him. It had escaped from a nearby farm and climbed onto his roof, which backed up to a hill.
A lawyer from Canada died trying to prove that a building's windows were unbreakable. He threw himself against a glass window on the 24th Floor of a building. The glass did not break, but it popped out of the window frame and he plunged to his death.
An Austrian man in 1567 claimed to have the longest beard in the world. While trying to escape from a fire, he tripped over it and broke his neck.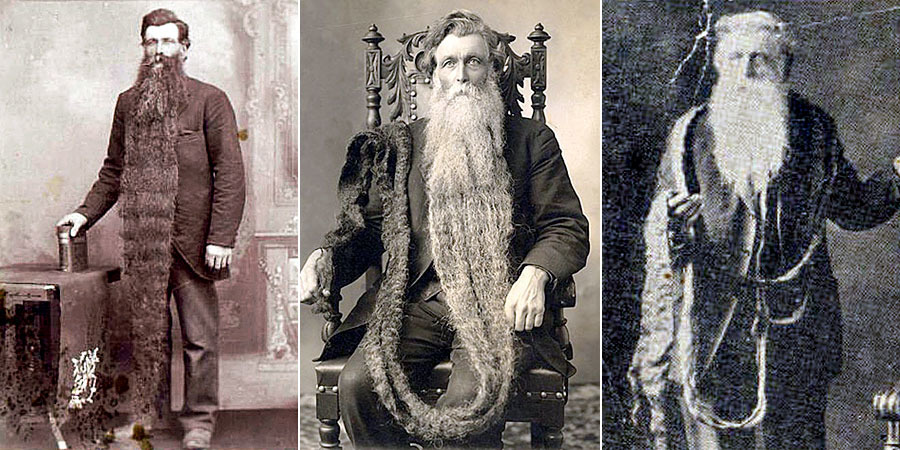 This is another person with a long beard, not the one who tripped. This is Hans Langseth, who claimed (centuries later) to have the world's longest beard. Public domain.
In 1900, American doctor Jesse William Lazear had a theory that mosquitoes were spreading yellow fever by biting humans. To test his theory, he let the mosquitoes bite him. He died of yellow fever.
In 1980, the mayor of Betterton, Maryland climbed on top of a sewage tank to test the city's waste treatment. She fell in and drowned in 15 feet of human sewage.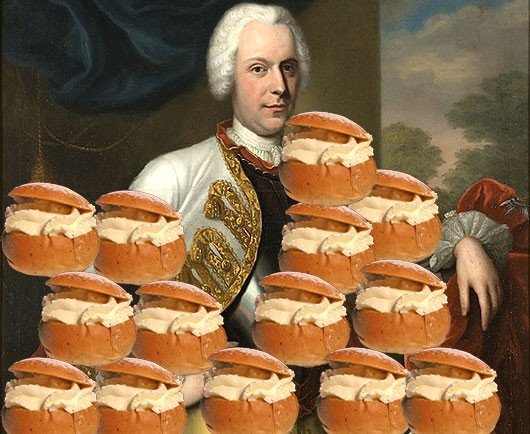 King Adolf Frederick. Montage by jobbatical.com
King Adolf Frederick of Sweden ate himself to death in 1771. He ate a meal that included lobster, caviar, sauerkraut, kippers (whole herring fish), and champagne, but dessert put him over the top. He finished his meal with 14 servings of semla. It is a pastry filled with cream (and, in the case of the hetvagg version he ate, these were served in bowls of hot milk).
Very few of us get to choose the time and manner of our departures. But at least Chrysippus and King Adolph Frederick died doing something that gave them pleasure. Perhaps there is a higher purpose for humankind than simple pleasures. But I can think of worse ways to go out than that, assuming I don't get my own Wikipedia page because of it. How about you?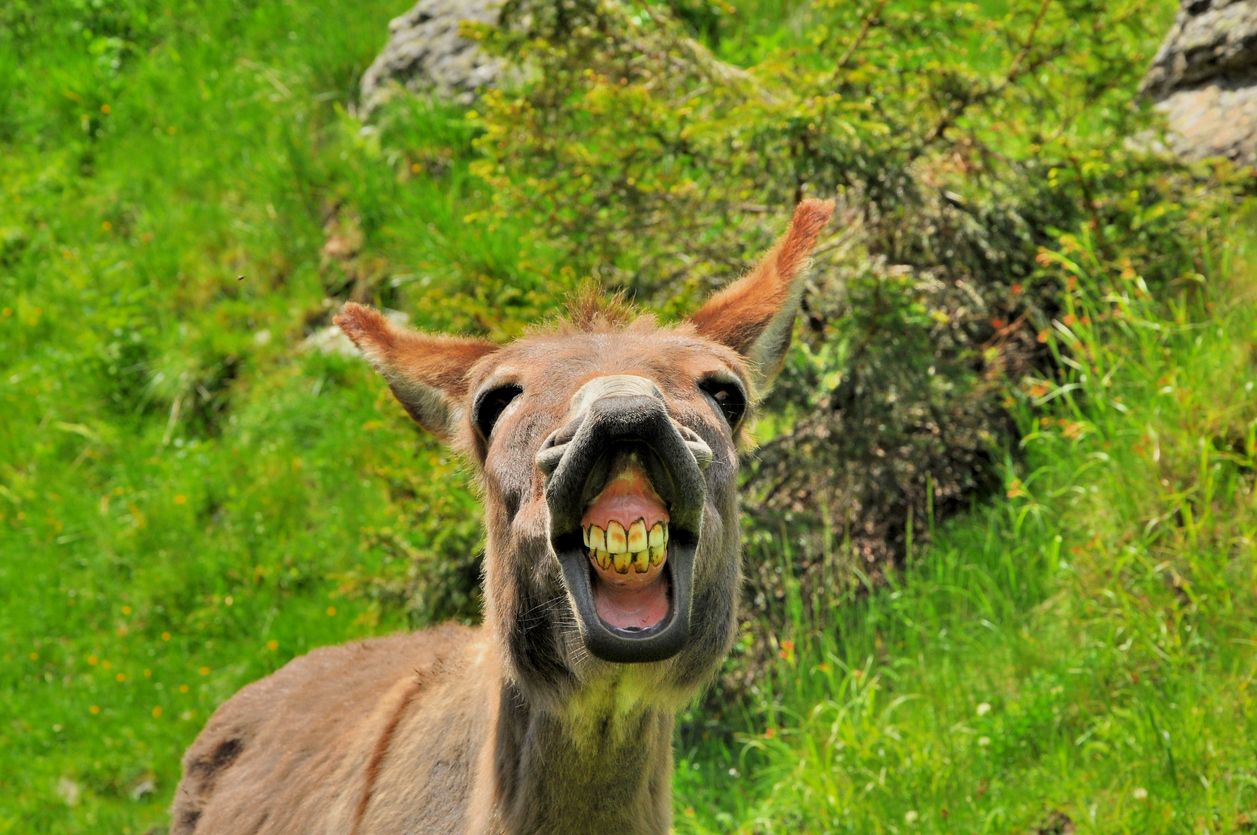 Sources
Snopes on Donkey Deaths: https://www.snopes.com/science/stats/donkey.asp
Death From Laughter: https://en.wikipedia.org/wiki/Death_from_laughter
Chrysippus: https://en.wikipedia.org/wiki/Chrysippus
Weird Deaths: https://www.buzzfeed.com/tomphillips/incredibly-weird-deaths?utm_term=.yglMP87MKO#.uu971dY7GX
Sigurd the Mighty: https://en.wikipedia.org/wiki/Sigurd_Eysteinsson
King Adolf Frederick: https://en.wikipedia.org/wiki/Adolf_Frederick,_King_of_Sweden
Semla: https://en.wikipedia.org/wiki/Semla
Toothy donkey pictures (2) are used under license from iStockphoto. Others include attribution.