If you don't know who I'm talking about, Radio Raheem is a character from an old Spike Lee movie entitled Do the Right Thing. The guy in the movie walks around jamming out with a ghetto blaster / boom-box through the hood.
Well, we have our own Radio Raheem in my hood - Except ours uses a big speaker that he keeps in his backpack, while sending music to it via bluetooth from his smart phone.
But just to be sure that we understand how cool he is, he only plays songs that were likely included on the Rap-masters Volumes cassette tapes from the 80s. He just went by about an hour ago jamming to "Friends" by Whodini. Don't get me wrong, I love those old school jams, but not while I'm in the middle of a business meeting, or trying to concentrate.
If I'm on my balcony, I can see him coming. He stops in the middle of the alley, messes with his phone for a minute, and out comes some Slick Rick at rock stadium volumes.
I may seem like I'm being a bit silly, but I can't express to you just how loud it is. It sounds like I'm in the middle of a breakdancing competition in a night club in 1983. It is crazy loud! If you watch the attached video, you'll get something of an idea.
In the video, he never stops walking; but most days he will stop right in the middle and jam there for a while.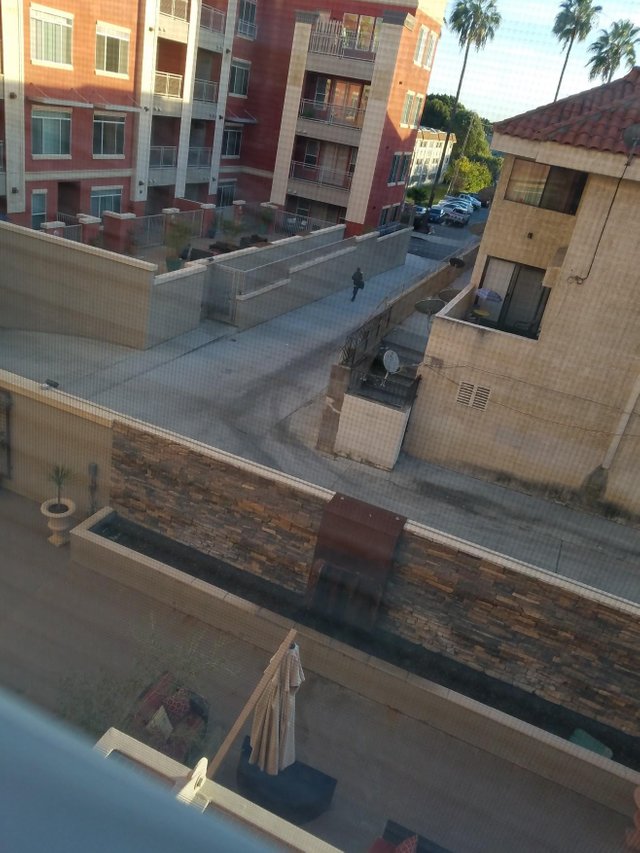 There you can see him, walking away. The alley is like an echo chamber when he plays his music! It sounds like he's right in my house.
I just moved into this upstairs apartment a few weeks ago, so I wasn't aware that this had already been going on for about 6 months. Every single day, almost without fail, the dude shows up in the afternoon. About once every 45 minutes he is back and repeats this about 5 times a day. The neighbor called the police a couple times, but they never can catch the guy!
My neighbor, who is a photographer for the Associated Press was the one who told me his nickname. I caught him in the hallway one day and said,
"Hey, man! How's it going? Have you heard this crazy dude who plays music in the alley like it's 1983?"
He immediately rolled his eyes and said, "Oh. You mean Radio Raheem"
So he's been dealing with this noise for months now! But fear not. I've got a plan. I need to find some really dope threads from the 80s, west coast style. You see, this guy only listens to East Coast rap. If it were the 80s, we'd have to battle because he is walking through LA jamming to Public Enemy.
I was thinking it would be hilarious to go outside and chase him down an alley with a chain and a switchblade or something, yelling "Yo, blood! Take that shit back to New York homie! You're on the wrong turf". Hahaha. Well, maybe not, but that would make a hilarious video to put on here.
I probably won't do anything at all, and no one will probably get my random humor - but that's okay. I just wish Radio Raheem would find a different apartment building to do laps around!