Hello everyone!
Back to the third week of the Winter Camp again with the eight Latvian students.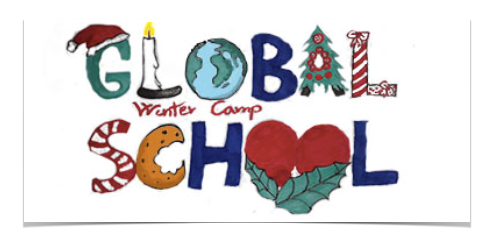 ---
Monday 28
To start the week, the Advertising Team met at Hug Inn with
@manncpt
,
@jnmarteau
and me, and the Accounting Team met at
@gexi
's place.
The beginning of the week is always important because at this moment the tasks are given, distributed and started.
As I already did in the last weekly report, I'm giving the floor again to the students because during their internship, they are part of the @globalschool team.
Today it is Kristine (Advertising) and Laura (Accounting) who have the floor.
Kristine: Our advertising group is working in collaboration with the communication team of the @globalschool and is creating a brand book as well as writing a communication strategy paper together. Today we got the opportunity to compare our work with our tutor's work and I personally think that we all are making a really big progress from the day we came here til now and it's been a quite good experience so far.
Laura: We - accountants - work on all kinds of taxes. We are working together, dividing tasks but after completing the tasks we speak about it. We learn about digital taxes, legal ways to avoid taxes and financial instruments. We also introduced the Latvian tax list and their percentage to @gexi. I really like the atmosphere in a workplace, as well as working together.
At the end of the day, Orsi came to the Hug Inn to talk about her NGO, the work we do at @globalschool and her future participation with us.
---
Tuesday 29
The day began in the usual way, the Advertising students came to Hug Inn and the others at
@gexi
's place.
The students really work hard, are always motivated and really contribute to the evolution of
@globalschool
. For this day, it is Chris (advertising) and Luize (Accounting) who share with us their day of work.
Chris: We are having such a good day at @manncpt's place, but in the same time we are working hard and making such a big progress with our tasks. Now our advertising team is almost done with the communication strategy paper, and we are also in the middle with our brand book work. One of the interesting things was, that @manncpt told us to do a stand up and speak about our day, what we did, what we learn, and what are our further plans which seem pretty interesting for me! Remember - Life is about learning and making our way to success.
Luize: Today we created the TOP10 about largest companies in Latvia by number of employees, profit, turnover. Also we were thinking about the things that make up a good accounting system. And we watched two documentaries. One broadcast was about Donald Trump and his biography (his way to the presidential and the business part of it). The second broadcast was about dirty transactions in Mexico (the drug business). The great benefit of this project is that we can do something different every day. There is no monotony in our work, there is diversity.
Today we have also prepared the arrival of Peter, the Founder & Managing Director of @yumleadership, in Vienna. He arrived directly from Munich to work together with @manncpt and @jnmarteau on the YUM Leadership Agency process.
And while @manncpt was waiting for Peter, @jnmarteau, Orsi and me had an appointment at @wolfgangsieberth's place to discuss our respective projects but also the creation of a joint project that we would propose to the European Commission in order to have funds to carry it through to completion. We concluded this meeting by setting up a regular meetup, every Wednesday from 11am to 5pm where we will all work together on our projects. And we are currently thinking about opening this meetup to people who are interested in EU fundings, as part of the @globalschool Winter Camp. If you would be interested in funding applications you can write an email to office@globalschool.xyz.
---
Wednesday 30
The
@globalschool
team split into several small groups today to work. While
@manncpt
, Peter and
@jnmarteau
had an administrative day, the accounting team stayed at the hostel and the advertising team ended up at
@mammasitta
's cocoon.
It was very interesting to spend the day with the students because between two work sessions, we also exchanged on our lives in our respective countries and listened to Latvian and French music.
Let's see what @emilsskrastins (Accounting) and Samanta (Advertising) have to say about this day:
@emilsskrastins: As an old saying says, the most productive day of the week should be and often is Wednesday. Why? Because it's the middle of the week and you had plenty of time to warm up and there is still some waiting time left for the Friday. My main task for this week is to create a visual identity for @GlobalSchool. I had plenty of time for brainstorming and drafting my first design ideas, and today was spent only on the hardest things, like finishing logo, making sure that Typeface looks readable and pleasant for the eyes, choosing the right colours and adding icons that will help to represent the Global School's visual appearance. And today is the day when I got my steemit profile up and running. It seems that people who work here really believe that it is the next big thing and slowly I start to see why.
Samanta: We worked from our hostel. We had two tasks: writing a report about the work we have already done and what we have learned; then finding information about financial instruments. We do all the tasks together, like a team. We divide the tasks to be done and then assemble it all together. We learn a lot of new things about financial instruments.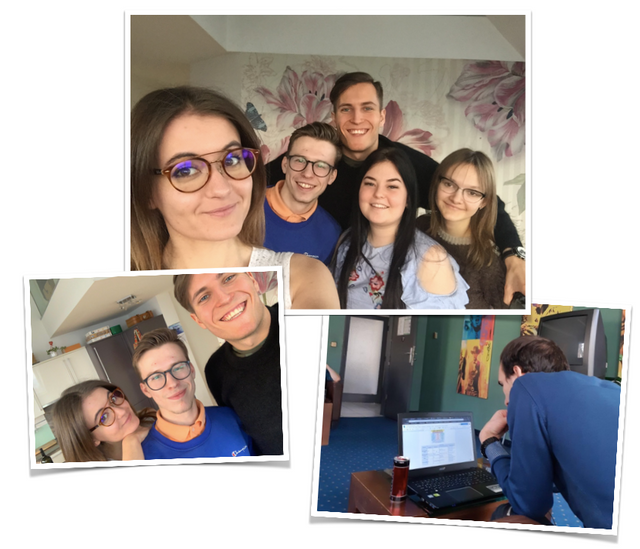 ---
Thursday 31
The habits of our workday were changed a bit because in the morning, the students worked from their hostel and in the afternoon, I met the advertising students in a cafe, at
Phil
, to work remotely.
The task was not easy because this café is known in Vienna for being a place to work and we had to find a table first, then unfortunately the wifi no longer worked, so we had to find techniques to be able to still accomplish our tasks, and finally to finish, as laptops do not work by magic, the war to find a socket was launched. At least, tea and cakes were good!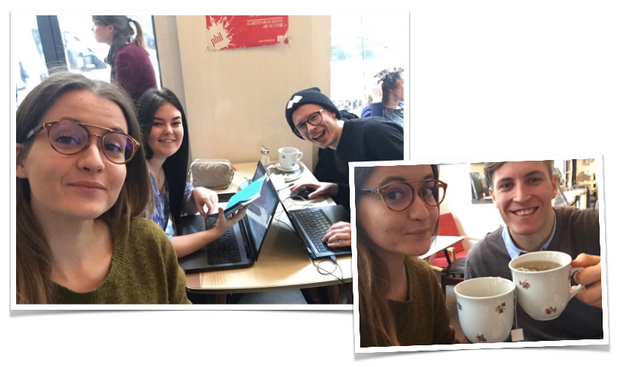 Let's see what our students have to say…
Rustam: On Thursday, at the signs, our accounting coordinator, as usual, had interesting assignments and a friendly atmosphere. We studied the financial instruments, which, as it turned out, are quite difficult to understand, but collectively, as always, we succeeded and found out the basic concepts of this financial sector. We also studied the concepts of IFRS and what are their essence. At the end of the day, we watched documentaries about cryptocurrency, which for now is a difficult topic for me. Many thanks to our coordinator for his responsiveness, good sense of humor and pleasant atmosphere when performing interesting and informative tasks!
Linda: Today I created a list for photos ideas that should be posted after our different events. And I was also responsible to create a picture with graphic design software with different countries names inside. Now it is almost done and tomorrow I will finish it.
After working intensely all afternoon, the day continued for @manncpt and me with a workshop which topic was "Social & Consumer Trends 2019" organized at Neue Freunde headquarters with as speaker its co-founder Alice Katter, a Social Brand consultants and community strategist.
Alice introduced us to upcoming social media trends for 2019 and gave us some tips on how to best manage them. We are rather happy because we have already started doing, with our students, what she advised during the workshop, so we are in the trend! If you want to see a little bit about it, just go to read @manncpt's post.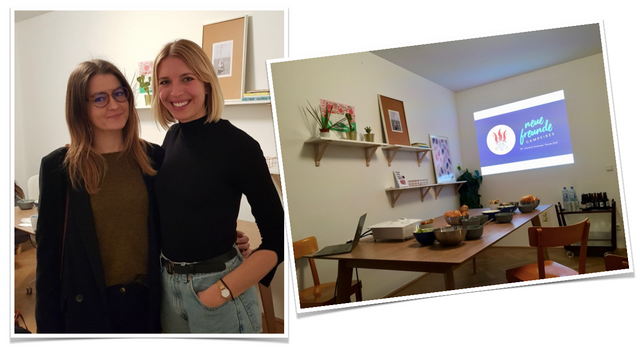 ---
Friday 01
It's the last day of the week but there is still so much to do and the whole team is working hard!
Today is the big day for @globalschool because it is the beginning of the month and the publication date of the schedule for February, so you will be able to find our various events that we organised, such as workshops, brunches or multicultural events.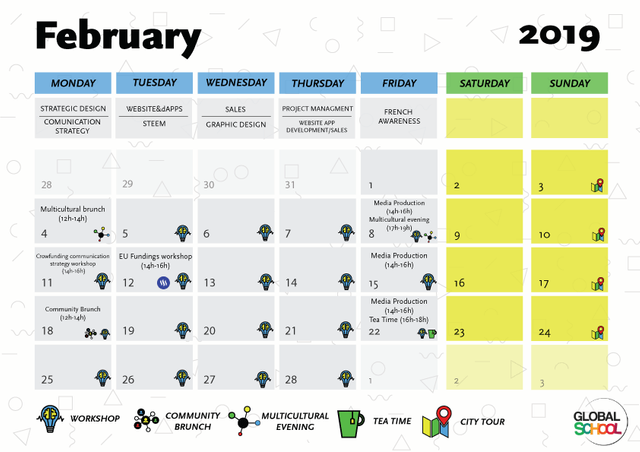 Also we have learned that the next Viennese steem community meetup organised by @mundharmonika and @manncpt will take place on February 12, from 18:30 at Cafe Derwisch. An invitation post will be published soon by @mundharmonika.
The schedule of the weekend is already full, between work for some and sightseeing for others. You'll know more about it next week, be patient! ;)
---
I also share with you that the @fundition crowdfunding campaign to support steem blockchain awareness and education is still open ... Just follow this link if you want to have more information and participate.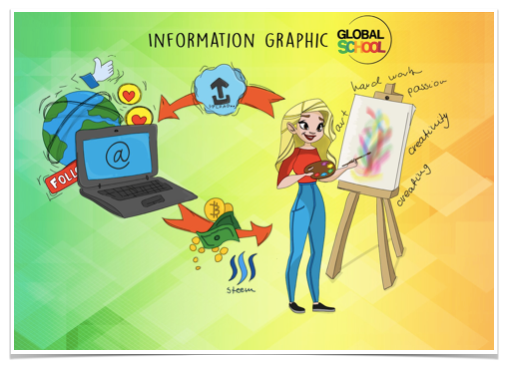 ---
Have a nice weekend dear steemians!
All the best, @bertille-aa.
---
📸 Photo Credits: @manncpt, @bertille-aa and the students