Raising capital for your beloved project or charity is a hard thing to do! I have seen some real life examples of great projects turned to ashes just because of lack of financial support. That is where Crowdfunding comes in! It is an effective way to collect funds from a pool of individuals who are interested in the Project and want to back it with money. Simple and highly effective! In this blog, I am going to talk about FUNDITION.IO - Decentralized Crowdfunding Platform Powered by Steem Blockchain Economy. I will give you 5 good reasons why Fundition can revolutionize crowdfunding for Founders and Backers both in a positive way. But first, let's talk about a few problems of the current crowdfunding scene on the internet.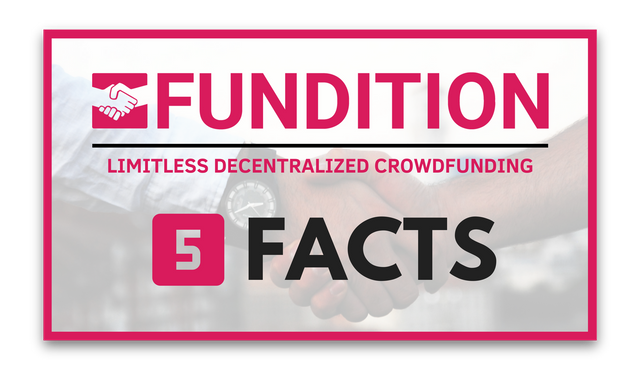 Crowdfunding market is huge and expected to grow to over $300 billion by 2025. There are than 200 crowdfunding platforms in the USA itself and most of them operate for worldwide audience. There are so many crowdfunding platforms such as Kickstarter, IndieGoGo, GoFundMe, RocketHub, PledgeMusic etc. So, you can imagine what's the scale of this practice. Taking small amounts of money from a large group of people who are looking to support the development of great products and services. These platforms have been used to fund various entrepreneurial projects or charitable works. But there are some problems with the current system that is affecting project owners i.e. founders and supporters which are called backers. This in turn hinders the success of projects involved. I will mention a few of them below: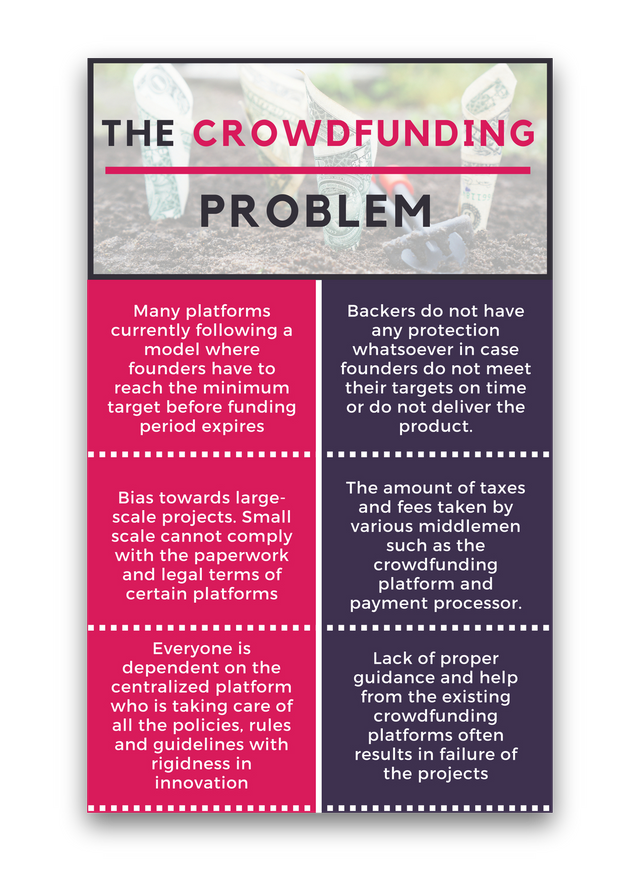 Introducing FUNDITION- The Solution!
Fundition.IO is one of the newest crowdfunding platforms which is going to solve all the problems mentioned in the above section. It's an initiative by @hightouch, a kickass developer from Turkey, currently residing in France. To know more about him, please checkout his interview conducted by @promo-mentors team last month. It is one of the most exciting blockchain projects that is working towards the betterment of society. Helping honest founders to fund their projects without wasting a dime from their own pockets. It is powered by STEEM Blockchain and they work on this basis of "Proof Of Merit" to make the distribution of money as equal as possible. The team believes that Crowdfunding through collaboration is the best way to achieve high grade results. Their system provides ample amount of benefits to all the parties involved i.e. Founder, Backer and Collaborator. To know more about Fundition, please check this wonderful blog written by @cryptocurator - [Introduction to Fundition on World Humanitarian Day](Introduction to Fundition on World Humanitarian Day). You can also explore about some of the projects that are being supported on Fundition right now: https://fundition.io/#!/explore. Now, let's discuss why I think Fundition can disrupt the crowdfunding market and support innovation and charity worldwide: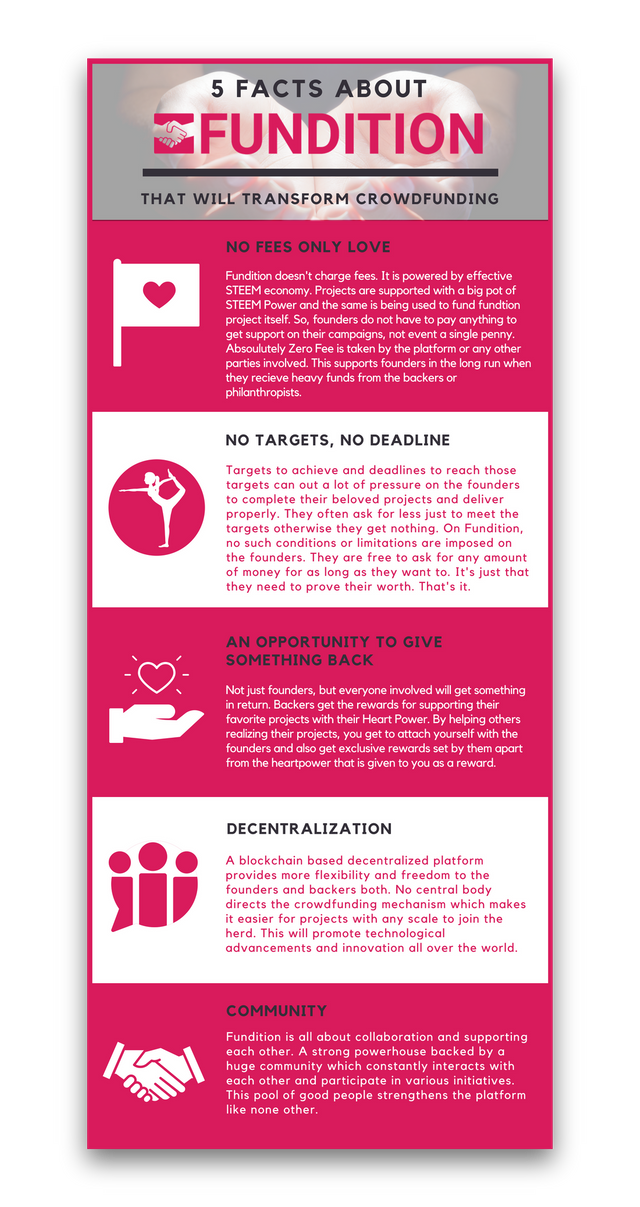 **By now, it's clear that Fundition enhances the ability of STEEM Blockchain and leverage it to support projects that actually matter. I hope to review their services and other aspects in the coming blogs. In the meanwhile, I would request you to check out their links in the next section to explore their presence on the internet. You can also share this blog with anyone who is looking to fund their amazing project or maybe to any charitable organization doing humanitarian work. **

References And Links
If you are interested in finding out more, please visit the following: