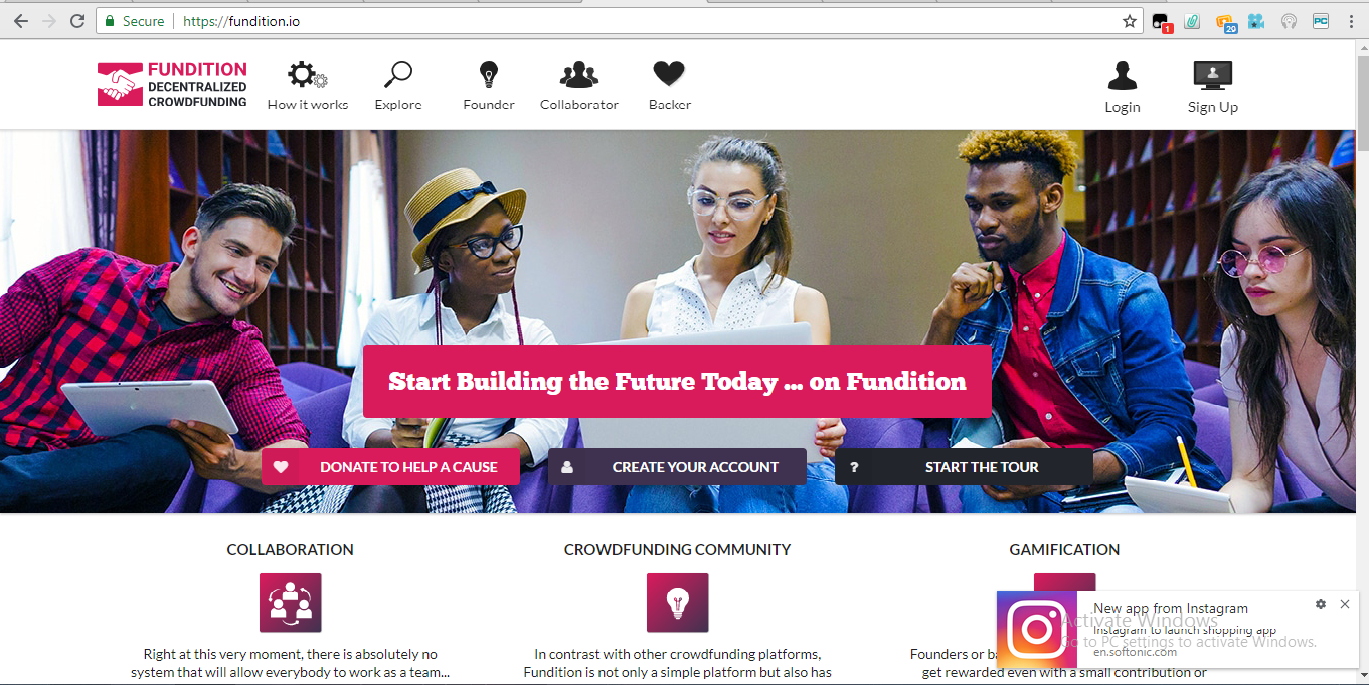 Good evening guys and I am delighted to be revisiting an interesting project now other than fundition.io. Few weeks ago I did some massive reviews talking about their various features and how important they are in the crowdfunding sector. It is important for me to stress on the meaning and vision of the fundition.io project.
Fundition is a next generation crowdfunding platform that leverages on blockchain technology – the STEEM blockchain to be precise. It uses the STEEM blockchain to reward all participants in crowdfunding campaigns. Where all parties are guaranteed to win and win big as it protects the interest of all parties participating. These parties are; founders, backers and collaborators. Founders are project owners/inventors, backers are those who support founder and fund their vision using their own discretion, collaborators are founders of other projects who are involved with a project started by another founder.
These are the basic things anyone should know about fundition and you can follow the previous posts I did on this subject to have more insight. Also, the fundition.io purplepaper for more resources on how to go about crowdfunding on fundition.io. The link to all these will be dropped at the bottom of this post.
What I will be doing today is recommend some features to improve user experience on fundition by recommending the following changes;
WHY USD?
The currency that funds are calculated in is the USD, this got me thinking and a little bit confused since the native currency of the platform is STEEM and the major donations coming to fundition come from the STEEM blockchain and are donated as STEEM/SBD. Users will have to spend more time calculating the USD equivalent of their SBD/STEEM which is way too difficult and time consuming if a backer intends to support multiple projects at once. The implication is that he would have to compute the USD value of all his/her donations. It is true that some payments are made through credit card and backers' bank account. However, a major chunk of the donations are made in STEEM/SBD in the real sense.
INTEGRATE LOGIN VIA OTHER SOCIAL MEDIA ACCOUNTS
There should be a better way of linking founder's social media accounts on fundition. I missed my last review due to the fact that I couldn't get the link to my social media profile on time due to some technical issues and the consequence is that I couldn't get a final audit until that is done. Then I have to wait for the next update on the project before I can get this done again.
MORE ACCESSIBLE CURATION TAB
The navigation bar should have one leading to the curation page where users can easily find their project and see the status of the auditor's reviews. This was one difficulty I face while monitoring the progress of my project. I couldn't even find it on the fundition website until I contacted a moderator on fundition.io discord server. However, if the page was more accessible by adding a curation tab to the navigation bar, this issue would be swiftly solved and less stressful for founders and every other person interested in knowing the auditing status of a project already submitted.
These feedbacks were given based on my personal experience using fundition.io and I hope they reach the development team. I also hope that some changes be made as a result of these reviews if not all of them. However, the truth remains the same that fundition.io is superior to every other crowdfunding platform having the use of blockchain technology as an edge over all others.
Thank you for reading through friends. I highly recommend that if you or someone you know and care about ever needs funds on a project that seeks to make the human experience better, you can freely turn to fundition and be liberally rewarded. When we talk about fundition transparency and total decentralization is what we're looking at here. Thanks once again, this is Bait and I'm bringing you words from the Offline Minnow School.
---
links to some projects already being funded;
See below the types of content they normally write so that you understand what we are looking at here:
1, 2, 3, 4,
5, 6
You can check other content here:
If you would like to find out more, please visit the following pages to know more and contact fundition.io:
References: