A month ago I published my first ever Open Source code.
I advertised it here on Steemit.com too:
https://steemit.com/dao/@johnerfx/thedao-token-price-ticker--google-chrome-extension
It was TheDAO token price ticker extension for Google Chrome browser, which was very useful to me at that time.

I never expected it to get big and indeed it didn't. Something like 20 people installed it and I personally think it is quite an achievement for me. Actually
I am very proud
that I managed to create something useful for others, not only for me.
It even earned me 0.66 SBD which makes it even more COOL!
I like making Chrome extensions, but I don't believe in my coding skills much enough yet, so I don't share my tools. I am the only one using them and some of them are actually very, VERY useful to me, and those are not only tickers :).
TheDAO ticker was actually small, easy and good enough so I decided to share it as an experiment, barrier breaking decision and bring some of my own content to the Inernet via
GitHub
and
steemit.com
(I wouldn't mind getting some of this magic Internet money for it :D).
I started thinking if I could create something for steemit.com too. So I checked Google Chrome Web Store for "steem" keyword and this is what I have found there:

https://chrome.google.com/webstore/detail/steem-io-price-ticker/lanmppkhpnpljeaigfbfaocodhnejbpa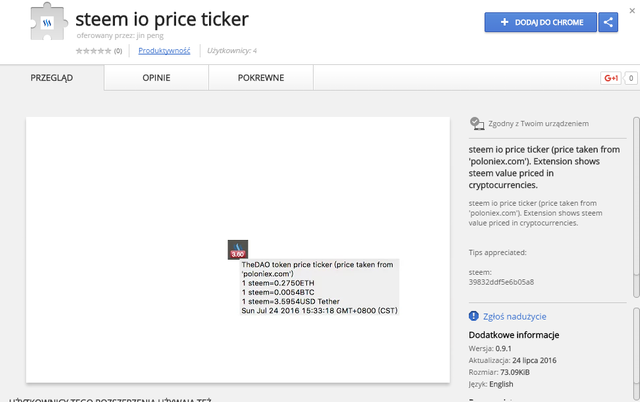 It looks very FAMILIAR!!
This is steem ticker that partially uses my code under the hood. I had to install it and check the source code for myself, because I couldn't believe it.
At first I got very angry, what the hell, someone used my work! Why? How could someone do this to me :(?
But then I calmed down and started laughing. My first ever published piece of very "huge" code (almost 50 lines combined) just got used in another project.

This sounds COOL and made me even prouder.
After all this was Open Source and MIT licensed so anyone can do whatever he or she wants with it and I was inspired a little bit too by others people code during creating it. The are many discussions right now about copycats and such things. And there are cases when copying should be totally acceptable like here, so I am fine with it.
But this example actually pisses me off a bit anyway, because it intentionally uses images from my repository that are not even related to the STEEM topic and code still has variable names like 'dao'.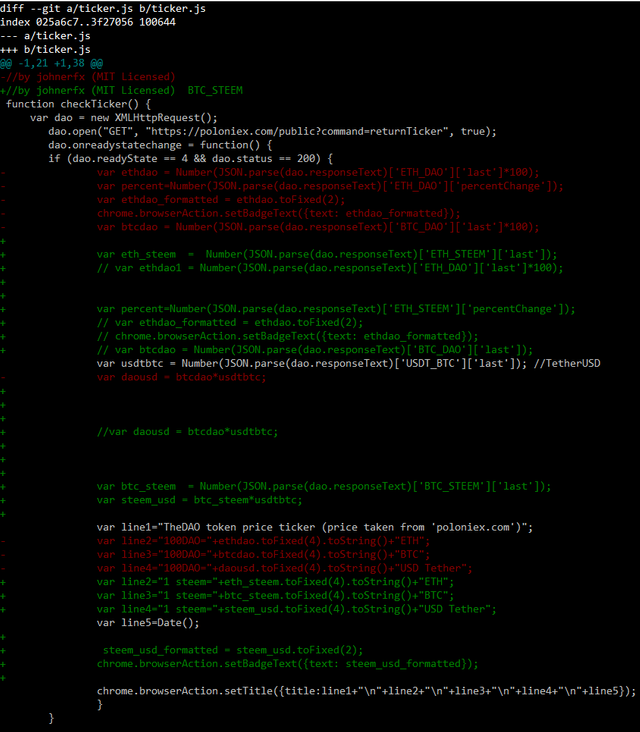 Comment line even states I created whole code but my original is a little different :)
The author seems to be from China so maybe language barrier is the reason here, but come on! If I decided to copy something, tweak it a bit and publish it, I make sure informations are relevant and line up nicely with the intensions of the tool.
I wondered if this extension has been advertised on steemit.com, but I didn't find anything.
What do you guys think about my story? I still have smile on my face ;)
P.S. Sorry for my English, feel free to correct it in the comments. I would be grateful.