Nostalgia has been visiting me this past week - may just be the realisation that things never remain the same.
There's been a couple of milestone birthdays in my family this year; Mom Lily reached double digits when she turned 88 this month; a strong little woman who has been such an inspiration.
Mom has followed a healthy lifestyle as far back as I can remember - taking daily walks till a couple of years ago; a firm believer in living an uncluttered life so she's forever clearing out and giving stuff away to others who need it more than she does; and always conscious of eating healthy.
Mom is super independent but a benign brain tumour was discovered a couple of years ago causing a problem with her balance. The neurologist reckons it's because she's always taken such great care of herself, that her body has adjusted so well to this foreign thing in her head. I wrote about this some time back - There always is hope, but the balance problem has been getting worse.

Mom's always been a baker of note, and if there's any oldies like me reading this, you may remember how popular Fruit Flans were in the 70s.
Today I will be sharing a Pine-Orange Fruit Flan with all our Fruits and Veggies Monday friends.


I was a tad concerned about making a vegan version but I need not have feared - it turned out really good and did not fall apart!
The flan base was flavoured with Orange Zest and once baked, I poured fresh Orange juice & Zest over it. A fresh grated Pineapple Custard was used as the filling, absolutely yum and so full of flavour!


First of all I had to dig into the deepest depths of my kitchen to find the old flan pans that's been forgotten and they were still very much alive; just needed a scrub and they were good to go!


RECIPE
125ml Canola Oil
1 Chia Egg - 1 tbsp Chia seeds + 3 tbsp Water
Grated Orange Zest
Juice from 1 Orange
100ml Coconut Sugar
300ml Cake Wheat Flour
2ml Salt
7ml Baking Powder
Beat together the Oil, Chia Egg, Orange Zest, Juice & Coconut Sugar.
Sift together Flour, Salt & Baking Powder & slowly add to mixture, beating till smooth.
Spoon into sprayed and floured flan pan, bake at 160C fan oven for 20-25 min.
Turn out carefully and cool on cake rack.

Topping
Juice and rind of 1 Orange
Place cake on serving plate and pour orange juice over.

Pineapple Custard Filling
1 fresh Pineapple - grated
3 tbsp Coconut Sugar
Pinch Salt
1-2 tbsp Custard Powder mixed with a little orange juice till smooth.
Bring Pineapple, Coconut sugar & Salt to a slow boil.
Add custard mixture and stir till it starts bubbling, leave to cool a little before spooning into flan base.

Enjoy as a dessert or a teatime treat, especially nice served with a dollop of Coconut Yogurt.

One last look for all our busy people:)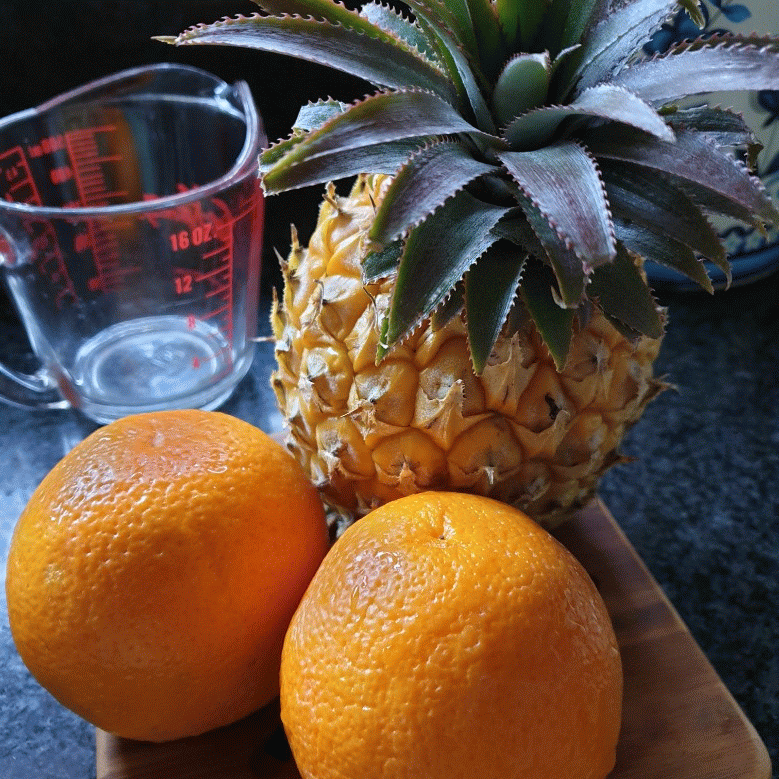 A sincere thank you to the creator of #fruitsandveggiesmonday, @lenasveganliving and to our weekly host the lovely @plantstoplanks! Both these ladies are such an inspiration with their kind feedback and the amazing food coming from their kitchens!
A massive shout-out to that wonderfully talented artist @barbara-orenya for our gorgeous awards as well!
Thank you one and all for giving us this opportunity!
Check out this week's POST, follow the rules 100% and show us your fruits and veggies this Monday.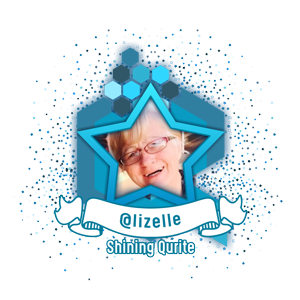 Original Content by @lizelle
Thank you for stopping by
Comments, upvotes & resteems all much appreciated :)
Copyright @lizelle - All Rights Reserved


Team South Africa banner designed by
@bearone