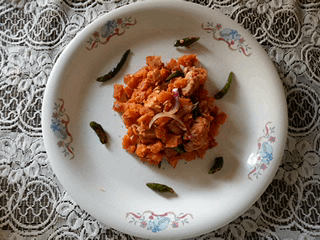 Maybe some of you feel not familiar with something sweet but served with spicy ingredients.
This time I will share recipes for Fruits and Veggies Monday. I call this vegan food recipe, Sambal Tempeh and Sweet Potatoes.

Information About Dishes
The combination of the use of sweet potatoes and tempeh served with sambal is a variation of the Sambal Tempeh and Potato recipes. Because in Indonesia the price of potatoes is more expensive than sweet potatoes, so I tried to replace potatoes with sweet potatoes in this recipe.
Indeed, the taste of sweet potatoes is very different from potatoes. But the use of sweet potatoes in this recipe for potato substitutes is not bad.
Sambal Tempe and Sweet Potatoes is suitable to be made for villagers who have abundant sweet potato harvest. Sweet potatoes also help to fill longer, making it suitable to be used as a substitute for rice if the villagers are having difficulty getting rice supplies.

Natural Benefits of Sweet Potatoes
Controlling Blood Sugar Levels
Although it has a sweet taste and contains carbohydrates, sweet potatoes are safe for consumption by diabetics.
Sweet Potatoes contain a low glycemic index scale. Sweet potatoes are able to modify insulin which helps control blood sugar. The fiber in sweet potatoes slows the release of glucose into the bloodstream.

Good for digestion
The high fiber content in sweet potatoes can prevent constipation and accumulation of acid, thereby reducing the risk of gastric inflammation. Besides the vitamin B complex, vitamin C, potassium and beta-carotene are effective for relieving stomach inflammation.
High in fiber but easily digested so it is good for the stomach and small intestine.

Maintain eye health
Vitamins C and A, and beta-carotene in sweet potatoes can support eye health.

Maintain Immunity
Vitamin C and beta-carotene are strong combinations of nutrients to increase immunity.
You can read the full benefits of sweet potatoes here: Benefits of Sweet Potatoes

How To Cook Sambal Tempe and Sweet Potatoes
Come on, let's see how I cook Sambal Tempe and Sweet Potatoes. It should be noted that you can reduce the use of chili if you are not accustomed to the spicy taste.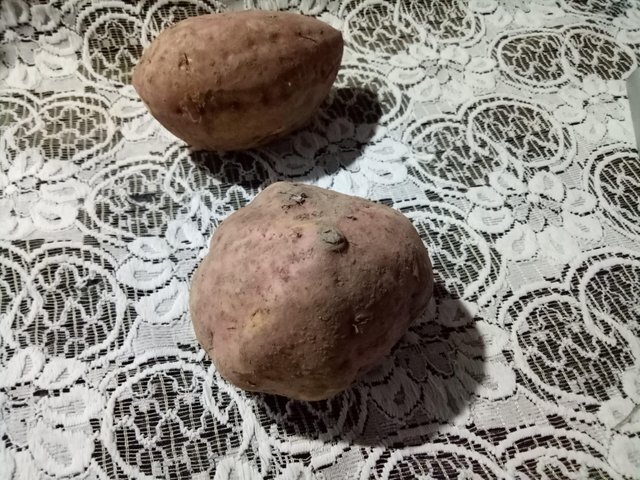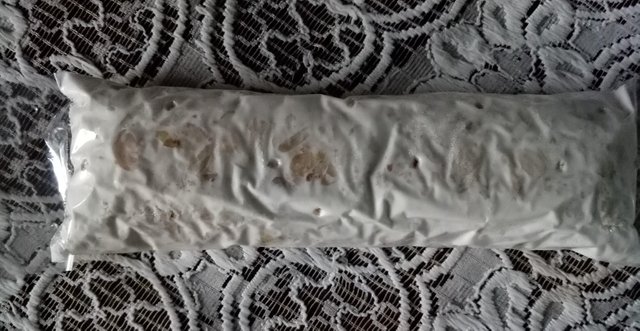 ---
Prepare two sweet potatoes, and a tempeh.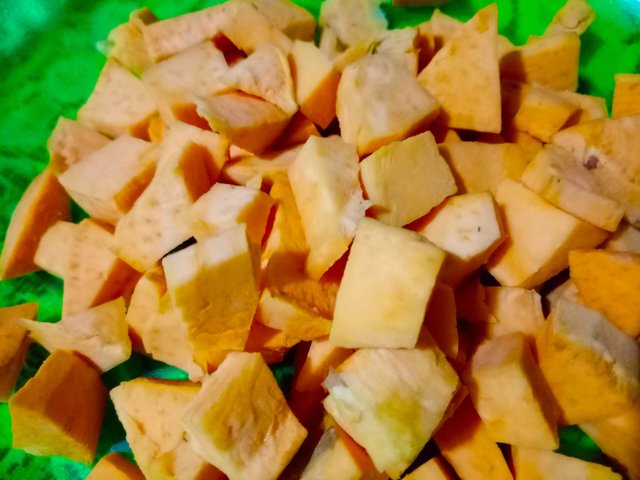 Here I use orange sweet potatoes. Then, peel and wash the sweet potatoes. After that cut the sweet potatoes into dice.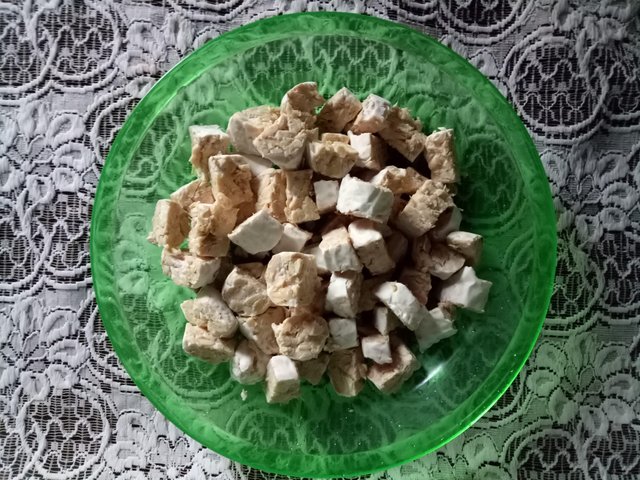 Cut the tempeh into dice too.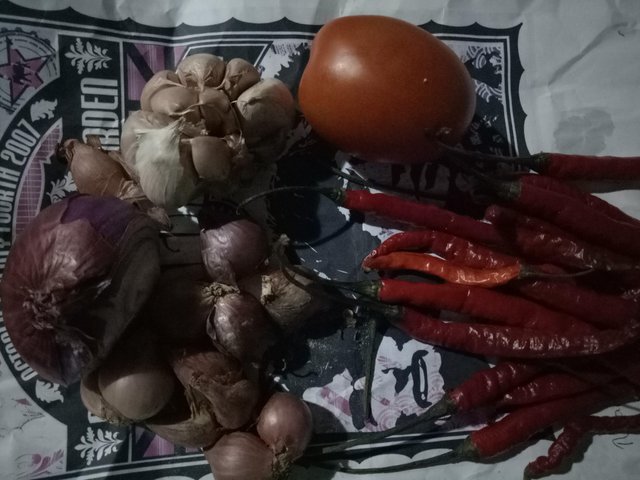 For spices, prepare 1 ounce of red chili, 3 cloves of garlic, 5 cloves of red onion, and a tomato. Then puree all the ingredients. You can use a blender or use a mortar tool, a traditional tool in Indonesia to make chili sauce.

Heat the oil, then add the chili (the spices that have been mashed. Add enough salt. When the chili is already fragrant, put the pieces of sweet potato. Add a little water.
When the sweet potato is half soft, add the tempeh slices. Then, cook until the sweet potatoes are tender and spices are fully absorbed.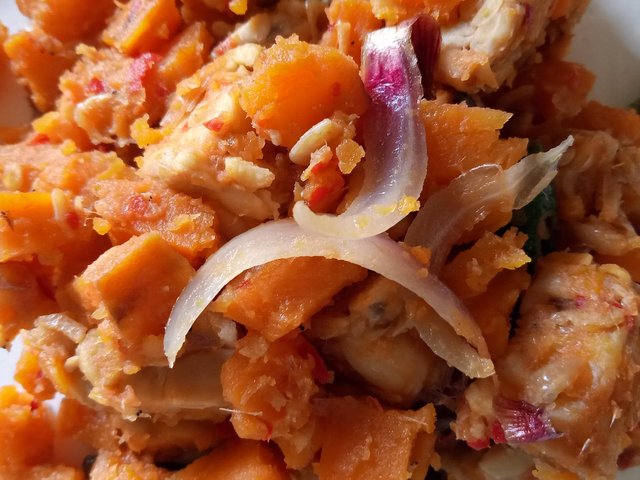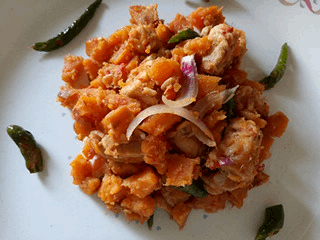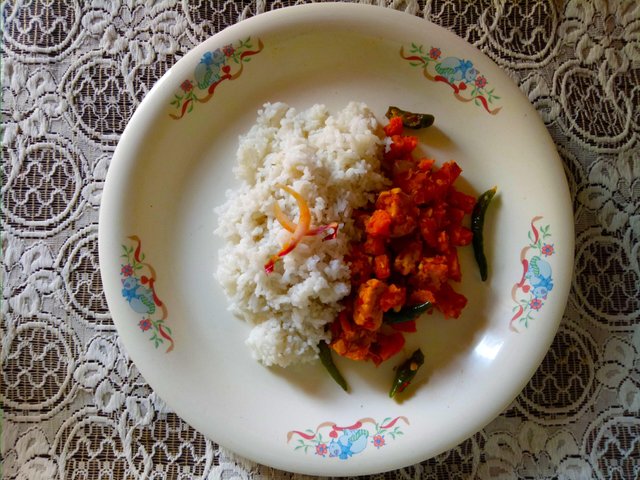 Sambal Tempe and Sweet Potatoes is suitable for making side dish, or even you enjoy without rice. Enjoy while this dish is still hot.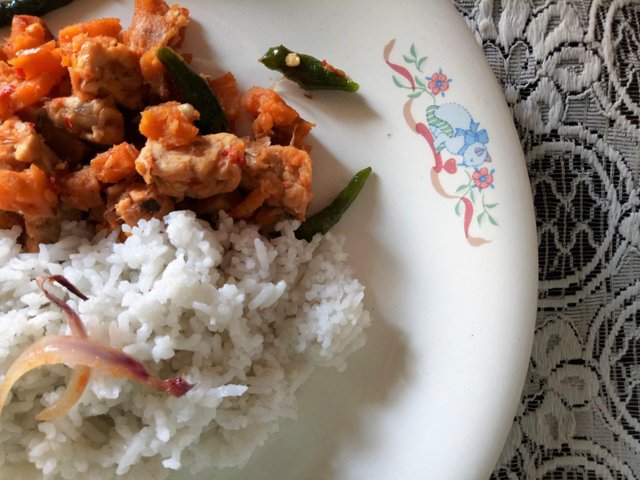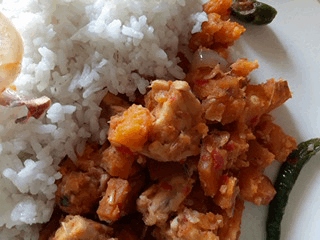 That's my version of Indonesian recipes. Thank you to creator @vegansofsteemit @lenasveganliving and host fruits and veggiesmonday @plantstoplanks It's great that there is a vegan ecosystem in Steemit to further spread awareness of consumption of fruits and vegetables.