We drink so much of fresh juice made from many kinds of tropical fruits here in Asia. Though, each country or shop has their own spectacular mixtures. At Maxwell food centre while we're waiting in such long line for Tian Tian Hainanese Chicken Rice, this store was just right on the opposite. I chose 2 of the drinks I had never heard of..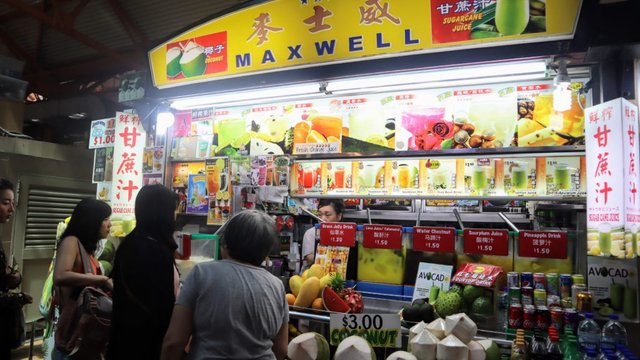 Sugar cane juice with sour plums
Whoa! I love sugar can and people, I do love sour plum! I have seen so much of sugar can by itself or in some countries like, India and Malaysia, they put lime juice in it. Though, never before, with sour plum. Not bad, really. In this extreme heat, almost as hot as in Thailand, this sweet and sour drink could totally save your life.
Watermelon slush with soy milk
This sounds weird to me though I went for it. Thank god, they didn't put too much soy milk into the cup. I could imagine it would be all weird. This was not so bad. More like refreshing watermelon smoothie but instead of milk, it's soy!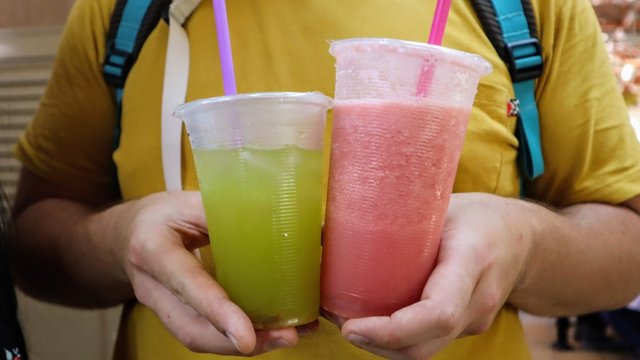 What's the weirdest / most creative combination of juice you've ever tried ?
Not on Steem yet?? Let the ninja gets you a Steem account and start earning crypto!
㋡ Earn free crypto : https://www.waybeyondpadthai.com/free-crypto
㋡ Get $55 off your first adventure! on Airbnb
---
All copy and photos are original content by me.




TO SUPPORT WITH LOVE 💙 PLEASE SUBSCRIBE!!! TO MY SUPER DUPER AWESOME YOUTUBE CHANNEL :)