That bitch pulled my hair! [My first subway fight/Entry for free write selfie contest Day 6]
Sorry for all the swears recently. My excuse is I was raised in Massachusetts, which makes me a Masshole. Entitled to speak like a truck driver.
Today's prompt for the free write selfie challenge is HAIR. That's the one I picked anyways. I've been wanting to try to tell a NYC subway story of mine for awhile now, but never really had a reason to. Other than someone requesting it, but I forgot who it was now (my apologies to you if you are reading this!), I just never got around to it I guess. Or felt motivated to type out what is probably a better story told in person. I like to flail my arms and reenact things for this one.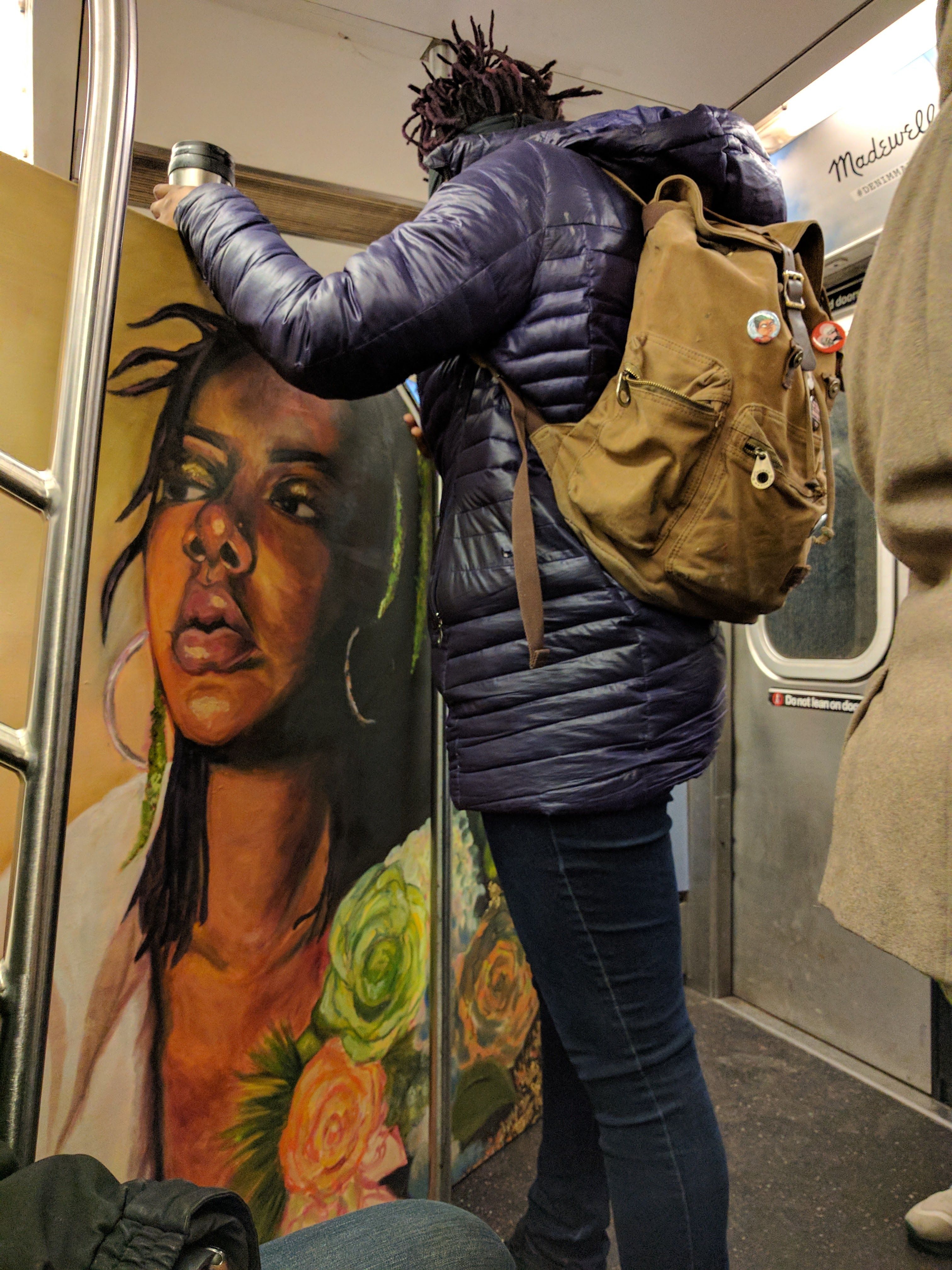 (This photo has nothing to do with the bitch who pulled my hair. Its just the only photo i've taken in the past 15 years on the subway, despite riding it almost every day. I was just impressed with the self portrait and that she was willing to risk her hard work on the train.)
Ok, here goes.
I had just moved to Bed-Stuy (Bedford-Stuyvesant) Brooklyn. It hadn't yet become the hipster place it is now, with all the young kids in their tight purple jeans and 40s of Old English, trying to fit in. In fact, multiple people tried to talk me out of moving there including one new neighbor who saw me lugging some boxes and stopped to let me know the chicken wing spot to the left was good, but the chinese spot to the right was not. Someone got shot in the head there last week. I appreciated the tip but was not deterred at all - I had the first floor of a renovated brownstone with an extra room for a pool table! Besides, I don't really like chinese food all that much.
My job at the time was with Gourmet Magazine, in the heart of Times Square. My daily commute consisted of a 5 block walk and about 45 minutes on two trains to get there. My story starts with me riding the J train home one day after work. I had just started, so I was in a dress (trying to impress) and strappy sandals. As usual for this time of day, the train home was packed and there was hardly any place to stand, never mind trying to find a seat. So, I posted up against the door in between two cars (on the inside) and was wedged between the Handicap bench and a small conductor booth that was not in service and should have been locked. About 20 minutes from my stop, a group of teenagers tried to push past me and ended up in between the two cars while the train was moving, leaving the door open and me trying to hold my dress down that is now flapping in the wind. I tapped one boy on the shoulder and asked what the fuck they were doing. Just like that. I was not in the mood. So he explained that his friend just had to take a piss. I laughed and pointed out that if the door is open and he is peeing into the wind, we'd all get wet. And then they'd end up under the moving train as I would be really mad if I got peed on and would no doubt push them. He actually laughed and agreed with me! So he pulled the door shut and I thought that was that.
And it was, until they wanted to come back inside and I was still leaning on the door. They push back through and the one female in the crew decides she's going to stand where I was just standing. I had only turned so she could pass and now I'm stuck at an awkward angle. So I asked her - you see me standing here, right? Maybe I could have been nicer, but again, Masshole. Long Day. Long Commute. Almost got pissed on. And I have less patience than the average person to begin with. She scoffed and didn't move. So, I elbowed my way back to my spot up against the door, grabbed my headphones and started jamming out because fuck her. A few minutes later, she reached around the pisser (now imagine, three people at all weird angles making an awkward person sandwich in the space that normally fits one small person like myself. 5 Ft, 100lbs) and pushed me. Out of nowhere. My giant Fendi bag flew out from under my arm and smacked this old grandma right in the face. As I removed my headphones to apologize to her, and she was responding its OK she witnessed the whole exchange, I felt a bang! and fire along my scalp as I was bent backwards over the shoulder of the pisser. THAT BITCH PULLED MY HAIR AND WOULD NOT LET GO. Now I am in an upside down U, one foot on the ground, the other trying to pivot myself over the guy so I can get closer to the girl to get her claws off my head. The only thing I can reach is her hair and his stomach. Simultaneously I pull as hard as I can on her hair and start punching the boy in the stomach. I don't think it was hard enough to do anything but it shocked them enough that when I let go of the girl's hair she pulled away at the same moment and ended up slamming through the door of the conductor booth, sprawled on her back, legs kicking at my face. The pisser takes a step back because he's not sure what just happened and I use this opportunity to cock my arm back and punch him in the jaw. My first time ever throwing a punch. He cried, grabbed his face and his girl and went into the conductor booth and slammed the door.
At this point, the train is completely stopped and someone calls out the cops are on the way. I turn around slowly to see the entire packed car just staring at me. Mouths gaping open. And then I'm being lifted off the ground. I find myself in a giant bear hug at least 3 feet up, arms pinned to my side by some behemoth of a man. I mean, his head is literally an inch maybe an inch and a half from the ceiling and now my head is, too. I'm screaming at him to let me go, and he think's he's being the hero because he only saw me throw a punch. Everything prior was being blocked by some asshole who brought his bicycle onto the train. I thought the point of bikes was to use them to get around, and an alternative mode of transportation to the train. I guess I was wrong. Anyways, he got off when the train stopped moving, giving mountain man the birds eye view of my awesome punch.
So there I am, wriggling around in this stranger's arms and obviously the next part is predictable. Pisser and his girlfriend peek out of the conductor booth and see I am defenseless. Girlfriend darts out of the booth, swings wide and high, and punches me in the eyeball and runs off the train.
Mountain man drops me.
Like, not even gently puts me down. Just drops me. So I got a double hit. As I'm scraping myself and the contents of my purse off the ground he starts to apologize and I just snarl in his face a big FUCK YOU DICK FUCK, YOU JUST GOT ME PUNCHED MIND YOUR OWN MOTHERFUCKING BUSINESS NEXT TIME I HOPE SOMEONE HOLDS YOUR MOM DOWN!
And then everyone started talking at once. At least three people stood up and offered their seat to me but I was now on a mission. Get that girl. Hoping I had everything, I ran off the train and headed to the stairs where I could just see the back of her head disappearing. So naturally, I launched myself into the air in a full on head dive - I was going to tackle her from behind regardless of us being near the top of a metal staircase. No way was that bitch getting away with swelling up my face. Instead of impact/crash/roll, I found myself suspended and immobile once again. This time, a good samaritan snatched me out of the air and was holding me like a plank of wood. My arms started swimming like I could breast stroke my way out of his grip but he just put me down on my feet and said "I saw what happened. I'll wait with you until the police get here. They're close. You do not want to go down for murder.". Nice guy, huh? Too bad I just screamed YES I DO in his face and continued down the steps four at a time. Rounding the corner to the next staircase I literally bumped into the two friends the pisser and girlfriend were with. The original guy I tapped on the shoulder. I took a deep breath and mustered up all the quiver in my voice as I could and said - look what your friend did to me. Just tell me her name, where she works, anything. I don't deserve this.
Before he could respond, two police officers shuffled up behind them. I started them down, held out my hand and said give me a minute. Eyes, or one eye, one was swollen shut now, and I asked the kid again for information. I guess he felt bad, because he gave me her full name, address and work place along with the next shift she'd be working. I thanked him, and then walked away as the cops arrested them.
By the time I got down to the street, I was calm again. I had what I needed and would just make my way home on foot. Turns out the police sergeant and his team had other ideas. I'm not exaggerating when I say there were at least 15 cops standing around, waiting to make sure I was OK. I took a cigarette from one of them to stop the shakes and they let me sit in one of the cop cars while I smoked it. They weren't allowed to give me a ride home, but since we were "canvassing for the perps", I didn't have to walk it.
To finish up this story, I told the sergeant he had 24 hours to do his thing, otherwise I knew where she worked and would handle it myself. I have no idea what I would have done, but it seemed like a good threat at the moment. And wouldn't you know it, they called me the next day to come down and pick the duo out of a line up. Blah de blah, I win the day and even ended up with a date with one of the detectives on the "case".
I can't find the selfie with the swollen eye, so here's a hair selfie instead: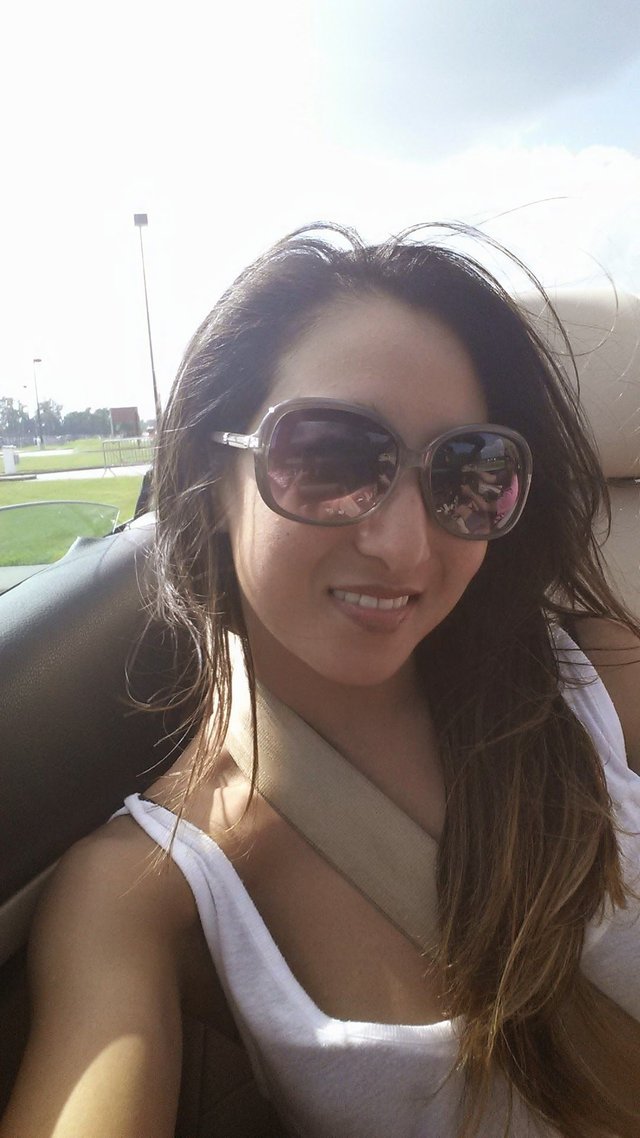 xo,
Christie

#SoCalSteemit is building and supporting the Steemit community of Southern California. If you are from SoCal and are into creating quality content here on Steemit, we'd love for you to follow us @SoCalSteemit and join our group on Discord