Find the prompt here!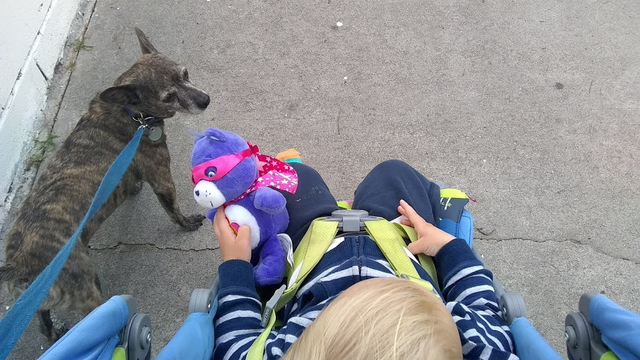 Belmont the dog takes the baby on a walk
Bark
Bark like a dog, bark like tree bark. Bark like a seal. Bark that peels off in strips, bark that flakes off in curls. Colorful bark, sharp bark, painful bark. The dog barks, our dog barks, and it's often the most annoying thing in the world. He barks at wrong times, and at people we don't want him to bark at. He barks when we're trying to sleep, or trying to make sure the baby has an easy time sleeping. And we are not as patient with the dog as I wish. I feel like it's our fault if the dog behaves in a way we don't want. There are no bad dogs. I believe that. But there's so little left in us to deal with the dog, too. I have an idea for a book of stories. It would be titled "Half Man, Half Van" and would be tales of horror, from the dog's perspective. Particularly our dog, Belmont. One time I was walking him and he got so scared about a person who was working underneath a van. You could only see the person's legs, and I imagined that, to Belmont, it looked like a half man, half van creature.