Easy 'How to' for @MarianneWest's Daily #freewrite Challenge
Hi Everyone,
I have had a few requests from people that want to start to do @MarianneWest's Daily #freewrite Challenge on how to start doing them.
This is a post of how I do them but as time goes on you will make your own rules up that you are comfortable with.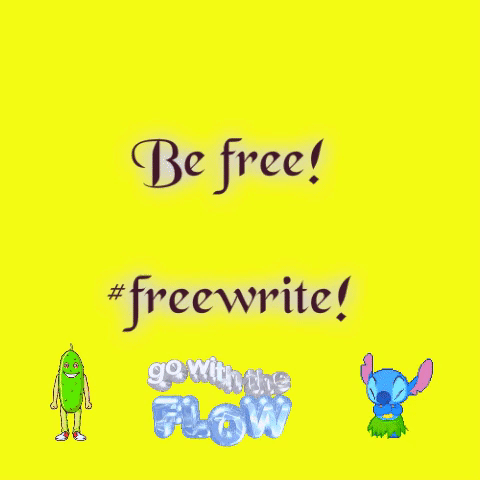 Keep in mind The #freewrite that @mariannewest runs is not a competition. It is an initiative that @mariannewest made to get people writing every day. There is no prize for writing and posting your original story made from the prompt she gave us that day.
~~~~~~~~~~~~~~~~~~~~~~~
Here is what I do:
Follow @mariannewest

Every day look for the blue #freewrite post in your feed. She usually posts it at 10:00 am CST.

Image by @mariannewest

Most times the prompt is in the header of the post. If not scroll through the post until you see this. I then copy the prompt:

~~~~~~~~~~~~~~~~~~~~~~~
The prompt for each day changes. It can be one word or like today a phrase.
~~~~~~~~~~~~~~~~~~~~~~~
I open Grammarly on my computer. You can use notepad or any writing app/program you want.

I paste the prompt in my header so I don't forget it. loll *been known to do that too..........

Set my phone timer for 5 minutes.

Hit GO on the timer and type while trying to keep in mind the prompt for today.

I then go back and because I'm NOT a typer or speller fix my story so people can read it.

Find or make a photo to go along with my story. I get most from Pexels**Photo NOT needed but I like to add one to mine.

The go back to @mariannewest's post for today and paste the link for my story in the comment section.

Now the best part! I go through all the other people's links and read their stories and get amazed at how different each story is from the same prompt.
~~~~~~~~~~~~~~~~~~~~~~~
It's as simple as that!
~~~~~~~~~~~~~~~~~~~~~~~
When writing here are the rules I follow all nice and neat:
There is NO right or wrong way to do a free write as long as you have fun doing it.
If you need to, fix your typo's after you are done.
If you feel the need to follow the official rules to a T then don't fix your typo's.
Relax!
Have FUN! ALWAYS!
Don't over think it.
Timer always at 5 minutes, try and not look at it!
If you feel the need to finish the story after your 5 minutes are up, finish it! as long as it's FUN and not WORK for you.
Don't stress about what comes into your head, just write what comes in down and post it.
There is no right or wrong unless it's not fun. If it stops being fun. stop and wait a few days.
**The official rules are found here: Writers or wanna be Writers Wanted!!!! Be Free! Freewrite!
~~~~~~~~~~~~~~~~~~~~~~~
My advice to anyone is to try doing a #freewrite. You will be very surprised in many ways you never thought of!!
Here is today's prompt to get you started if you would like: Day 77: 5 Minute Freewrite - Prompt: If you have any thoughts, please let me know
~~~~~~~~~~~~~~~~~~~~~~~
Always remember and never forget "there is no right way" to do a #freewrite, for me. This is not school, this is Steemit! and fun should always be had!
I hope this has helped!!!
Happy Writing!!
Snook