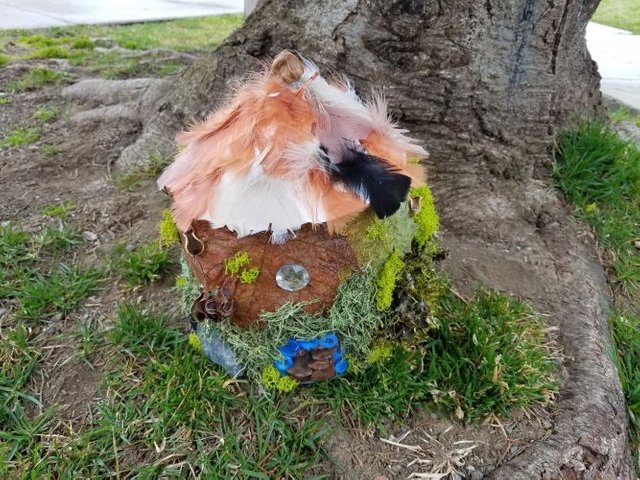 Photo taken on my Android phone.
Mandy wandered through the flower-strewn field, gazing at the distant mountains and admiring the lush green foliage of the trees along the edge of the meadow. She was simply out for a walk, yet something in the distance seemed to be calling her. It was an odd sensation, one which she had not experienced before. As she neared the trees, she could hear distant music. It sounded as if someone was singing. Maybe there was a house back here, although she wasn't aware of any homes this far from the road. She kept on walking, moving toward the sound. A path appeared in the woods, so she decided to follow it and find out where it went. Of course, the old fairy tales came to her mind, like "Hansel and Gretel" and "Little Red Riding Hood." Which made her feel quite silly. But she continued to follow the sound of singing. Eventually, the path lead to a clearing in the woods, and there she was a tiny little house. It looked like a fairy house, with feathers for a roof, moss for siding, jewels for windows, and a wee little door made of colorful cloth. Mandy felt a tremendous urge to try to somehow crawl inside that adorable little house, from which came the sound of singing. But she was too big, and, unlike Alice in Wonderland she had no mushrooms to nibble on for shrinking herself, and, furthermore, she had no key.
*****************************
Thanks to @mariannewest for yet another freewrite prompt! If you've never written one, click here to find out how to participate.