Greetings, friends. I hope that you are well .
This is my response to the Freewrite prompt, a daily writing exercise that I am really enjoying doing. Thank you @mariannewest for hosting these. The Freewrite community has also graciously agreed to "adopt" me, promoting me on their page and giving me daily upvotes. It is much appreciated, and hopefully my writings will be up to their standards.
I'm thinking about challenging myself to make all of the freewrites I do match a particular theme. So far, I've had a suggestion to make them about wild animals that tend to get a bad reputation. I'd be curious if anyone else had any other suggestions.
---
https://steemit.com/freewrite/@mariannewest/day-482-5-minute-freewrite-thursday-prompt-magical-realism
Prompt: "Magical Realism"
---
It was a bright night. The huge full moon hung in the night sky, shimmering with a brilliant white light. It cast shadows everywhere in the forest, and made it so beautiful in an otherworldly fashion. Then, with a flash of silver, a wolf ran through the forest. The motes of dust hung in the air, the light glinting of them as though they were suspended from string to the stars. Then, another wolf, and another. A whole pack, traveling through the woods with by the light of the moon. They came to a clearing, nearly perfectly circular, with a stump in the middle. Upon this stump, the alpha male took his seat. The rest of the pack surrounded him, waiting. Waiting. The moment was almost upon them, and they were ready. As the moon crept directly overhead, the alpha let loose with a hauntingly beautiful howl. The rest of the pack joined in, their cry of joy echoing throughout the night, bursting the silence that had settled upon the world. They howled over and over, singing their praises to the moon on this magical night. For they were real. They lived in the moment, embracing all that life had to offer. And it was good.
---
I'm hoping people are enjoying these as much as I am enjoying writing them. I'm also hoping people appreciate these pictures. I feel it adds a little something to these daily posts. Here's an image of a wolf howling at a full moon. I don't know why, but wolves always evoke really beautiful imagery for me. The power, freedom, and grace they have are really inspiring. It's so sad how feared and despised they are in parts of the world.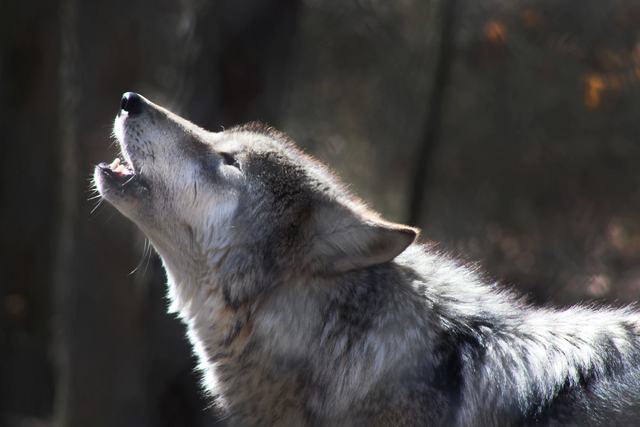 Source
Image Address
---
Part of being a member of the #ccc community is having this footer on my posts. If you'd like more information about what that is, check out @freedomshift, @team-ccc, or any of the links below.
This is an Invitation to join #ccc for Guaranteed 👍 Daily Income 💵 and Payout 💸 for Newbies (2.0) 🐟 🐜 🐛 in #ccc 👣 and Follow 👣 the Honor Code 🏅 - the Creed (Conditions and Limits Inside)
AND
the latest update <<< please click to read.
---
Until next time,
Namaste
Posted using Partiko Android