The Vanishing Act (Part 2) - (Freewrite)
Part 1
When asked about her age, Grandma would say she felt like a 100 year old donkey, which never failed to make the kids laugh and run around making funny noises. She tried to explain she meant as wise as an old donkey, which only added to the general merriment, because, really, a donkey?
Her husband had noticed it, Melinda's gradual slipping into the old ways of her people, and so had her son. Although he knew better than to question her increasingly more erratic ideas, when she tried to impose them on his wife, Tom stood his ground. Which is why all of the five grandchildren were born at the local hospital, 50 miles away, and not in the wilderness. They did not object, though, when Grandma hung a rabbit's foot over the crib to bring the newborn luck. As the occupant of said crib changed, so did the good-luck charm. Each had their own path to walk in life and what would be lucky for one might prove a disaster for another.
The extent of her belief in gypsy lore came to light one summer when all the village suffered a terrible rat infestation. Normally, the two black cats would take care of that unpleasantness, but that summer the situation got out of control. Grandma put small plastic trays of bread laced with poison to the four corners of every room and swept the droppings with a grim face.
One day they heard Johnny, Tom's second son, crying his little heart out in the barn and when he got everybody's attention he started shouting 'Rat, rat!' pointing to an old chest of drawers where they kept farm tools and all sorts of bits and pieces. Grandma grew awfully pale and started whispering under her breath strange words only she understood. The poor child had no way of knowing he'd just put a terrible curse upon the whole family.
Grandma went into overdrive, trying all she could think of to ward off the evil the simple uttering of the word rat had awoken. You were never supposed to say the r-word, Tom knew they were to be called longtails or simply critters, but the kids didn't.
When she found a small tear in the rug set in front of their bed, Grandma knew it was the rats' way of announcing her husband was going to die. She did not say a word, but the way she talked to him, and only him, changed. As if she was scared it was going to be the last time they spoke and she wanted to reassure him of her love or, better said, of her respect for him. They had never been madly in love, but they'd grown fond of each other and she was always trying to let him know he'd been a good husband to her and she was grateful for that.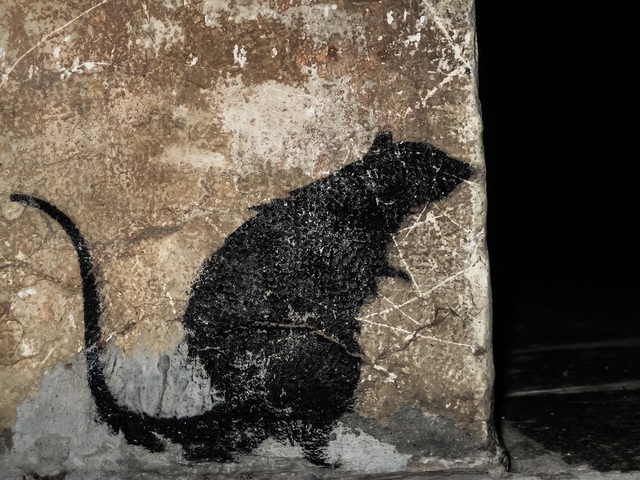 source
It was a stupid accident that killed Grandpa. He was up in a tree picking plums when a rung of the ladder broke under his foot and sent him crashing to the ground. The tree wasn't even that high and he might have escaped with a broken bone or two, had it not been for the boulder that he smacked his head against. Grandma heard the thud from the kitchen and came running, but Grandpa was already dead, a fine thread of blood running down his cheek. While everyone else fretted around, she just stood there looking at the damn boulder resentfully.
For many days after the funeral, Tom tried to keep little Johnny out of her sight. Of all the family, Tom was the only one who made an effort to understand the workings of his mother's mind.He was wrong, however, as for the rest of her life, Grandma made sure to show the special love she had for the boy, who, needless to say, was totally oblivious to the drama he had caused.
Small things, an unexpected kiss planted on his forehead or an extra dumpling on his plate, were Grandma's way of saying he was not to be blamed for Grandpa's death. Grandma would never elaborate on her concept of fate, she disliked serious conversations anyhow. It was through the odd remark that she made it clear she believed everything happened for a reason and that reason was fate. Just as it had been her fate to marry in that village or to only have one son. If fate was unjust, it was your right to fight it, but most of the times it was pointless.
(To be continued)

Story written for @mariannewest's freewrite challenge. Today's prompt was 'mouse droppings', which got substituted for rat droppings. :))
Check out her blog for the daily prompt and join our freewrite community.
Thanks for reading!