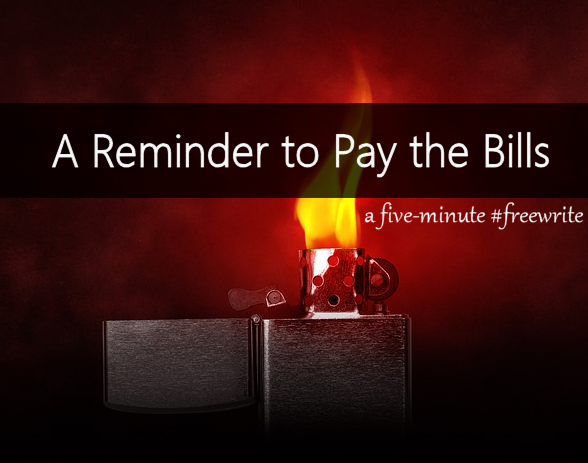 "Let there be light!" Joey exclaimed, clapping his hands with a dramatic flair, and again, louder and harder. Nothing happened.
I sighed and flicked the switch. Still nothing.
"Joey, did you remember to pay the electricity bill?"
"No. Did you?"
I sighed again, louder and huffier than the last one. It was his responsibility, not mine. Wasn't that the point of living under shared circumstances? We each had our share of the bills and responsibilities. His was the electricity and half the food and rent. Mine was the internet and the other half of the food and rent. Mine was also more expensive. The twirp.
Joey grinned, as though he heard me calling him a twirp out loud. "Now, now. Don't get feisty. And don't swear at me beneath your breath, either." He shook his finger from side to side. "The solution is simple." He waggled his eyebrows up and down, shifted his eyes left to right, and then his grin widened.
"You ready for this? ... Camp. Fire."
Oh dearest Jimini Jones. He's got to be joking, right? My shock must have been evident because he started laughing so hard he almost keeled over. But I had every right to be shocked! Last time we had a campfire, we almost burnt down the house.
Well, of course it wasn't so much 'we' as 'he'. It was all Joey's fault. Damn kid was a firebug. He'd flick the lighter on, flick it back off, adjust a thingee on the side, and whoosh! Next thing you know the flame is ten feet tall and the roof is on fire! The roof, the roof!
No. We could not have a campfire, there had to be another way.


Probably a good thing the beeper beeped when it did, or I would have started singing some Bloodhound Gang in my #freewrite, haha! :D
Today is Day 306 of @mariannewest's five-minute #freewrite challenge, and this is what I came up with in 5 minutes! Except the last line, which I added just after the beep. The prompt for today is -- light -- and the day is not over yet, you can still join in! :) You can find the challenge at the following link - https://steemit.com/freewrite/@mariannewest/day-306-5-minute-freewrite-tuesday-prompt-light
The image I used for my header is a CC0 image courtesy of Pixabay!
Thank you for reading!