Switch - Freewrite
I remember when I first realized that my teacher wasn't who I thought he was.
It was 4th grade and we were preparing for our history field trip.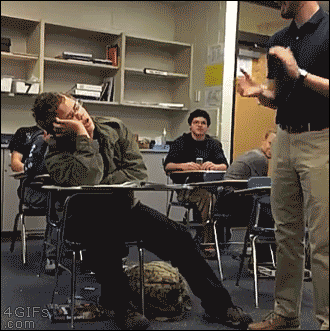 Source: Giphy.com
We were going to go see some boring old Indian stuff, if I recall correctly.
Of course, everything was boring to my ten year old mind.
Our teacher, Mr. Marsenrabble, was a grey haired poet and infamous cigar smoker.
Everyday he used to sit in the corner and play a blue speckled ukulele for exactly 17 minutes while we all danced around and did our lessons together.
Then one day, right before we were about to leave to go see the Ronald McDonald historical hamburger coliseum and bowling emporium for left-handed disingenuous lumberjacks, I came back from the nurse's office to find a different man sitting in Mr. Marsenrabble's chair.
"Mr. Marsenrabble?" I inquired.
"No. Mr. Marsenrabble is sick today." he explained.
"My name is Mr. Oxenford."
Strange. That doesn't seem like something that Mr. Marsenrabble would say.
"You don't look like Mr. Marsenrabble at all though." I was quite curious now.
"I'm not him. I'm Mr. Oxenford, as I told you before."
It didn't make any sense.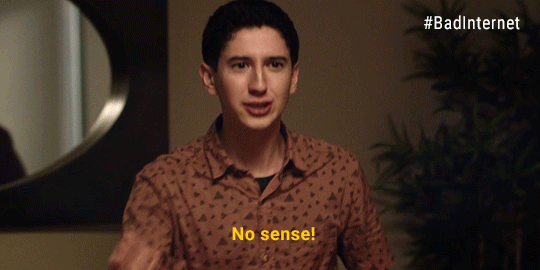 Source: Giphy.com
This guy was about two feet taller than Mr. Marsenrabble, he had a full head of hair, and a big round face.
Mr. Marsenrabble was quite small and gaunt.
How could this be the same man?
We got on the rickety schoolbus and headed down to the Coliseum. I sat up front to talk and kept a keen on this Mr. Marsenrabble impersonator.
"How much longer do you think it'll take us before we arrive at the Ronald McDonald Hamburger Emporium, Mr. Marsenrabble?" I asked.
"Please stop calling me that." he replied.
I was determined to prove that this man was not actually Mr. Marsenrabble at all.
The field trip itself proved to be an incredibly fun time.
I bowled to my heart's content, and I even ate several corn dogs.
I went camping for 2 weeks and lived in a tent with a group of American Indians while we worked on building a new fire escape for the Coliseum.
Mr. Marsenrabble and I wrote a series of books during that trip.
It was called "Why I'm not Mr. Marsenrabble."
It was about a small rabbit who lived inside a larger rabbit, if I recall, and that larger rabbit was actually a firetruck.
In the end I decided I was wrong about Mr. Marsenrabble.
"I'm sorry I doubted you." I told him.
"There's no longer any doubt in my mind that you are actually Mr. Marsenrabble"
"My name is Mr. Oxenford, Jimmy."
"Please remember to take all your medications before coming to class."
Mr. Marsenrabble is my best friend.
He's a ten foot tall elephant creature that lives on the moon these days.