SMALL TALK (5-minute Freewrite)
a 5-minute Freewrite by A.E. Jackson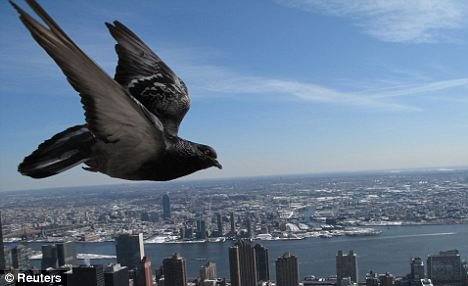 Image source
The pigeon flew up toward the ledge when it noticed an open window, and flew inside. Wings spread wide, she floated through the crowded call center and listened.
"... with the claim you've filed ..."
"... certain he will, but ma'am ..."
"... if you see fit. I'll just ..."
"Ha ha ha. Stop it. No, you stop it!"
"... 'amnit Marsha. Won't you be satisfied ..."
"... my manager, but that won't resolve the ..."
"... just get the last four digits of ..."
Cold breeze fluttered the tips of the bird's wing feathers. It soared on around the water cooler, and past the copier room.
"... told him a thousand times. If he'd ..."
"... all I'm saying. You won't let me fin' ..."
"... late tonight. Just. I don't know. Don't leave without ..."
The bird swooped low past the General Manager's office and out through a window on the southern face of the building.
T H E E N D
© 2018, A.E. Jackson. All rights reserved.
Loyal Reader Rewards - Earn 1 Steem Basic Income Share Each Week!
A.E. Jackson writes short stories, interactive fiction, and informative articles published on Steemit.com. Loyal Readers can earn 1 Steemit Basic Income Share each week by reading posts. Read Posts and click the linked word or phrase. Complete the Entry Form with Your Steemit Username. Upvote, Comment, or Resteem the post to complete your entry. Drawing held once per week from all entries received. Winner MUST have an Upvote, Comment, or Resteem of at least ONE post within that week's contest period.
If you would like to find out what freewriting is all about, read the original post here.
If you are enjoying my work -
Upvote my posts through Steemauto and add the other people and groups you would like to support. Should you find this post after the 7 day period and wish to throw me an upvote, please consider upvoting a newer post of mine. Thanks!
Discover the joy of browsing Steemit faster and easier -
eSteem Surfer and eSteem Mobile makes browsing Steemit a complete joy on desktop and mobile. Everything works faster and easier with the applications. My personal favorite features - save Drafts, and Schedule posts - mind blown... Enjoy eSteem for iPhone, iPad and Android, as well as PC, Mac or Linux devices today!
Steem Basic Income is a social experiment to bring a basic income to as many Steemians as possible. Members join by sponsoring others into the program. Steem Basic Income is delivered through providing regular upvotes to member content. Complete details...