NEW LAWS (5-minute Freewrite)
a 5-minute Freewrite by A.E. Jackson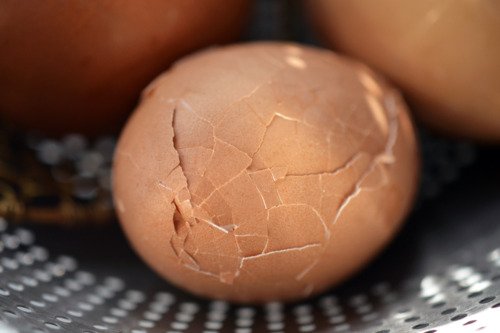 Image source
The boy closed his eyes. His head tilted back. Light blonde hair spilled away from his forehead. His pale white skin reflected the candle light hanging above the table.
Next to his small spoon sat a single burner hot plate. Atop this rested a small metal pot half filled with water. Cracked egg shell lay submerged in the still too hot to touch water.
His lips parted. Tentative teeth nibbled at the bright white flesh of the hard boiled egg. A small piece broke free and tumbled back over his dry tongue. Eating this way, the boy looked like a penitent man taking Holy Communion.
He thought the new law prohibiting the consumption of avian products to be foolish. And Gertie had laid her first egg at long last.
There was a hard knock at the small bedroom door.
T H E E N D
© 2019, A.E. Jackson. All rights reserved.
Loyal Reader Rewards - Earn 1 Steem Basic Income Share Each Week!
A.E. Jackson writes short stories, interactive fiction, and informative articles published on Steemit.com. Loyal Readers can earn 1 Steemit Basic Income Share each week by reading posts. Read Posts and click the linked word or phrase. Complete the Entry Form with Your Steemit Username. Upvote, Comment, or Resteem the post to complete your entry. Drawing held once per week from all entries received. Winner MUST have an Upvote, Comment, or Resteem of at least ONE post within that week's contest period.
If you would like to find out what freewriting is all about, read the original post here.
If you are enjoying my work -
Upvote my posts through Steemauto and add the other people and groups you would like to support. Should you find this post after the 7 day period and wish to throw me an upvote, please consider upvoting a newer post of mine. Thanks!
Discover the joy of browsing Steemit faster and easier -
eSteem Surfer and eSteem Mobile makes browsing Steemit a complete joy on desktop and mobile. Everything works faster and easier with the applications. My personal favorite features - save Drafts, and Schedule posts - mind blown... Enjoy eSteem for iPhone, iPad and Android, as well as PC, Mac or Linux devices today!
Steem Basic Income is a social experiment to bring a basic income to as many Steemians as possible. Members join by sponsoring others into the program. Steem Basic Income is delivered through providing regular upvotes to member content. Complete details...