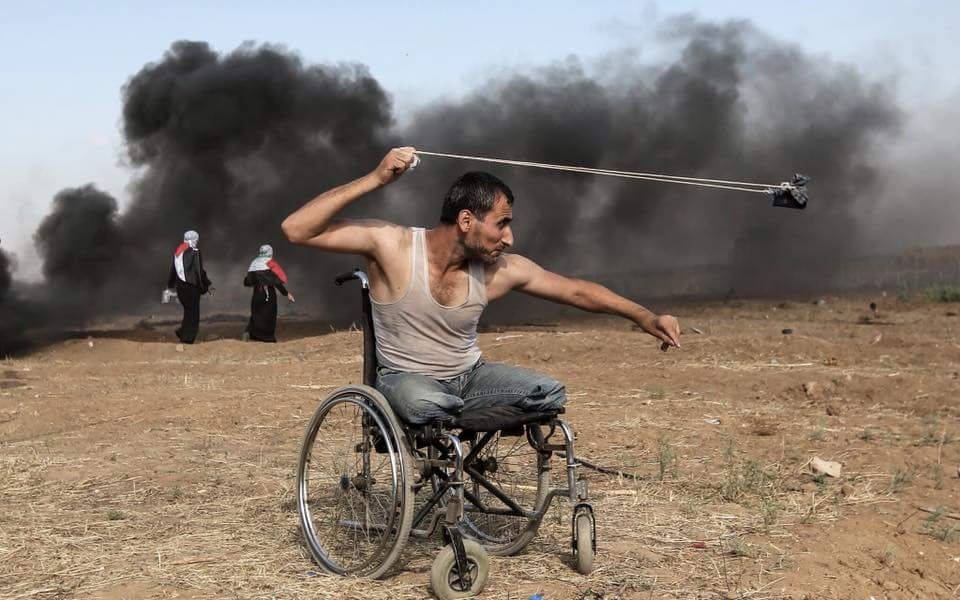 Fadi Abu Salah, 29 years old, was killed on May 14, 2018 in Gaza by the Israeli Forces during the protest against the opening of the U.S. embassy in Jerusalem.
---
Today marks the 70th anniversary of what Palestinians call "Yawm an-Nakba", meaning "Day of the Catastrophe". This refers to the establishment of the State of Israel on May 15, 1948 which led to the displacement of roughly 700,000 Palesinian citizens. In other words, the relocation and migration of hundreds of thousands of Jewish refugees created hundreds of thousands of Arab refugees.
I am not going to go into too many historical details as this is all well established and the ones interested can look it up themselves, e.g. on Wikipedia. My main concern is to put an end to this grave injustice. Many people are not even aware of the ongoing conflict or the pretext of it. The fact of the matter is that the Palestinians were forcefully removed from their native land. Their land and their property were stolen from them which is in direct violation of international law. After they had successfully occupied the territories that were meant for Palestine under UN resolution 181, Israel was quick to pass laws prohibiting the Palestinians to return to their homes.
These facts alone already prove that Israel was established under false pretenses. It is a terror state with no respect for international law or human rights. The Zionists were never interested in a two-state solution, and have only created chaos in the Middle East ever since they were handed their long-coveted Jewish state.
Wrap your head around this; a state established for a religious group. How arrogant must one be to claim that their religion is worthy of its own state. Not only that, but to claim that they have a right to live on a land already inhabited, so much so that they violently expel the inhabitants and kill anyone who comes near its border. Any sane, moral person immediately recognizes the blatant injustice of the scenario. It is not a complex conflict at all, despite what the mainstream media constantly tries to convince you of. Imagine someone forcing you out of your house, and when you try to re-enter your own premises the invaders shoot at you, proclaiming they "have a right to exist" (ever heard that line before?). This is the Israeli-Palestinian conflict in a nut-shell.
There is only one word to describe the State of Israel: Supremacist. They proclaim that their religion is so above anyone else that they must maintain a Jewish majority by all means, and that includes coldblooded murder. 62 Palestinians were killed yesterday, including seven children, and over 2,700 have been injured. Astute observers of the conflict predicted great loss of life in the wake of the U.S. embassy opening in Jerusalem the day before Nakba. Israeli and American representatives were sipping champagne while IDF forces were butchering Palestinian protesters at the Gaza border some 70 miles away.
In the most outrageous display of hypocrisy imaginable, Israeli Prime Minister Benjamin Netanyahu said that Monday was a "great day for peace," adding that there can be no resolution to the Middle East conflict without accepting the "truth" of Jerusalem's status as the capital. There you have it, folks! Accept the reign of the Jews or face perpetual war.
In all the justified condemnation of Israel's apartheid regime, it is important to emphasize the role of their greatest international ally. Through its financial and military aid, the United States is vastly complicit in Israel's war crimes. Furthermore, the US vetoes each and every UN resolution to investigate Israel for human rights violations. It should be obvious to anyone that the US is the biggest terrorist state in the world, but nowhere do they create more chaos than in the Middle East by aiding and abetting Israel.
While the two states have a long history of tied relations, current US president Donald Trump appears to be especially fond of Israel's 'ambitions'. His decision to move the U.S. embassy to Jerusalem has aggravated the conflict to the bloodiest state since the 2014 Gaza war. The embassy move has been "a long time coming", and that the US has for many years" failed to acknowledge the obvious", said Trump in a recorded message, noting that Jerusalem has been Israel's historic capital since ancient times.
This is the rhetoric you are hearing a lot these days; Israel has a historic right to the land, and there never was a country called Palestine. While I have no intention to honor this blatant distortion of history with a detailed counter-argument, I do want to point out that Palestinian ancestry goes back for more than 1,000 years before the Zionist supremacists stole the native land of the Palestinians 70 years ago on this very day. Despite this historic fact, the Baptist pastor who spoke at the US embassy's opening had the unmitigated temerity to thank "the God of Abraham, Isaac and Jacob" for fulfilling His promise from 3,000 years ago when He supposedly declared Jerusalem the capital of Israel.
Let me put it to you as frank as I can; are we to understand that the United States conducts its foreign policy on the basis of a real estate deed that God gave the Israelis 3,000 years ago? Regardless of the fact that this is another Zionist lie that has fooled millions of Christians into supporting Zionism, the mere notion that any ideology would be used to justify racism, violence and murder shows those false prophets for what they really are.
I think it has become alarmingly apparent that religious fanaticism is an underflowing current of every oppressive regime, whether it be Israel, Saudi Arabia or the United States which are the three biggest terror states in the world right now. The Zionist line of thinking has also been a huge influence in the decision making of the United States congress which is heavily lobbied by Israel and comprised of many American-Israeli dual-citizens. Israel's war crimes are committed with contributions from the American tax-payer. In a true constitutional republic, this would be considered treason. The biggest example of which is of course the attack on the U.S.S. liberty. But this is a topic for another day.
What matters right now is that the Palestinians will finally, after 70 years of violent military occupation, see justice served by returning to their homes and living in peace. It is inconceivable that this madness is allowed to continue for everybody in plain sight. While human rights organizations along with the United Nations have long proclaimed that Israel is guilty of war crimes and must stop slaughtering unarmed Palestinians , each call for justice remains largely unanswered since the US simply vetoes the UN's demands for a probe into Israeli violations of international law. US Ambassador to the UN Nikki Haley went so far as to praise Israel's "restraint" today. This is the warped and wicked narrative the elected representatives of the United States and Israel unabashedly shove down people's throats.
But they will not be able to uphold their lies much longer. More and more people are waking up to the inhumane nature of the supremacist State of Israel. They cannot hide it any longer now that anyone can be a civil journalist, taking pictures and videos of irrefutable evidence of Israel's crimes for anyone to see across the globe. I urge all of you who have not lost your morality and compassion to boycott Israel and call on your state representatives to do the same. Stop your country from doing business with Israel, especially arms trade. We must drain their resources until they cease to oppress the Palestinians and return their stolen and occupied territories and property. Join the BDS movement in any way you can, even if is not only boycotting Israel's products.
Apparently the UN member states are not dedicated enough to put an end to the longest military occupation in modern history, so ordinary citizens need to stand up for the Palestinians to finally see their day of justice. How can there be justice anywhere in the world if there is no justice in Palestine? Let this be the last Nakba they will have to remember.