The Police union in my little country the Netherlands, proposed the idea for everyone who installs a camera around our own house or office to register this with our police force, obligatory.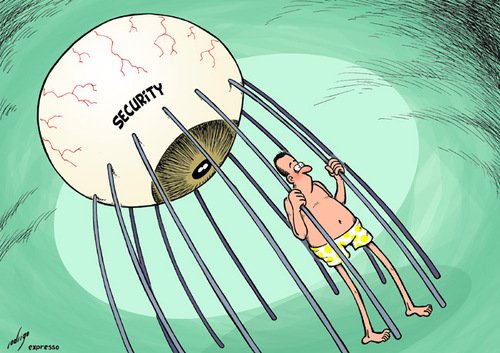 © Rodrigo (source)
When we hang a camera to see which cat is poking in our garden or filming unsavoury types trespassing, we have to register this with the police and give them access. In this way we facilitate the work of our servants. In the Netherlands, already today about 200,000 private cameras voluntarily help the police. In total, we have around one and a half million corporate and private cameras. People think our country and society will be safe, harmonious and perfect when there is more camera surveillance, however this can be called naïve to say the least.
The famous video clip of George Orwell: He lies in bed and tells the world is going to resemble what he described in his book "1984". I paraphrase: "If you build a world that is full of cameras, you build a civilisation that is based on hatred. In such a world there will be no emotions except fear, anger, triumph and self-abasement".
George Orwell Final Warning @ BBC (source)
In many of the discussions about this topic, the words 'this will not happen' appear. Crimes are dissolve much more effectively with camera footage. Who does not want to lock up criminals? That all seems true, until you realise more cameras lead to a paranoid world, in which the freedom of people is limited.
Think of all the shameful moments in your life. From peeing in open air, throwing cigarette buds onto the road (occasionally), singing while we cannot, to let ourselves go while being drunk.
We all want to help the police. However, do it voluntarily, with a secure camera, aimed at your private domain and delete the footage after a short period of time. Then we prevent 'a world of trampling or being trampled on,' to quote Orwell again.
NJOY FREEDOM
Music Library with more than 200 Entries
blockchain curator and reviewer for @illuminati-inc
you like music? check @qsounds