Things you can do to help support the OPERATION BIG EASY #BookBomb
Things you can do to help support the New Orleans FREEDOM! #BookBomb
Share all posts from Adam's pages on all appropriate social platforms and add your own special message prompting support.

Use the hashtag #BookBomb when posting.

Join New Orleans based groups/events and post about the #BookBomb there.

Tweet at or mention the #BookBomb to the top New Orleans based profiles on Twitter and send us a list of the accounts you found so we can have Adam mention them as well (note he has already started this process).

Let any friends or family you have in New Orleans know about the #BookBomb and the significance of the project.

Contact local media in New Orleans and let them know this story about the #BookBomb matters to you and would like them to cover it.

Let us know any other ideas you can come up with!
Feel free to use the image below: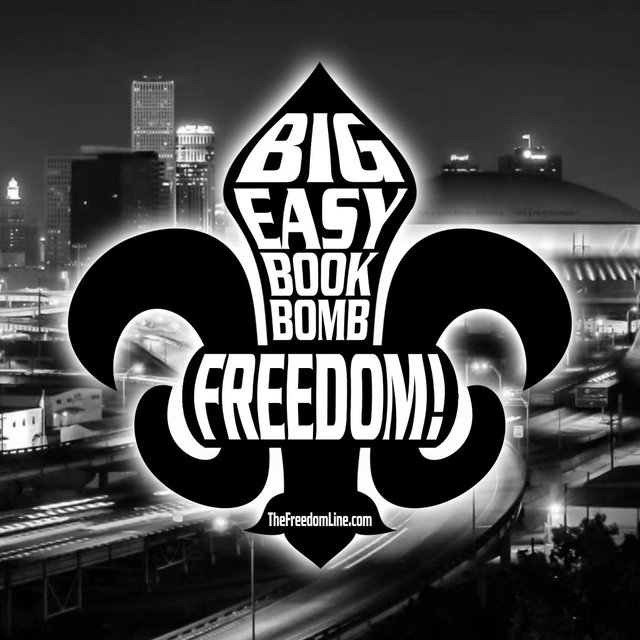 We raised $131k to put a copy in every residential mailbox in New Orleans (about 204,000) all at the same time. (You can see the budget and invoices from the printer, logistics company, and the bulk mailer below. The final cost per book with all the other core expenses came out to just sixty four cents!) The books will be arriving between January 4th and 11th. Thanks to all of you who made it possible to get to this point, and especially to our sponsors for this project, including Bitcoin.com, Dash, and SmartCash. The version being delivered to the residents of New Orleans is a special edition printing. We've added a letter in the front cover from me explaining our presidential campaign's plan to peacefully dissolve the federal government, the World's Smallest Political Quiz, a plug for the Louisiana Libertarian Party, acknowledgements of the many people and organizations that helped make this project happen, and of course postage on the back cover. Learn more here: https://thefreedomline.com/2018/12/04/operation-big-easy-book-bomb-2/