I'm giving away 50 SBD.
Yes. You read that right.
I'm giving SBD away.
Because, I can.
Because, why not?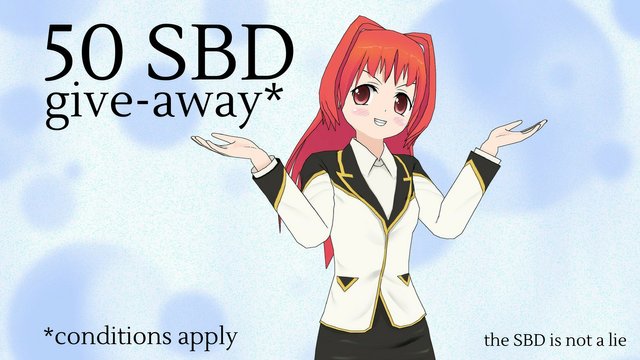 [Insert how happy I am about steemit and the community and how we are all here to help each other and how wonderful the world is and all.]
Let me tell you why and how you can get 50 SBD:
I have it.
I don't care.
I can do it.
Nobody does it, so it must be the right thing to do.
Anything that attract upvotes and resteems is worth it on this platform, right?
The goal is always more important than the means.
It's my hard-earned SBD, so why shouldn't I do it?
I just write weird short stories and dump them in the cesspool and expect people to read them.
The joke is really all on me. Giving away money is more funny than all of that.
When I put very high conditions on how to get this free SBD, it's not my responsibility if people want to follow them.
It's not like I am giving a reward to unethical behaviour.
It's just a give-away of free money. Free SBD, I believe it is money, but haven't a of yet seen proof.
I'm not just doing this give-away because Steem is worth less and less. This has nothing to do with it. I promise.
O no, I'm using difficult words in a post on steemit, now nobody will read it. Ontological frustrations abound!
Oh, wait, nobody reads this anyway.
But if I give people 50 SBD to read this crappy amount of words, it's kind of a job, so it's okay, right?
But if it is a job, am I responsible for the things people do in order to get the money?
What if I don't ask them to read this, but also, like, kill someone?
They can decide who, so it has nothing really to do with me, right?
Perhaps if I ask someone to do harm to someone specific, or some group of people, that would get me in trouble, right?
Oh no, wait, this is what governments and certain people do that all the time, don't they?
It is weird for an individual with no power to get in trouble for doing something which people with power do all the time.
I don't really want to get in trouble. Except certain types of trouble.
Okay, this is going in directions I hadn't expected. It's what happens with freewrites.
It's also what I hate about freewrites. At least in its published form.
Okay, to be honest, I edited this list to pieces, but I left in the freewrite bit as it is correct.
And for those who are still here for the money: I'm really going to give away 50 SBD to someone.
But I decided not to let you know what the conditions are.
Beware. Because for SURE. There are lots of conditions.
I won't be able to tell you the conditions because of legal reasons.
The first person to fulfill all my conditions will be receiving 50 SBD.
Please leave evidence in the comment section.
I tried to obfuscate this give-away, to give people a better chance to win.
Making it this far at least shows me you've really tried and at least I'll be giving this SBD to someone worthy.
Or maybe not worthy, but at least dedicated.
Or persistent. Pig-headed.
Intentions are more important than actions, right?
The road to heaven is paved with some mediocre intentions.
Make sure you have the best intentions!
There is a deadline. Telling you the deadline would be stupid.
I am many things. Even stupid at times. But not right now.
Anyone with some deductive skills will now know the deadline.
I am looking forward to picking the winner.
I will accept bribes.
I don't think this is worse than those bizarre writing contests where people expect you to write advertisement for some kind of product with a slight possibility for you to 'win' some money for it.
If you work for it, you shouldn't have to 'win' your wage.
This is just my opinion of course. Obviously this is not true, otherwise nobody would write real things on steemit.
Oh, wait.
I cannot deny or admit whether bribes are or are not part of the conditions.
Spam comments on this post will be nuked into oblivion.
I will share one part of the conditions only: Other people have no say about the conditions.
In case of many bribes, I might decide to throw in more SBD, divided over more than one person.
It is better to make more people happy than just one person, some silly people say.
Obviously that is all wrong.
Especially in this case.
Because the only way to earn this 50 SBD is to make me happy.
Happiness in this case means to have someone fulfill the conditions as described above.
I am only one person.
QED
Good luck everyone!
$$$$$$$$$$$$$$$$$$$$$$$$$$$$$$$$$$$$$$$$$$$$$$$$$$$$$$$$$$$$
ps. This is an entry for @comedyopenmic, but only because there is some sarcasm in between the lines, not because this give-away is a joke. Jokes and punchlines have very little to do with quality comedy. If only people would finally start to understand that! (There are exceptions, like @diebitch who cannot but write high quality comedy. Even when she writes memes.)
ps. I encourage some other people to join in the giving away of sarcasm for the @comedyopenmic which is a weekly contest now already on round 17, especially the following steemians: @carlgnash and @nonameslefttouse. They both inspired me for this amazing give-away initiative.
ps. Image used from Pixabay.