V-ID and DigiByte blockchain to end document fraud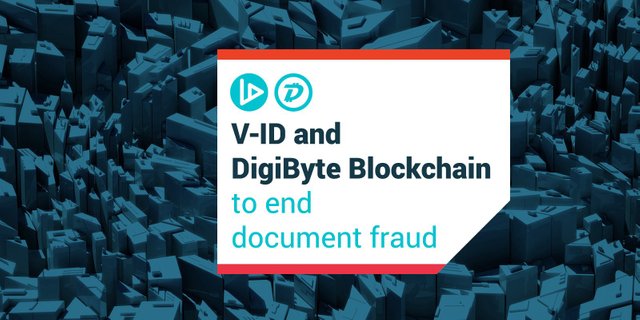 Blockchain-powered, on-demand, secure verification of any digital file.
Rotterdam, September 16th, 2018 An unfortunate consequence of our increasingly digital lives is the risk of fraud, manipulation, and tampering of digitized files. This risk is mitigated through the advanced V-ID data validation service and authenticated on the DigiByte blockchain.
The V-ID concept began in the WIDIDI software studio, a UK/NL based company that has been building secure online platforms for sensitive information management since 2008. These days, V-ID is a separate company. V-ID has a minimum viable product (MVP) and is currently in use by several organizations such as, Airbus Defence & Space, WildRadar Fauna Management Platform, fiber network Vitrumnet, JWC Superyachts and the Maritime Cyber Alliance.
Once validated, the documents can freely be copied, distributed and renamed, while still keeping their verified status. Recipients can verify that the contents of the file are exactly the same as the originally published document. V-ID is also compliant with recent GDPR guidelines, as it does not store the actual digital file or require personal data for validation.

Marnix van den Berg, Lead Development at V-ID: "The DigiByte blockchain will empower the V-ID corporate services with great transaction speed at low costs. Combined with the immense spread of the DigiByte network, it is a superior store of publicly accessible and timestamped V-ID data"
According to Rudy Bouwman, Chief Marketing Officer at DigiByte and Co-Founder of the DigiByte Awareness Team: "Enhancing Cyber Security and making the Internet a safer place is a long-term mission of the DigiByte blockchain. We are excited to see the DigiByte foundational protocol being used by companies like V-ID who require fast, safe, and highly decentralized transactions. The ability to authenticate digital files without a third party will not only reduce fraud, but open the door to new opportunities and innovation."
About DigiByte and The DigiByte Awareness Team (DGBAT)
DigiByte is the fastest, most secure and most decentralized open-source blockchain. The DGBAT is a community driven marketing and education campaign to promote awareness and utilization of the DigiByte blockchain. For more information about DigiByte please visit www.digibyte.io. For additional information about DGBAT, please contact [email protected] or visit www.dgbat.org.
About V-ID
V-ID uses blockchain technology to end all document fraud. The V-ID validation service allows organizations to validate the identity of their documents. Those documents can then be verified on the blockchain.
Read more about V-ID's validation process here
The 3rd largest criminal activity is rapidly digitizing, but blockchain can fix it
V-ID's solution is as broadly applicable as digitalization itself
medium.com
Recipients know that the content of the document is unaltered and exactly as originally published. V-ID's utility token, called VIDT, is the backbone of their business process. VIDT is currently available through their token sale, and will be listed on at least one exchange before Q1 2019. For additional information about V-ID, please visit: token.v-id.org.