STEEMIT GO TO BLOG !
Coucou les amis, 👋
J'ai découvert cette nuit, Steemit Go To Blog créé par @bitcoiner, à qui je dis un grand MERCI ! 😃😃
J'ai souvent besoin d'aller sur le blog de certains d'entre vous pour retrouver des posts qui me sont nécessaires quand je rédige mes articles.
Hier, par exemple, j'avais besoin de retrouver un post de @roxane et tout à l'heure le post de @zonguin sur les notifications ou encore, quand, je suis sur le discord ou autre, il m'arrive de lire des choses qui m'intriguent et de vouloir regarder le blog d'un tel ou un tel...
Chaque fois que je suis dans cette situation, je vais :
soit dans la 🔍 mais ça ne me plait pas ; 👎
soit je cherche l'username dans les commentaires de mon blog pour pouvoir cliquer dessus et là aussi c'est fastidieux.
Bref, vous avez compris mon problème !
J'ai donc découvert :

Steemit Go To Blog. et c'est trop 🆒.
Il vous suffit de faire deux manip. pour installer le bookmarklet :
javascript:(function(){var account = window.getSelection().toString(); try { if(localStorage.getItem('blog') != null) account = localStorage.getItem('blog'); } catch(e) {} account = prompt('Steemit GoToBlog\n\nEnter a Steemian\'s username to go to their blog:\n\n(NOTE: This will load in the current tab.)\n\n', account.toLowerCase()); if(account != null && account != '') { try { localStorage.setItem('blog', account.toLowerCase()); } catch(e) {} location.assign('https://steemit.com/@' + account.toLowerCase()); } })();

➡️ double clic juste sur le code au dessus.
➡️ clic D sur le code ➡️ copier.
➡️ clic D dans la barre de favoris de votre navigateur (dans mon cas, c'est chrome) ➡️ coller.
Voilà ce qui devrait se passer :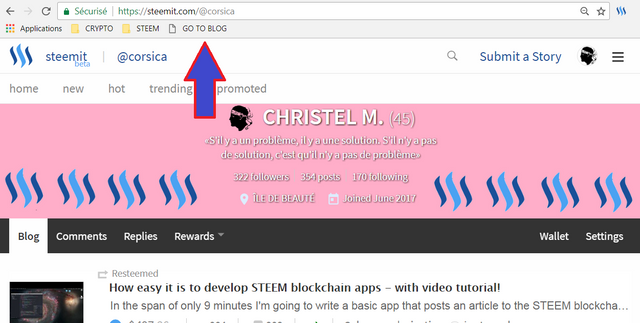 Là, je l'ai renommée en faisant clic D ➡️ modifier car par défaut, c'est l'URL qui apparaît.
Et voilà, c'est prêt. 👍
Où que vous soyez, vous cliquez sur Go To Blog, vous entrez l'username ➡️ OK.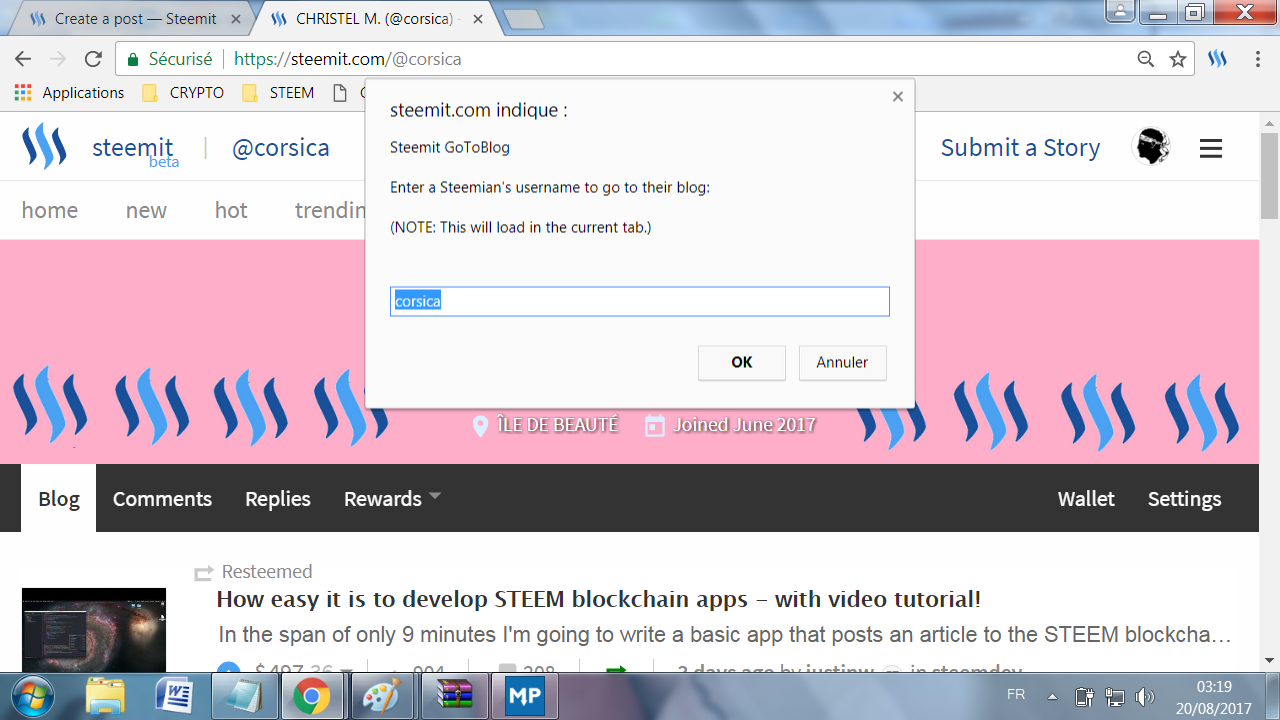 A BIENTÔT POUR UNE AUTRE INFO COOL SUR STEEMIT.
👋👋👋
Source photo #1
.


Si cela vous a plu, venez faire un tour
à la maison !