A magical combination
Ingredients:
1/2 (35) Of raisins.
1/2 Of dry sherry.
2 Cloves of chopped garlic.
1 tbsp (15ml) fresh chopped parsley.
1/2 Cup (50) orange juice.
4 chicken breasts without bones, without skin.
1/2 Cup (75g) of flour.
2 tsp (salt)
1 tsp (5ml) white pepper.
1/2 Olive oil.
1/4 (50g) Butter.
(60g) Green olives without seed, drained.
1/4 (25g) Boiled almonds, in slices.


Method
Put the raisins and sherry in a small bowl.
Cover with plastic wrap and refrigerate for 2 hours.
Combine the garlic, parsley and orange juice in a blender.
Put the mixture of orange juice and chicken breasts in a medium bowl.
Bat the chicken in marinating sauce.
Cover the chicken with plastic wrap and marinate in the refrigerator for an hour.
Combine the flour, salt and pepper in a medium bowl.
Remove the chicken from the marinade sauce and spread with the seasoned flour.
In a large skillet, heat the oil to medium temperature.
Cook the breasts on both sides, until golden brown.
Remove the chicken from the pan. Drain the pan.
Drain the raisins reserve the sherry.
In the same pan, heat the butter and the sherry reserved at medium temperature.
Cook for 1 minute, stirring frequently.
Add raisins, olives, almonds and chicken breasts. Reduce the temperature to low.
Cook over low heat for 10 minutes, turn breasts occasionally.
Serve hot and enjoy a tasty dish.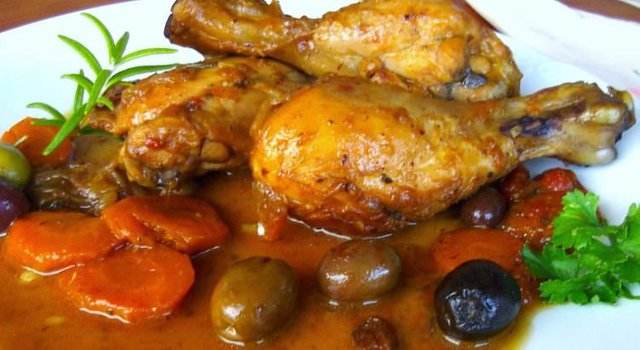 Source
https://imgur.com/