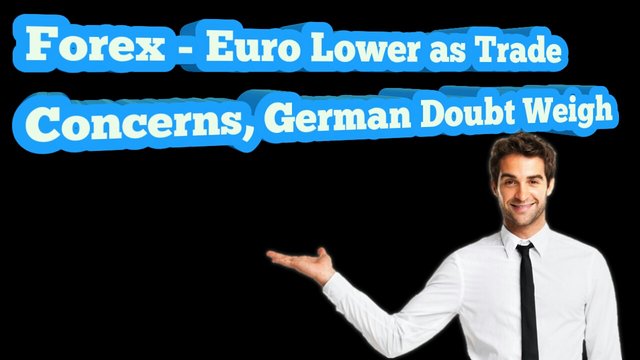 Forex - Euro Lower as Trade Concerns, German Doubt Weigh
The euro was lower on Mon as concerns over the chance of a worldwide trade warfare and fresh politics doubt in Germany pressured the sole currency, as the dollar pared again overnight gains up against the safe haven yen.
EUR/USD was down 0.47% to at least one 1.1628 by 03:56 AM ET (07:56 AM GMT).
The euro arrived under great pressure after Germany's interior minister wanted to resign amid an escalating row over immigration coverage, throwing into hesitation the continuing future of Chancellor Angela Merkel's coalition federal.
The euro acquired risen on Fri after EU leaders come to a package on migration, easing pressure on Merkel.
The single money was also pressured lower after U.S. Leader Donald Trump ratcheted up operate tensions with the European union, claiming overnight it cared for the U.S. very terribly and was "possibly as bad as China, just smaller".
The comments brought up the chance that the U.S. could impose further tariffs on EU imports, possibly on vehicle imports.
The European union has threatened to retaliate with tariffs on up to $300 billion of U.S. products if the U.S. will penalize European union automakers.
The euro was weaker up against the yen and the Swiss franc, with EUR/JPY down 0.48% to 128.77 and EUR/CHF dropping 0.33% to operate at 1.1540.
The U.S. buck index, which steps the greenback's durability against a container of six major currencies, was up 0.39% to 94.60, boosted by the weaker euro.
The dollars pared back benefits from the yen, with USD/JPY previous at 110.74, after reaching a six week most of 111.06 over night.
Demand for the dollars stayed underpinned by the comparative durability of the U.S. market and the leads of additional rate hikes by the National Reserve this season.
The pound was lower, with GBP/USD down 0.42% at 1.3155.
The trade private Australian and New Zealand us dollars were lower, with AUD/USD down 0.54% to 0.7368, re-approaching the one-and-a-half calendar year low of 0.7322 come to last Wednesday.
NZD/USD was down 0.28% to a almost one-year low of 0.6749.