NZD/JPY Key Points
Rising wedge pattern on NZD/JPY.
Testing wedge support after RBNZ inspired bearish momentum.
Waiting for an intraday entry signal.
NZD/JPY Technical Analysis
Afternoon team,
Sticking strong with the Kiwi today, but this time I'm turning my focus to NZD/JPY. With the RBNZ jawboning down the NZD, the pair has today tested the bottom of a classic rising wedge pattern.
NZD/JPY forms wedge patterns quite a bit it seems and this one looks a quality opportunity to keep riding that bearish momentum on Kiwi, if the market gives us a chance.
Take a look at the NZD/JPY 4 hour chart below: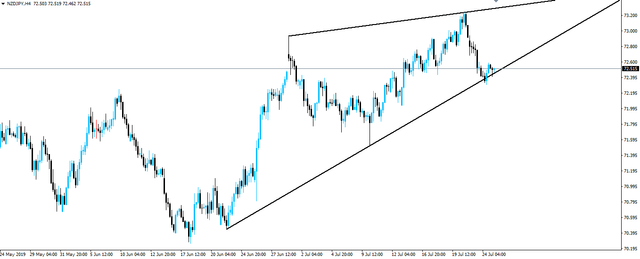 The rising wedge is pretty self explanitory on this one, with price testing wedge support on the third touch.
With the bearish momentum that we've seen in the Kiwi this week, I am much more inclined to trade the pair from the short side. What that means, is that I'm now looking for a short term area of previous support, to be tested as resistance for an entry.
You can see one such example on the NZD/JPY hourly chart below: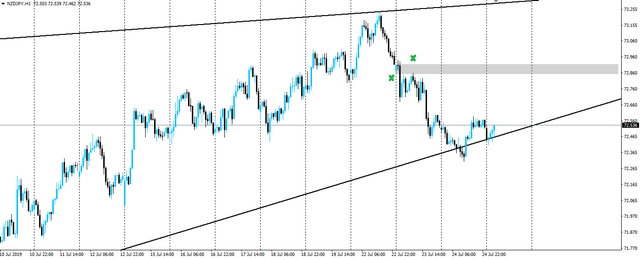 Whether it's back up there, or after price has confirmed a breakout of the rising wedge, this is what I'm looking for in order to get short.
Best of probabilities to you.
Dane.
Upcoming Economic Releases
EUR Main Refinancing Rate
EUR Monetary Policy Statement
EUR ECB Press Conference
USD Core Durable Goods Orders m/m
---
Market Analyst and Forex Broker.
Join my Inner Circle ⭕️ - www.forexbrokr.com