NZD/USD Key Points
NZD/USD inside higher time frame resistance zone.
Price breaks intraday trend line support, retesting it as resistance while also failing to make a new higher high.
Bears take full control, while some RBNZ jawboning ensures our short pays out.
NZD/USD Technical Analysis
Afternoon team,
Do you remember yesterday that we had NZD/USD at higher time frame resistance and we were looking for an opportunity to get short on the intraday chart? Well I've been a bit slow writing up today's daily market update, but I wanted to allow the setup to play out a little more before adding to the narrative here.
The big peice of economic news during today's Asian session actually came out of New Zealand, meaning it was highly sensitive to our trade. As was reported by Bloomberg and then featured on ForexLive, the RBNZ has flagged that they're looking at refreshing an unconventional policy strategy:
"This is interesting. Bloomberg with the headlines. The RBNZ says it was responding to an official information request. But, of course, some will read this as the RBNZ floating the idea of QE. And hence the kiwi $ taken lower"
And taken lower, the Kiwi indeed was. Here's an updated NZD/USD 15 minute chart that highlights just how hard the pair dropped on today's news: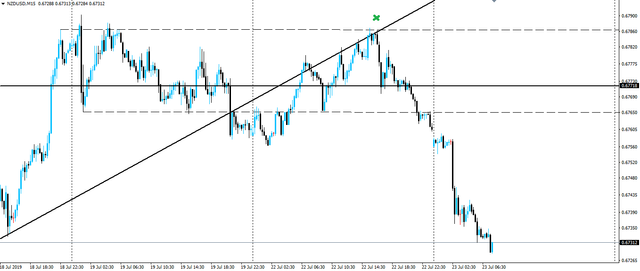 If you need a refresher on the original Kiwi short setup, then you can click the link at the top of this page and take a look at yesterday's analysis, but for those of you who are up to date, that chart should be pretty self explanitory.
You can see that price had pushed into the higher time frame, horizontal resistance zone, the bottom of which is shown by that solid black line. Price then broke the intraday trend line here, retesting it this time as resistance, while most importantly not ever making a new higher high.
Once that confluence of short term resistance held, price continued down all the way through yesterday's US session as the bears regained full control. Today's news then hit and that was all she wrote for the bulls.
A really nice trade that I'm happy to read that a few of you managed to take advantage of.
Best of probabilities to you.
Dane.
Upcoming Economic Releases
USD Advance GDP q/q
---
Market Analyst and Forex Broker.
Join my Inner Circle ⭕️ - www.forexbrokr.com