EUR/USD Key Points
Higher time frame, EUR/USD support breaks.
Previous higher time frame support is retested as resistance.
Intraday retest of short term support turned resistance gives entry signal.
EUR/USD Technical Analysis
Morning team,
Back into my normal routine, with my daily forex market analysis and daily email coming during the Asian session. I trust you all had a weekend as equally productive yet relaxing as mine. It's all about that balance.
But now it's Monday morning and the markets are open again for yet another week. Let's make some money, huh!
In my post-NFP musings on Friday night, I posted my thoughts around how the recent fundamentals of both Fed policy and the as expected job numbers were effecting EUR/USD.
Here is a short extract from Friday's analysis, showing the higher time frame, EUR/USD daily chart:
But today's price action saw the market rally into NFP, retesting previous support as resistance, all the way up until today's release. Take a look at what I'm talking about on the EUR/USD daily chart below:
As I said Friday, we have EUR/USD breaking higher time frame support and then retesting previous support, this time as resistance. If that zone holds, then it's seriously bearish and will probably give us a juicy move lower.
With the higher time frame analysis in mind, lets now take a look at how we've opened the week on an updated EUR/USD intraday chart. Here's the hourly below: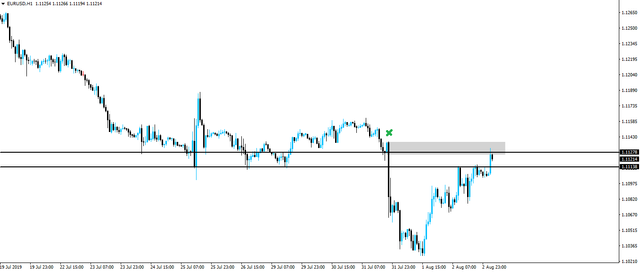 Price has opened the week in a relatively strong, risk-on manner and EUR/USD has done nothing but rally as a result. Rally straight into our higher time frame previous support zone turned resistance, that is.
You can see that price is now at the top of the higher time frame zone. An area on the chart that coincides with a previous short term support zone (candle marked with the x) that I look to use as an entry point if it holds.
This is certainly a nice confluence of resistance across multiple time frames.
Best of probabilities to you.
Dane.
Upcoming Economic Releases
USD ISM Non-Manufacturing PMI
---
Market Analyst and Forex Broker.
Join my Inner Circle ⭕️ - www.forexbrokr.com