USD NFP Key Points
Non-farm payrolls - +164K v +165K expected
Prior print of +224K revised down to +193K
Unemployment rate - 3.7% vs 3.6% expected
Average hourly earnings - +0.3% vs +0.2% expected
EUR/USD Technical Analysis
Evening team,
We saw the USD bulls take charge after the Fed cut interest rates 0.25 basis points, down to 2.25% and EUR/USD drop through long term support as a result. All the market cared about was the fact that the Fed couldn't guaruntee more rate cuts to end the year and were therefore perceived less dovish than what the market had priced in.
But today's price action saw the market rally into NFP, retesting previous support as resistance, all the way up until today's release. Take a look at what I'm talking about on the EUR/USD daily chart below: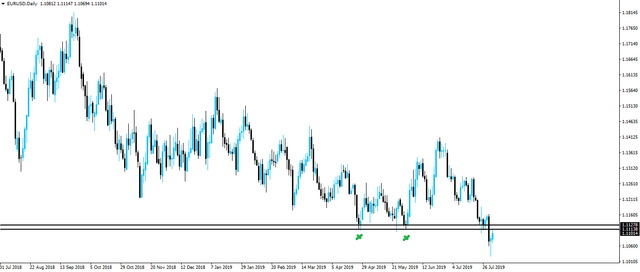 Now with the +164K print being so close to the +165K expected, today's NFP release really hasn't added to the fundamentals narrative like we as traders wanted it to. When you factor everything in, the bullish and bearish all seems to cancel each other out.
The revisions were negative, but the wage growth was better. Unemployment rose, but that was because of a higher participation rate. So in the end, the jobs report was solid, but not the type of unexpected release to spark a big move in either direction.
In terms of how to look at trading the pair, lets zoom into the EUR/USD hourly chart: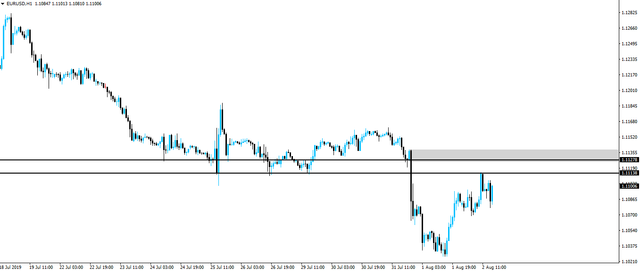 As long as price sits underneath that daily support zone, I want to be a seller. Price has retested the daily support zone as resistance already, but there is that short term support zone in grey that I would like to use as my entry, just above.
The question becomes whether to aggressively enter now while we're below daily resistance, or whether we conservatively wait for a retest of the intraday level that little bit higher, which will allow us to trade bigger size thanks to a smaller stop.
I'll leave that decision with you.
Best of probabilities to you.
Dane.
---
Market Analyst and Forex Broker.
Join my Inner Circle ⭕️ - www.forexbrokr.com