AUD/USD Key Points
Aussie remains underneath higher time frame resistance.
Markets being beaten around by US-China trade headlines.
Price returns to Monday's intraday short term support/resistance zone.
AUD/USD Technical Analysis
Morning team,
After an evening session of China-US headline driven carnage, will you take a look at the zone that AUD/USD has pulled back into: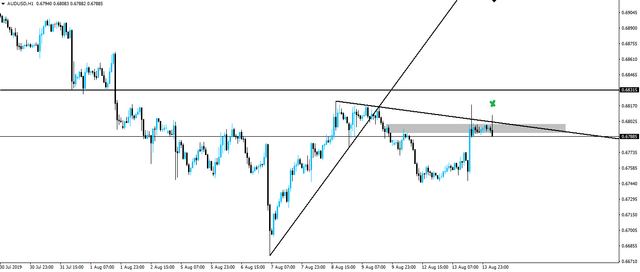 Yep, that's the original short term support turned resistance zone that we were looking to sell into on Monday morning. Just when the AUD/USD bears looked like they were regaining control of the market.
Remember:
You can see on the hourly that price has printed a nice short term area of support that if retested, would be an excellent place to short.
AUD/USD had already retested the zone for a short with no drawdown, running to swing low support before the headlines hit. So while there have been multiple opportunities for you to trade this AUD/USD setup, we're really back to where we started on Monday morning.
This once again goes to disprove the popular trading opinion that you have to be first. In fact, if you want to take advantage of the bigger moves, you have to instead be patient. The market will often give you a second, third or even more chances to get in off good levels.
The smart money always wants to get more size on and to do that, they need to take advantage of triggering stops just past the major levels we look to trade. There is no clearer example of this than today's AUD/USD hourly chart posted above as price wicks through zones and trend lines, only to be rejected hard.
As I'm writing this, the Aussie is getting whipsawed about by the slew of Chinese data releases, but low and behold, the zones are all still in-play. Find your levels and trade your levels.
Best of probabilities to you,
Dane.
Upcoming Economic Releases
CNY Fixed Asset Investment ytd/y
CNY Industrial Production y/y
CNY Retail Sales y/y
CNY Unemployment Rate
---
Market Analyst and Forex Broker.
Join my Inner Circle ⭕️ - www.forexbrokr.com