Turkish Military Salute Celebration Get German Players in Hot Water a Year After Ozil Fiasco
I lived in Germany for around 5 years. There is a large Turkish community there but you can see that it is extremely integrated in the German society. In Ireland after the pub we go to the chipper. Out there there was no chipper but there was doner kebab takeaways. I nearly looked forward to that more than the drink. Noone can make a doner quite like the Turkish. I made quite a few Turkish friends out there because out of the 750 we employed. 530 were Turkish. Now when I say Turkish I make a mistake. They were all German of Turkish descent. Their auld lad was Turkish. I never forget when Germany beat Ireland in the world cup qualifiers and a German guy slagged me for having all English reject players on the team. I snapped back that there were no Germans playing for their national team. But the German guy in question said "doch" which closest translation is "on the contrary". These guys were all German. They were born there. Everything about them is Germany. I noticed it a bit in the UK as well that two nationalities have actually integrated naturally in society and I felt glad that with all the crap going on today these two countries got it right.
Now reverse back a year and we see Mesmut Ozil resigning from the German national team for being the fall guy from the world cup. Before the competition himself and Gundogan posed for a picture with the Turkish president Erdogan and this caused uproar in German. What was he meant to do ? Tell him to piss off. A country that his father was from. Give me a break. He was proud to meet that countries leader and why shouldn't he be. It was a storm in a teacup but when Germany had a dire world cup , it kinda came back to haunt him. He resigned from the squad and wrote an open letter the the German FA.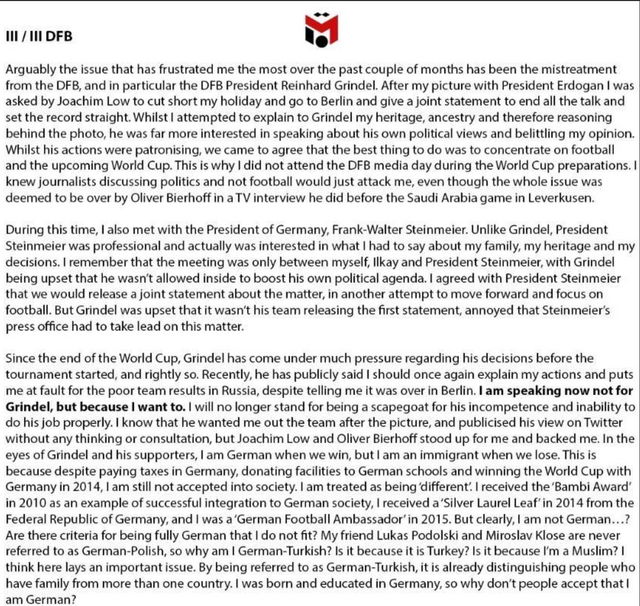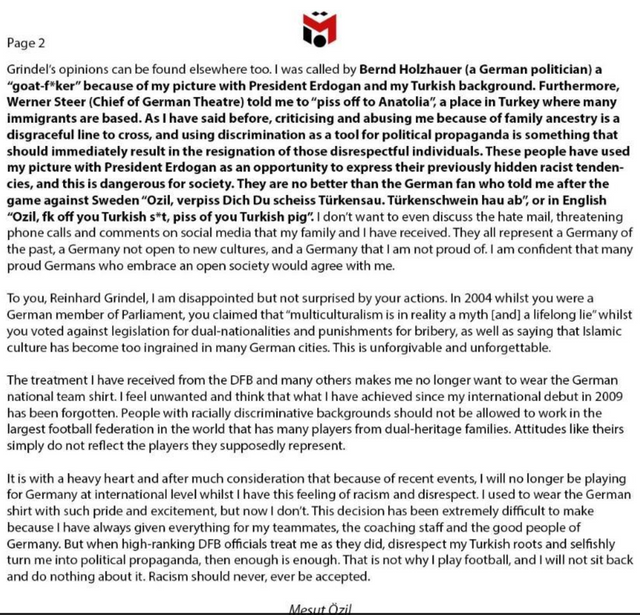 source
It is clear from Ozil's letter that the German FA did not do things exactly 100%. So a lesson was learnt. Last week Turkey invaded Syria to take back land. Cenk Tosun on scoring against Albania gave a military salute. He put up a photo on instagram and also wrote
<For our nation, especially those who risk their lifes for our nation.
Gundogan and Emre Khan liked the post. . It threw up some awkward questions again. Should German internationals support military invasions of foreign countries. The two likes were promptly taken down. Gundogan claimed he was only supporting a friend scoring. Unlike the last time the German FA rallied around their players to keep them away from the nationalistic backlash. The next day they posted a team photo with Manuel Neuer with his hands around the two "troublemakers".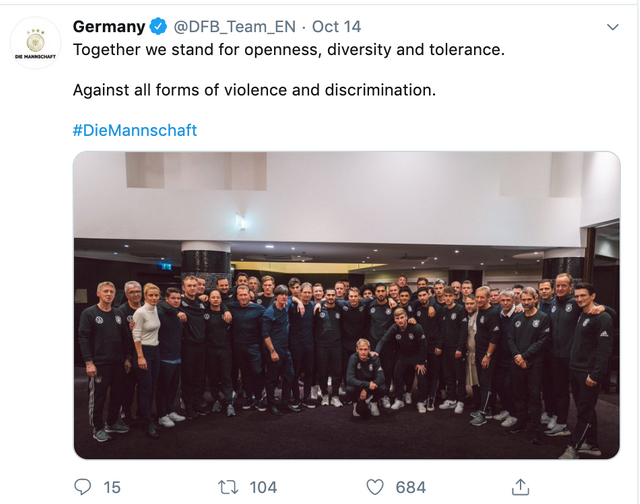 source
Oliver Bierhoff said the whole team wanted to make a statement and rally around the players which is nice to see.
This is not the only incident that has come out of the Turkish military salute. St Pauli in Germans first division had to suspend a player for posting the military salute also. The player is to leave in January. I have been to St Pauli's stadium in Hamburg and the club is notoriously left leaning so any talk of military aggression would not be taken lightly.
I never realised how one celebration could lead to such backlash in a different country. I would be the last thing I would think of when I heard Turkey were invading Syria. Politics and Sport don't go. It never did.