10 years Since Henry's Handball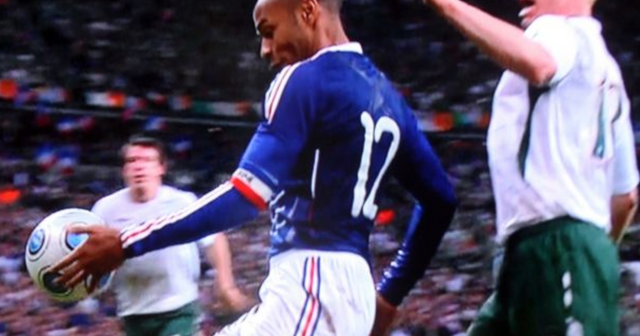 source
Ireland come up against Denmark tonight and the winner goes to the European champions which in this case is in the UK and Ireland. Home in other words. Ireland have a huge task ahead of them because there is very little quality in the side against a neat and tidy Danish side. Christian Eriksen put us to the sword to knock us out of the world cup qualifiers 2 years ago so hopefully it will not be the same result but it will be tough to get one over these guys.
It has been ten years since Henry made an enemy out of a whole nation by using his hand to steady the ball. He then crossed it to William Gallas and Ireland were put to the sword against France. I knew one of the Irish players on that team and he said that the Irish players decided to ignore Trappatonis instructions and bring the game to France. Ireland had a great performance and were winning 1-0 at the time but a draw was not enough. You can see it around 1 minute 25.

Every Irish sporting fan knows where they were when JFK died, the pope visiting Ireland in 1977, when the towers fell and when Henry handled the ball. I was in a hotel in the centre of Ireland working. I went downstairs to the old hotel bar to watch the match. I was on my own up in the town so myself and the barman watched the match. He only had to get up to get me a pint so we were both happy. 2 people in the pub, large TV. What more could you ask for. The barman was fairly vocal shouting at the TV. He was an Arsenal fan so he was very confused with his emotions when Henry handled the ball not once but twice.
Ireland were not going to the world cup. There was uproar and Henry had to lie low for a while so the heat would die off. The Irish Football Association (FAI) even complained to Blatter's FIFA and they received 3.2 million compensation to just draw a line under it. That came out recently.
Richard Dunne , the Irish captain recently remarked that the French were very humble and gracious after the match except for one man. A Gerrard Houiller who danced beside the Irish bus pulling away from the stadium. Richard Dunne said he never liked him after that even when he played under him at Aston Villa.
If VAR were around 10 years ago then that was never a goal so this is a reason I am pro VAR. It was a bitter pill to swallow. let's hope 10 years on that karma will come back around. COYBIG!!!