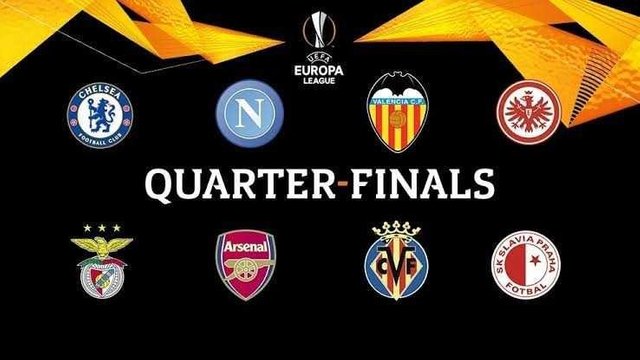 source
Some might not know this, but champions league isn't the only competition bringing all European teams together. The Europa league features teams that ended up in fifth, sixth and seventh positions in the top European leagues. Some European leagues picks their second, third or fourth spot. The fact is, the top teams plays in the champions league, while those that follows plays in the Europa league. Also, those that finishes as third in the champions league group stages gets to join the round of 32 stage in Europa league. I've been mentioning Europa league a lot, right? That's actually what this post is all about. So be ready to love this tournament too just like the champions league.
Right now, they are also in the quarter final stages, meaning eight teams are left. It was a long ride, but here we are. Arsenal, Benfica, Chelsea, Eintracht Frankfurt, Napoli, Slavia Prague, Valencia and Villarreal are the only teams left. Yesterday saw them played the first leg, but who qualifies to the semi final can't be determined yet. The second leg is just a week away.
Arsenal was tied with Napoli. It's the toughest fixtures, but Arsenal made it looked easy. They defeated Napoli by 2 goals to nil in Emirates yesterday. Napoli needs a three goals margin to qualify, or better still win by 2 goals to nil. That will give them an extra time which might lead to a penalty shoot out. Arsenal have a better chance of qualifying now. Let's hope they don't spoil it in the second leg. We've seen lots of teams with big comebacks this season, so we wouldn't be surprised if Napoli ends up qualifying.
Chelsea traveled and got a win against Slavia Prague. They got a 1-0 win which is also an away goal. Slavia Prague needs a very good game and goals to kick Chelsea out. It would be a tough call in Stamford Bridge, but we know anything can happen. Slavia Prague defeated the team with the most Europa league wins, Sevilla. So, Chelsea shouldn't be too comfortable.
Valencia also won their away match. They played against their rival, Villarreal. Villarreal hasn't been in their best form this season. Qualifying to this stage is a big surprise; perhaps Zenith were also in the same poor situation, but making it this far showed they tried. Only a miracle will make them overturn the 3-1 advantage Valencia has.
Benfica secured a win against Frankfurt. A 4-2 win actually. There wasn't a single draw yesterday; those that won were eager to win, and with the looks of things. The semi final fixtures is 90% sure now. But we never can tell. Frankfurt might come out strong in the second leg. Anyway, it's just a matter of time to find out
Until then...
---
It's @afolwalex, your number one sport analyst.