Steemians, this is my third food post!
Oven-baked pork back ribs, purple yams and broccoli.
Ribs are covered in a homemade rub consisting of:
1 tablespoon cumin
1 tablespoon paprika
1 tablespoon granulated garlic
1 tablespoon granulated onion
1 tablespoon chili powder
1 tablespoon brown sugar
2 tablespoons kosher salt
1 teaspoon cayenne pepper
2 teaspoon black pepper
Ribs are covered in foil (both sides), placed meat-down on cooking pan and baked for 2.5-3 hours on 250-300F. Ribs are then coated in bbq sauce (I recommend spending a little extra on a great small batch rib bbq sauce) and broiled for 5-10 minutes per side until sauce is "glued" to the ribs.
Yams are cut into slices, rubbed in olive oil, and salt and pepper. Bake in oven at 425F for 25 minutes, flipping once (at 15 minutes). Broccoli is treated the same but cooked only 10-15 minutes.
And that's it! Amazing ribs, easy veggies. Ribs take time but it's so worth it. Cook 2 full racks so you have leftovers.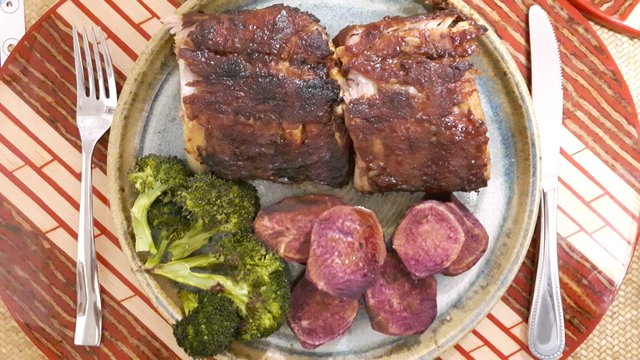 For my first post and food blog explanation check out:
https://steemit.com/food/@topfox/cooking-for-people-who-aren-t-really-into-cooking-mouthwatering-steak