THE BEST TACO I EVER HAD.
So I just got home today and was in a rush to get somewhere else, but I was starving and needed to prepare some lunch relatively quickly to still have time to get ready. I had some leftover chicken in the fridge and corn taco shells in the pantry and so I decided to whip us up some chicken tacos.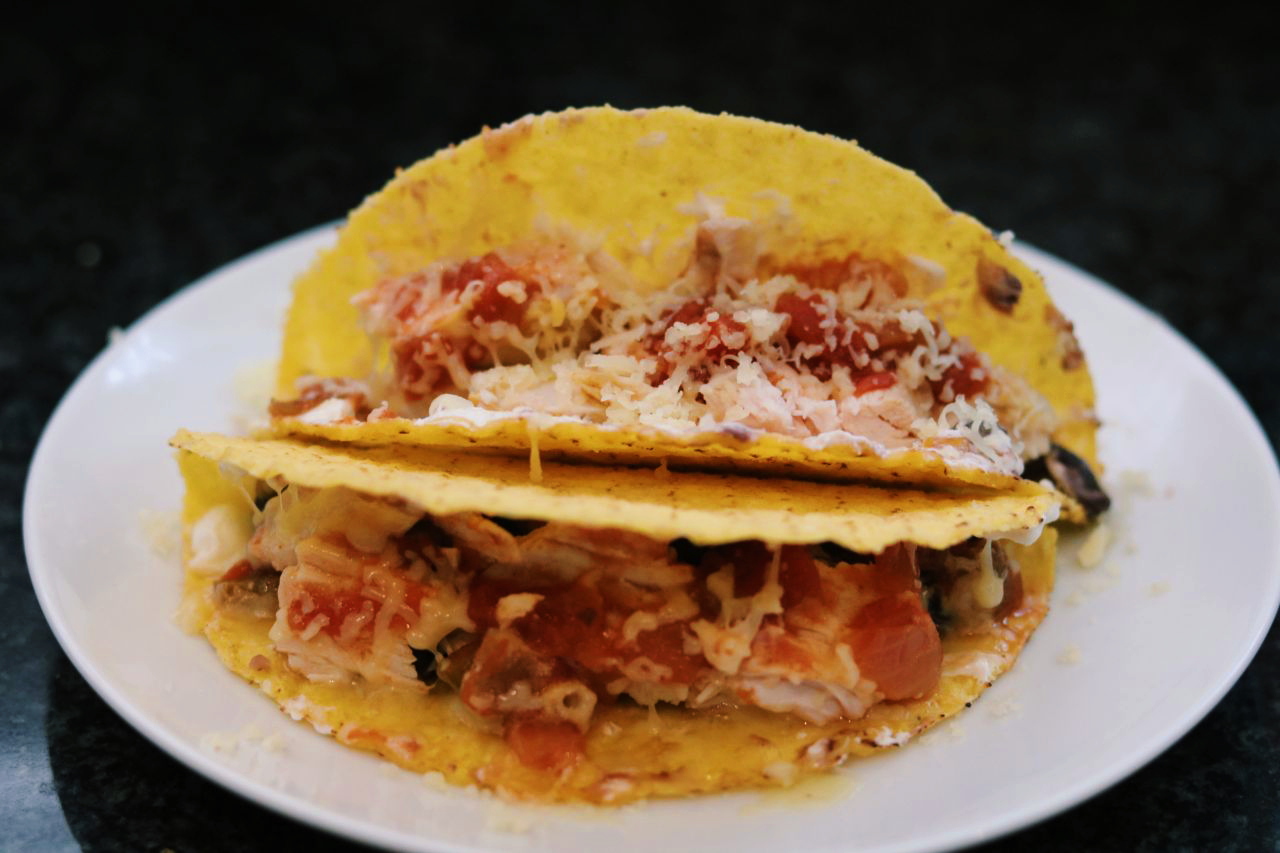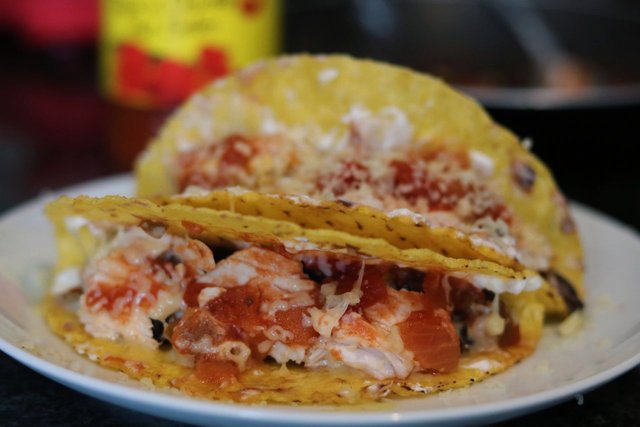 The photo may look like a mess, but the taco tasted like a hot mess. 😉 It's quite healthy too for you weight watchers that still want to remember what good food taste like. 😄
What you need:
2 Corn Taco Shells
Precooked chicken
Black Beans
Tomatoes
Sweet corn
Cottage Cheese
Mozzarella
Mild Salsa
So how do you make it? Well first I saute'ed some black beans in a pan and added sweet corn and chopped tomatoes. I let that cook for about 5 minutes while the taco shells were in the oven at 180 degrees for 2 minutes. I warmed up the chicken and cut it into small pieces. I grated about 15g of mozzarella on the side too. Once I took the shells out the oven and the beans off the heat. I set up the tacos. I started off with putting 1 and a half tsp of fat free cottage cheese in each shell and added the black bean mixture on top. (About 2 teaspoons of the mixture.) I then put the chicken on top followed by a large tsp of salsa. Finally, I sprinkled the finely grated mozzarella on both the shells and put it in the microwave for 30 minutes to let the shells soften a little and the cheese to melt. It took so quick to prepare and I would prefer it over a lot of meals that take time to perfect. It may take longer if you count in the time you take to make the chicken if you don't have chicken ready made, but you can always buy chicken ready-made at the store or cut up skinless breast fillets and quickly fry it in a pan.
When I tasted it, I was actually quite surprised with how amazing it tasted. I haven't tried many tacos in my life, but I have tried flour based tacos, corn based tacos, tacos from Mexican restaurants, and none could compare. I hope you try this at home and enjoy it as much as I did. I can tell this is going to be a staple of mine.
I realized I had more space in the shells and should of put the leftover chicken in them to fill them up before I ate the leftover chicken prior to finishing the tacos, but it was still good and maybe less messy to eat that way. I don't care how messy tacos can be to eat, if you present some to me, I'm going to eat it. 😅
I made my boyfriend tacos too, but he doesn't eat beans, so he stuck with chicken and cheddar, but was also quite satisfied with his food.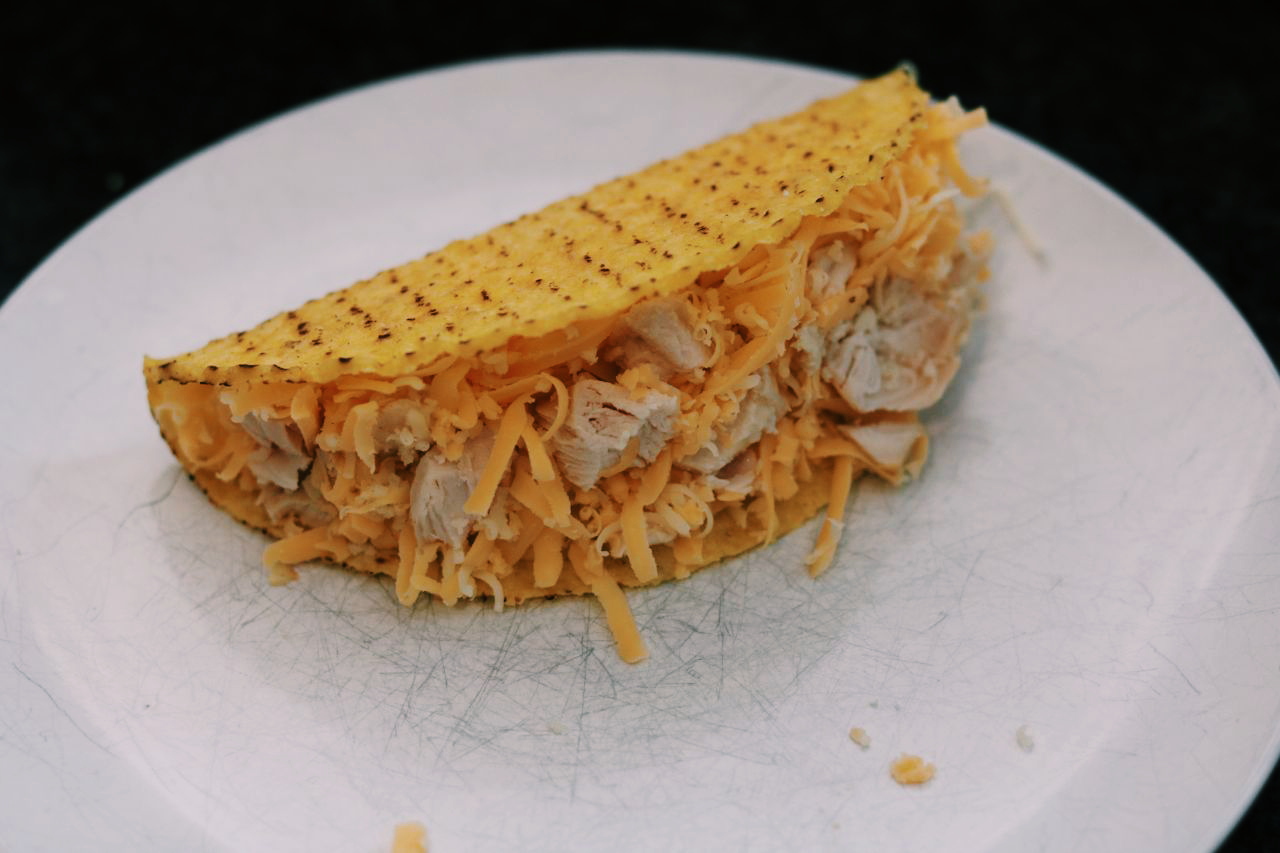 This is before he microwaved his and I'm sure you can see where the majority of my chicken went. 😑😄
I hope you enjoyed another Lazy Kitchen🍳 post. I hope I see you in the next one. 😌


CHECK OUT MY LAST POST✋: https://steemit.com/food/@themessup/baby-marrow-lasagna
And if you like my work, be sure to click here to follow me and together lets build a bigger bond on steemit. ✊