Dr. TLK _ My 2018 Diary_ Feb 24th, 2018_ Cardamom-Cherry Scones
Cardamom- Cherry Scones
The Recipe
| Ingredients | Amounts | weight (gm)/volume (ml) |
| --- | --- | --- |
| Whole wheat pastry flour | ~ 1.1/2 cup | ~ 192 gm |
| Quick Oatmeal | ~ 2/3 cup | ~ 60 gm |
| Buttermilk | ~1/2 cup | ~ 120 ml |
| Orange marmalade | ~ 1/2 tbsp | ~ 24 gm |
| Egg | 1 | large |
| Unsweetened Apple/Pear sauce | 1 | ~ 113 gm |
| Liquid Vanilla | ~ 1 tsp | ~ 5 ml |
| Baking Powder | ~ 2 tsp | ~ 8 gm |
| Baking Soda | ~ 1/2 tsp | ~ 2 gm |
| Salt | ~ 1/2 tsp | ~ 2 gm |
| Organic Coconut Sugar | ~ 2 tbsp | ~ 18 gm |
| Cardamom | ~ 1 tsp | ~ 4 gm |
| Fresh Cherries | ~ 1. 1/2 cups | ~ 220 gm |
The Method:
1- I didn't have buttermilk, so I started by adding 1 tbsp of apple vinegar (or lemon juice) to 3/4 cup of milk, to make my own buttermilk.
2- I chopped the cherries
3- I mixed the dry ingredients, then added the wet ingredients.
4- I added the chopped cherries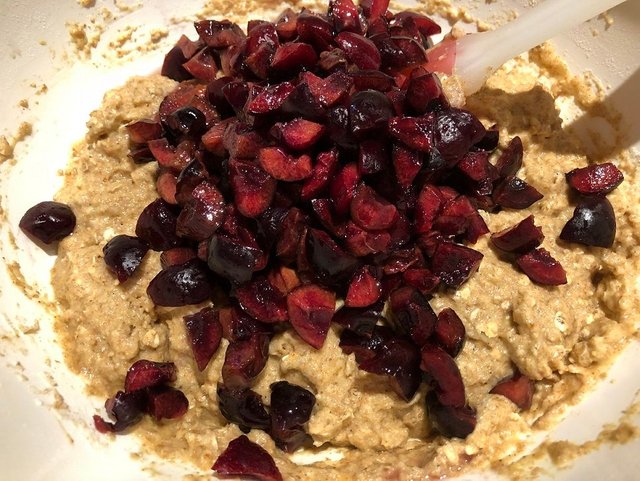 5- Cooked @ 375C for ~ 22min
6- Enjoy! 😁
---
The recipe calorie count

---
Final notes:
1- I tried the scones next day with coconut yogurt and a drizzle of maple syrup. They were okay, but became too sweet and wet. But they tasted amazingly delicious when I tried them with Almond butter.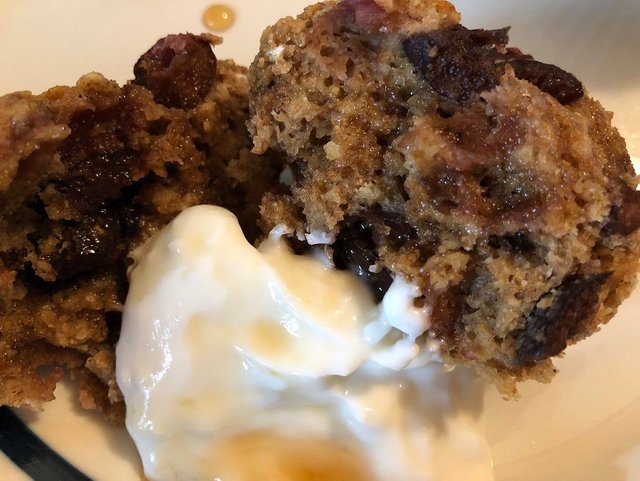 2- Since I didn't add any butter or oil, they are a bit condensed. But they are really delicious with the almond butter and I could easily eat 2 of them to feel full.
---
---
...Till Next Episode!
Dr. The Leaping Koala 😊



Logo by @orcheva
Many thanks for visiting, commenting and upvoting 😊