Healthy soup with peppers, tomatoes, chickpeas and rice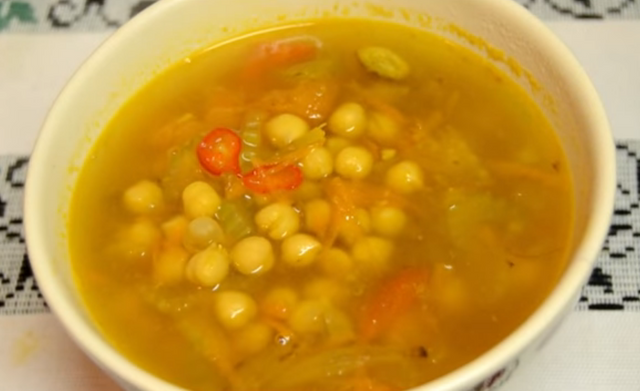 Ingredients
2 tablespoons of olive oil;
1 onion;
2 cloves of garlic;
2 bell peppers;
½ tsp. Italian Herbs seasoning;
1 teaspoon dried oregano;
½ teaspoon of paprika;
salt - to taste;
ground black pepper - to taste;
2–3 tomatoes;
300 g canned chickpeas;
2 tablespoons of tomato paste;
1,200 ml of water;
2 vegetable bouillon cubes;
100 grams of rice;
¼ bunch parsley;
some grated Parmesan - optional.


Cooking


Heat the oil in a saucepan or saucepan. Put the chopped onion and garlic and fry over moderate heat for about 5 minutes. Add diced pepper and spices and cook for another 3-4 minutes, stirring occasionally.
Peel the tomatoes and dice them. Add tomatoes to the vegetables, chickpeas, pre-drain excess liquid, tomato paste, water and bouillon cubes. Bring to a boil over medium heat, reduce and simmer another 20 minutes.
Boil rice in a separate pan . Drain the water and put it in the soup. Stir and cook for another couple of minutes. Add the chopped parsley leaves. Before serving, sprinkle the soup with parmesan.


Thanks for a view,
Upvote and Follow @techmax for more.