Dear Steemit friends :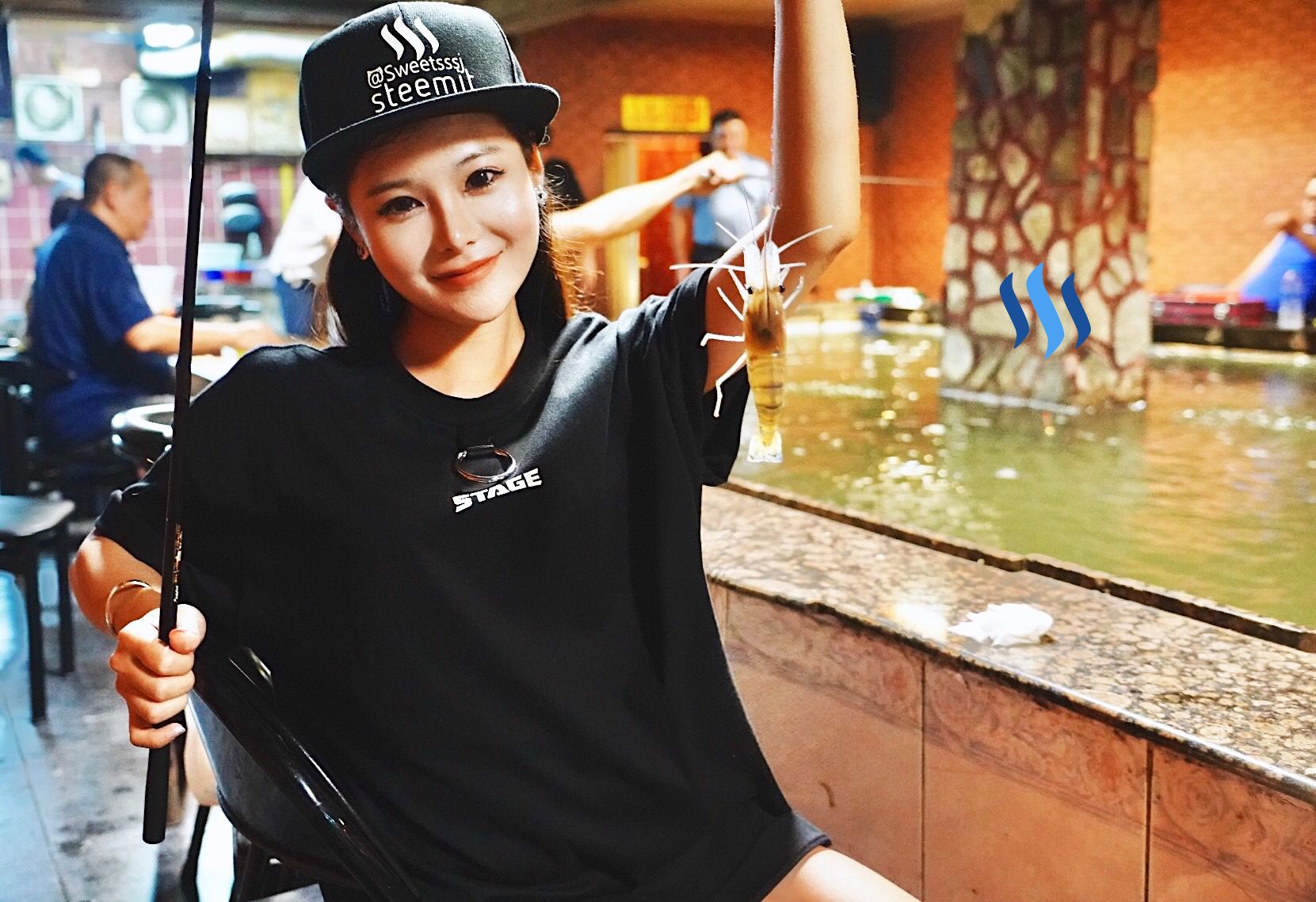 One of the most interesting food experiences during my visit to Taiwan earlier this year was a visit to one of the signature Taiwanese shrimp fishing venues located in Taipei. Shrimping, also known as Prawning, is an activity unique to Taiwan until very recently. It involves using a lightweight fishing rod to "fish" for fresh water Prawns from murky indoor pools. The goal, to catch as many Prawns as possible and secure yourself a deliciously fresh and well earned dinner!
In China, it is standard to eat Prawns fresh. But there are yet to be any Prawning venues in the mainland, as such, the activity is extremely curious to me and many of my mainland friends. The experience is frequently brought up during conversations about visits to Taiwan by many of my friends in China. I decided I needed to experience this activity first hand to see what all the fuss is about, meanwhile put my prawn fishing skills to the test!
The first step to getting the Prawn on the hook is finding the ideal venue. Most of the popular touristy Prawning venues are situated around the Shilin District which is also famous for it's nightmarket. The venue I chose is in the Zhongshan District along Jinzhou Street.
QuanJiaLe (全佳樂釣蝦場) is a small understated venue with almost no foreign exposure. Where other venues will annotate everything in English alongside Chinese, QJL offers it's services entirely in Chinese, it comes across a bit raw, even unapproachable, but let's not judge a book by it's cover. It is after-all, the authenticity and experience which counts!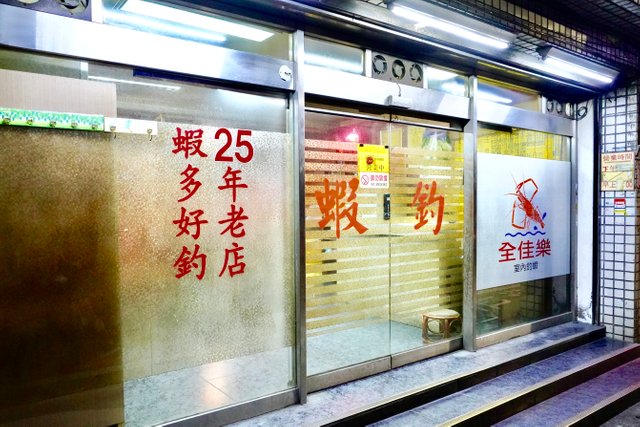 Inside, the place is not too large, the main function is of course prawn fishing, so the center piece occupying the most space is the pool. This is where all the Shrimp and Prawns are, and huddling around the pool, are all the keen fisher(wo)men.
At the back, you'll find the kitchen area, and that's also where the Shrimp stock is held. Every hour or so, the owner will come throw a few buckets full of fresh shrimp into the pool to replace those that have been caught by the guests. This as it turns out, is an unspoken metric for how "good" a place is. The more shrimps swimming around in the pool, the more chance you have of catching them, especially if you're a complete amateur like me!
Prices can vary, but expect to pay around 7 dollars an hour for the experience with the typical session lasting for about 3 hours. This will include rental of the fishing rod, use of the bait, and of course any shrimp you catch will be yours to eat!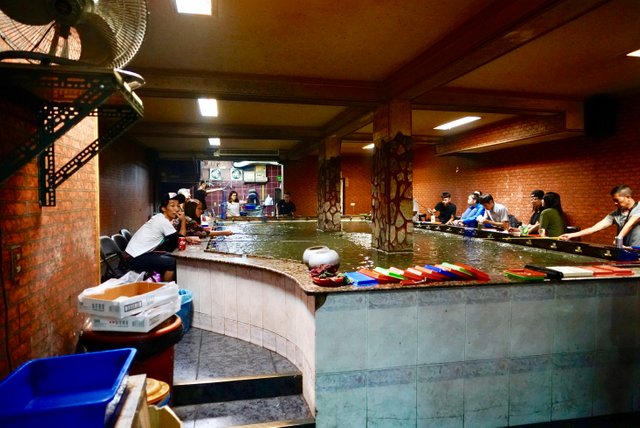 After checking in, it's time to shrimp! First things first, the bait. Supplied inside a mini-fridge by the front counter are chicken guts. Take a few pieces of these to your spot, and cut them into little pieces. The next step is to test the depth of the water and adjust the distance between the hook and the float. The owner was kind enough to help me with this as I had no idea what depth would be best.
Place a bit of the bait on each of the hooks (there are two), and you're ready to go!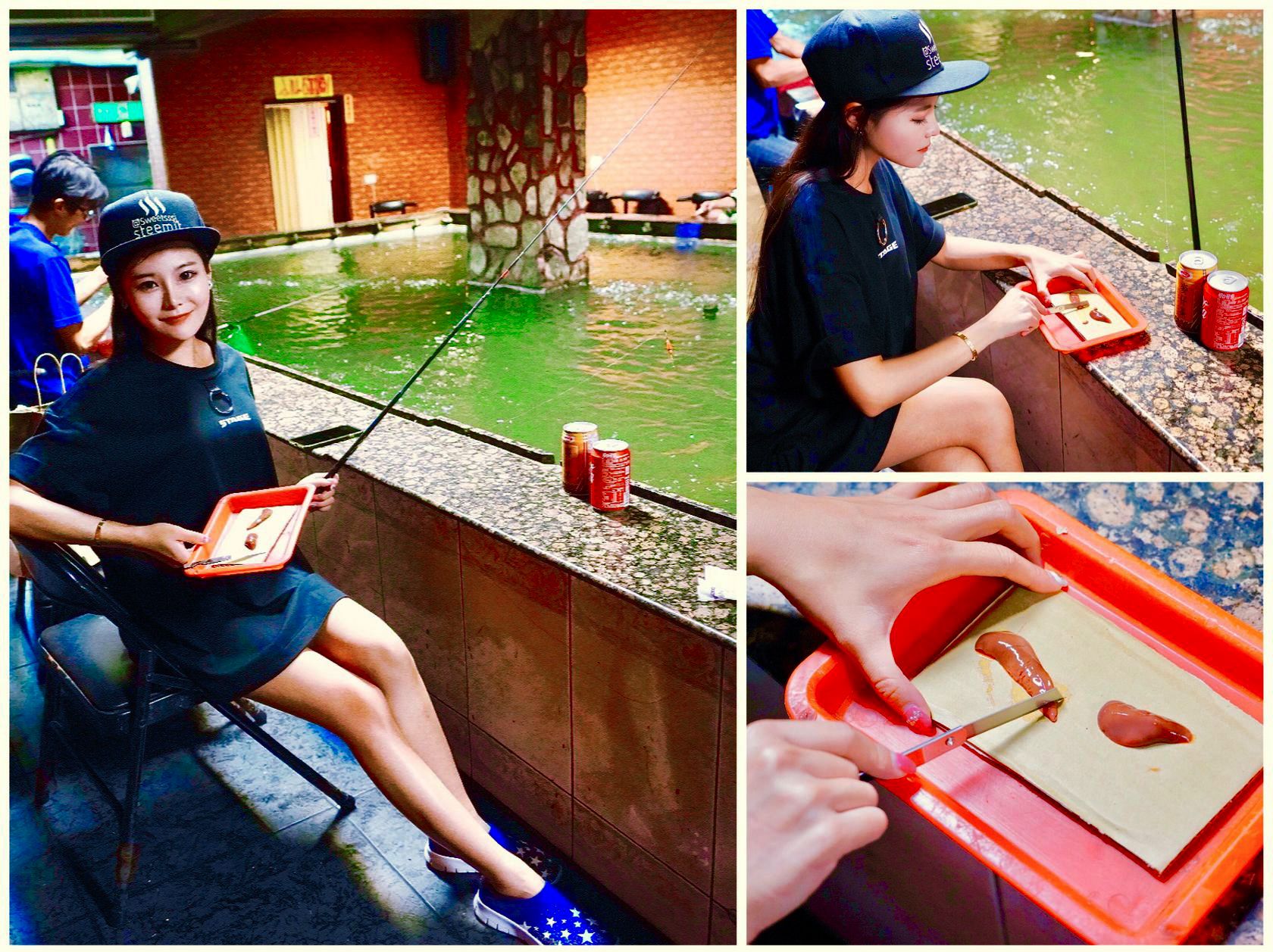 Once the bait's out, it's now a matter of watching the float and waiting for some bites from the shrimp. It will be really obvious when they're taking bites, the entire float submerges under the water.
My little trick is to keep the line almost taut. That way, when the shrimp bites, I can tug really quickly and have minimal delay in pulling the hook up.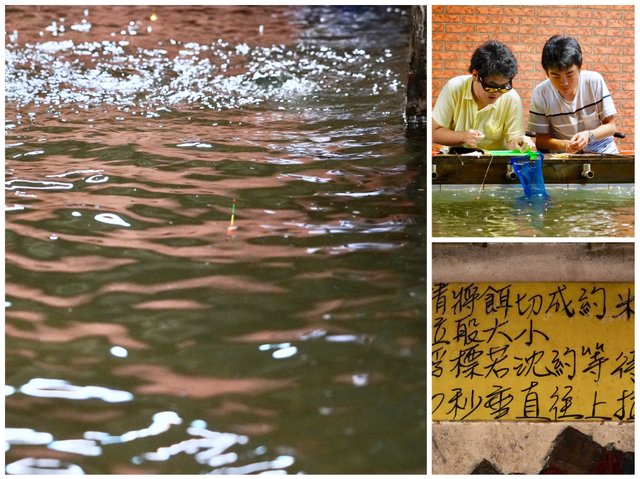 And voila! My first catch! It's surprising how much the shrimp can fight back. The lightweight rod bends a lot as they tug back trying to escape. I will be the first to admit, I am completely terrified of touching the shrimp and I had great difficulty unhooking them each time I caught one. Thankfully, an experienced uncle helped me with the unhooking each time.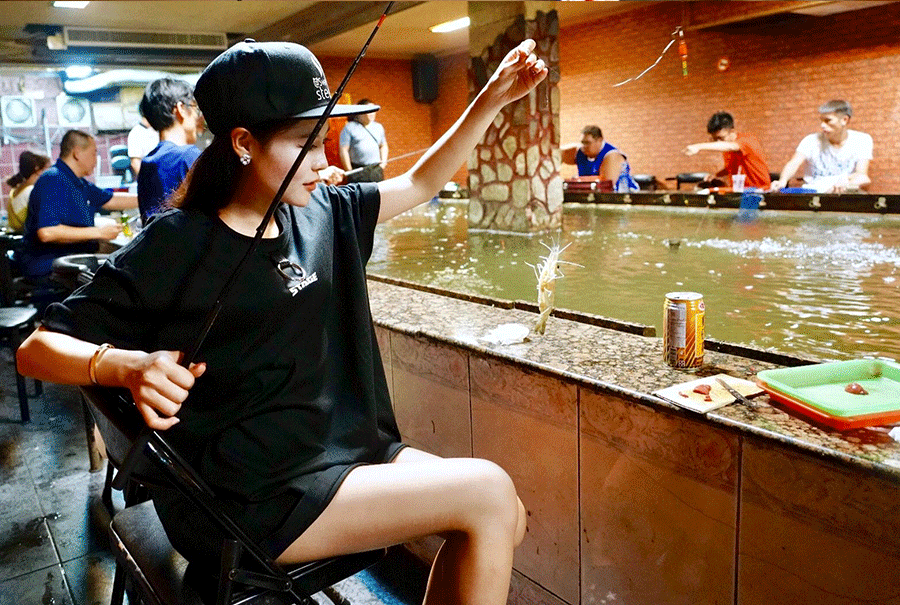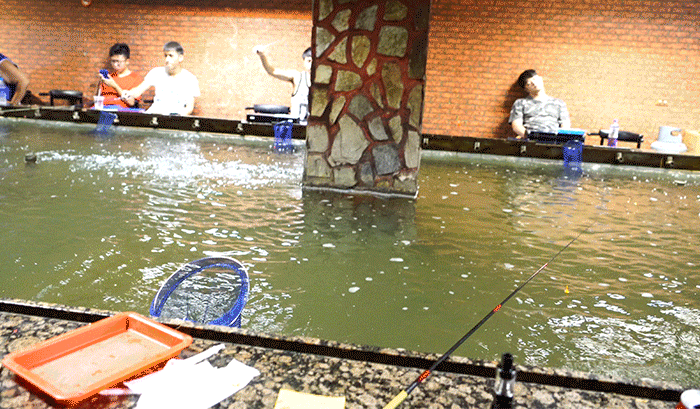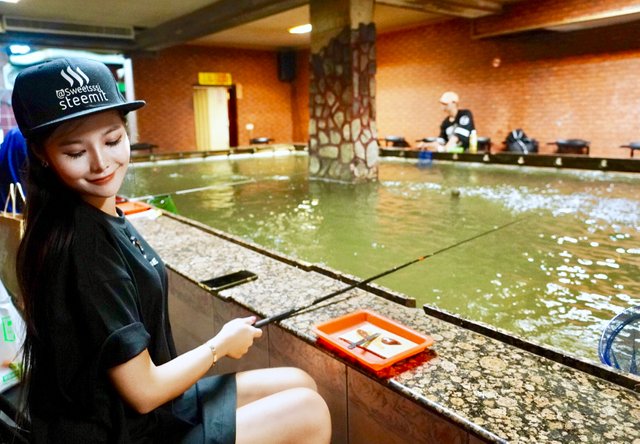 After three hours, this was my haul! Around 30 to 40 in total. This is definitely the place you want to visit if you're a beginner because it is so easy!
I've heard and read reviews of other places where beginners only manage single digit hauls. This is largely down to the generosity of the owner and how many shrimp he is willing to put in the pool. Owners looking to make a larger profit margin will be quite stingy when it comes to putting more shrimp in the pool, clearly this owner wants his customers happy because the shrimp were flying out by the dozen!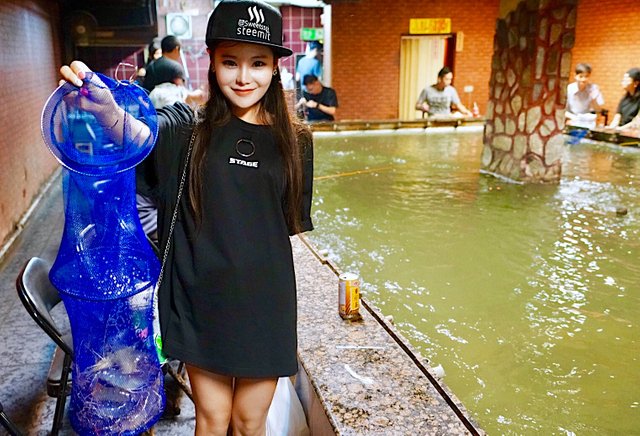 Preparing the Shrimp to eat
After sitting down for three hours and catching all these shrimp, it's time to eat!
There are many ways to cook shrimp, but the most common is barbecued on a stick. For the braver ones amongst you, you can prepare this yourself. First you declaw them, then skewer them right through the length of their body, all while they're still alive. Once they're skewered, dip them in some salt and then they're ready to be barbecued.
Barbecue shrimps are a favourite because of how simple and easy they are to prepare (provided you're not squeamish), but you can also opt for a chef prepared dish for a little extra.
I decided to go half and half, Barbecued salted shrimps, and Thai style lemon shrimp.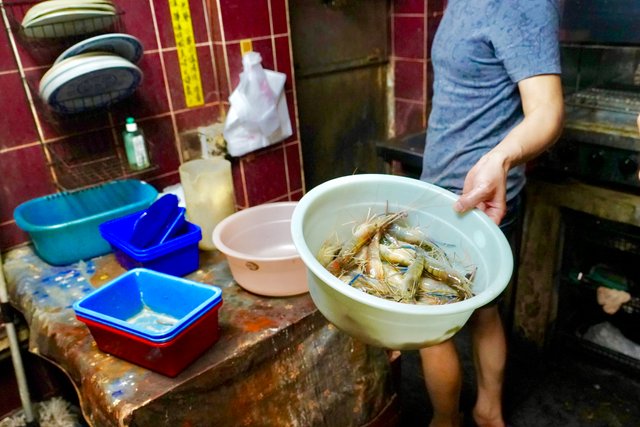 These are my shrimp being barbecued. Soon they'll be a golden red colour, ready to eat.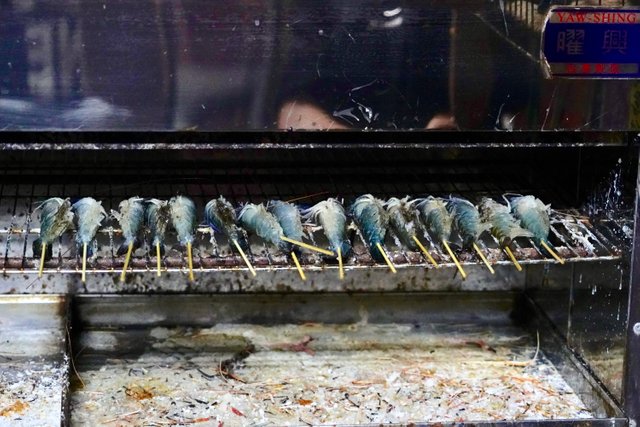 The Thai style shrimp is a little more complicated to prepare. First the chef "declaws" the shrimp by cutting off it's claws, legs and part of it's head, then proceeds to cut open the back to devein the shrimp. It's rather barbaric but at least the chef works fast and efficient.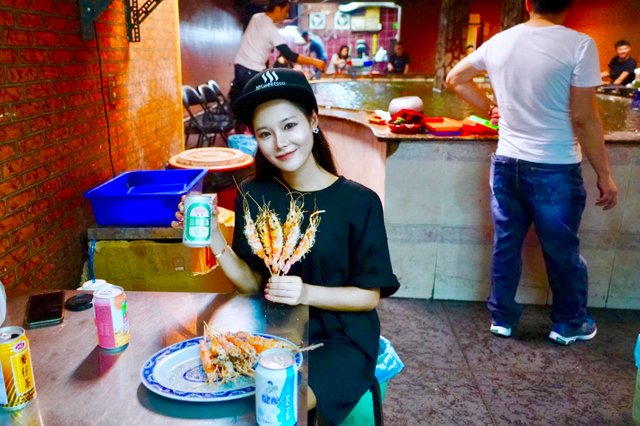 Barbecue Skewered Shrimp.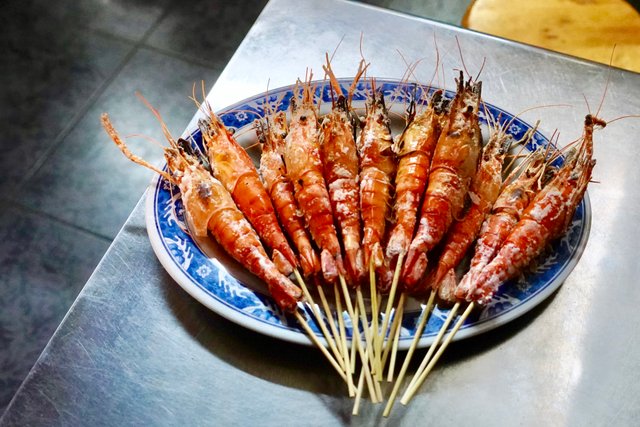 Thai style lemon shrimp.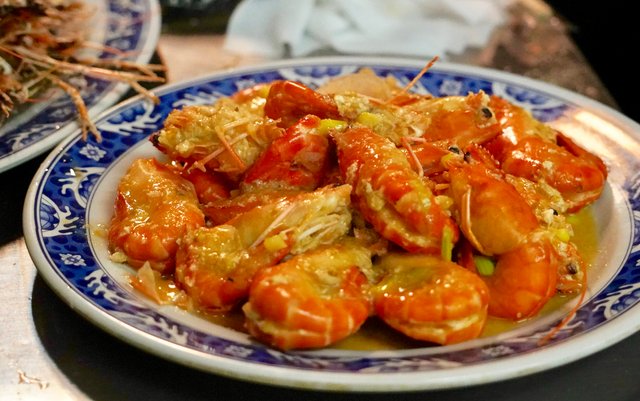 ---
Taiwanese shrimping is becoming so popular that now it can be found throughout Asia. Surprisingly, it hasn't hit off in China yet, so maybe this post is a little ahead of time. More than just a way to eat fresh seafood, it is an entertaining activity which is rewarded with excitement and a delicious meal at the end.
This venue QuanJiaLe, is highly recommended because they are so generous with their shrimps. As a beginner, I was able to catch a shrimp every five minutes or so. There really wasn't too many dry periods of boredom, mostly anxiousness and excitement! As an establishment opened for 25 years, QJL has been around for nearly the entire history of line shrimp fishing and is one of the most authentic experiences around today. I can't speak for other venues, but I was thoroughly impressed with this one and highly recommend a visit. Apparently the local NBA Star, Jeremy Lin also enjoys it very much!
Remember to upvote the post if you liked it, follow for more delicious adventures, and leave a comment to let me know what you think!
Happy new year!

来到一个新的地方,我总是跃跃欲试,想要挑战新鲜的事物。在台湾,我就找到了这样一件让我非常入迷的慢生活慢运动,那就是台湾特产的娱乐活动——钓虾。我最喜欢去专业的钓虾场钓虾,然后再享用自己的劳动成果,亲手创造属于自己的鲜虾晚餐,自己钓自己烤真的是超级有成就感的体验。今天我们的美食之旅就要去往台北的全家乐钓虾场,尝试一下原始社会打猎捕食和生火做饭的生活乐趣吧。
钓虾的发展历程
钓虾在台湾已经有30年的历史了,最早起源于南部,当时大多是室外的钓虾场,后来随着中部和北部的逐渐兴起,都市化的影响,钓虾场也逐渐从户外转型为室内。室内钓虾场的诞生解决了海水强风,烈日和暴雨等恶劣天气状况的影响,室内稳定,舒适良好的钓虾环境,给了钓虾客完美的氛围。聚在一起谈天说地,喝喝小酒消磨时光,享受捕虾的乐趣。最早钓虾客们多是老年人和小孩,如今钓虾越来越受到年轻人的追捧,连NBA哈佛小子林书豪来台湾的时候,也无法抵挡钓虾热,后来还专程来台钓虾。林书豪的小小兴趣爱好也引起了外国媒体关注,连《洛杉矶时报》也针对台湾都市人的新宠娱乐活动做了一系列的报道。
全家乐钓虾场
而我一直对于钓虾情有独钟,我最喜欢在夜间去钓虾。全家乐钓虾场的门面不大,进门后却发现里面好热闹,虾池边几乎坐满了前来享受垂钓乐趣的钓虾客。麻雀虽小,五脏俱全,屋子里的设备齐全。全家乐钓虾场已经是25年的老店了,我特别喜欢店内的格局,把小型的大排档餐厅和钓虾场结合,简直是夜间休闲娱乐,享受慢生活的圣地。吧台墙上贴了几十种鲜虾的做法,可以自己动手烤,也可以请老板代烤,烤虾的口味特别丰富,盐烤虾,胡椒虾,麻油虾,泰式酸辣虾等等,看的人口水直流,这也更加坚定了我一定要钓到虾的决心。当然万一不走运没钓到虾或是钓到的虾不够吃,还可以现买活虾或者冷冻虾。菜单前面整齐摆放了一排鱼竿,因为自己钓虾经验没有特别丰富,所以老板很贴心的指导了一遍基本钓法。并提示我去冰箱切几块新鲜的鸡肾和鸡肝,作为诱饵。
你也许觉得,这个固定的池子钓虾应该很容易,其实并没有想象中简单,还是需要成熟的经验和技巧,首先必须要了解池子深度,才知道钓线需要放多长最科学。关于挑选诱饵也很关键,虾子最喜欢吃最鲜且腥味十足的内脏。从冰箱取出的新鲜诱饵需要手动切的很小很碎,让虾子们更容易咬住。坐在一群资深的钓虾客中间,完全感受到了他们认真,专注的气氛,好像正在暗中较量谁能钓到的更多呢。资深钓虾客的设备可真是齐全,他们会自备一整箱子专业钓虾工具,我想工具的好坏一定也会影响水平的发挥,这其中的奥妙只有专家们才懂吧。我呢,只有个小目标,能够钓上几尾虾让我尝尝鲜就好,所以就心情放松,愉快的开始钓虾吧。店里提供各种酒水饮料,边喝边钓,好惬意呀。
也不知道是不是虾子们感受到了,水池外这位执着吃货散发出强大的心理辐射,一开始小虾们都躲我远远的,生怕被我钓到。我没有很着急,而是平心气和的稳住手腕,学着周围钓虾专家们的娴熟手法。这家钓虾场的老板也非常有责任心,每隔半小时就会提着一桶活奔乱跳的虾子倒进水池。每次看到老板的这个动作就会更安心,也更自信自己会钓上来虾。很快我的浮标显示下沉,这就暗示虾子上钩了,我刻意停顿了十秒,朝左边一扯,虾子便上钩浮出水面,我成功了,我开心的跳了起来。钓到的虾需要用手把钩子拔掉,再放进每个钓虾客面前的水下渔网里,作为自己今晚的无敌战利品。
就这样一尾接一尾,不知不觉我钓到了30尾虾,捧着这一大袋鲜活的虾子,太有成就感了。这要感谢我突如其来的灵感和悟性,让我在最关键的扯鱼竿环节判断的又快又准,有些虾子甚至没有吃到鱼饵,直接被我用鱼钩勾上来了。接下来就到了最让人期待的环节,当场烤虾,我选择了两种吃法,烤盐虾和泰式柠檬烤虾。钓虾场提供了火烤装备和调味料,烤盐虾很适合自己DIY,只要洗干净虾子,穿好虾串再抹上盐巴,就可以开烤了。接着老板在我面前表演了电动马达剪虾手,神速的把另一半要制作泰式柠檬虾的虾子剪好,并拿去一旁的开放式厨房烹饪。
看到两盘香喷喷的海鲜上桌,心中是难以抑制的激动。再多的言语也无法描述钓虾为我带来的丰富乐趣,这也是难得的机会让我找寻内心深处的平静,那种静心凝神的冥想精神状态。烤盐虾味道极其鲜美,并且这种做法很好的锁住了虾子本身肉质的甜味和营养。泰式柠檬虾是酸辣口味,虾肉Q弹可口,简直吃起来就停不住了。吃到一尾尾自己亲手钓起来鲜虾,心中是难掩的喜悦和兴奋情绪。重要的是烤虾配啤酒才是台湾本土钓虾饮食文化的标准配置,这也让我品尝到了具有台湾风味的各种小饮料酒水。钓虾真的是太美好的记忆了,希望大家享受钓虾和海鲜夜宵的乐趣,之后还有更多有趣的美食经历想要和大家分享。