Peppers Piled On My Sunny-Side-Up Poultry! 03042020
Today I have my Serranos ready and I'm making eggs again.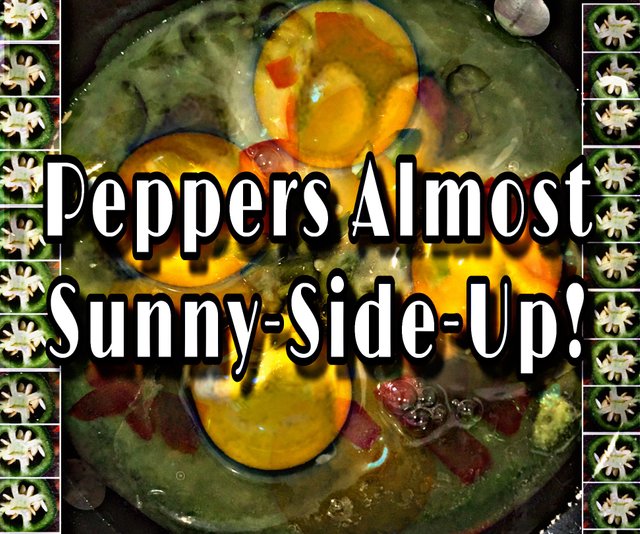 Tools:
Cutting board, the wrong type of knife, spatula, and a pan... a frying pan, not a steel pan... err... uhh did you know a Steel Drum is also called a steel pan?
Listen to this silly steel drum project: https://steelparade.bandcamp.com/album/3-hour-steel-drum-project
I hate teflon, but i'm using it this time because I know I can use it on low heat and accomplish this delicious breakfast.

Ingredients:
1 Serrano Pepper, Coconut oil/Ghee/Butter, 1 Red Bell Pepper, 4 Eggs,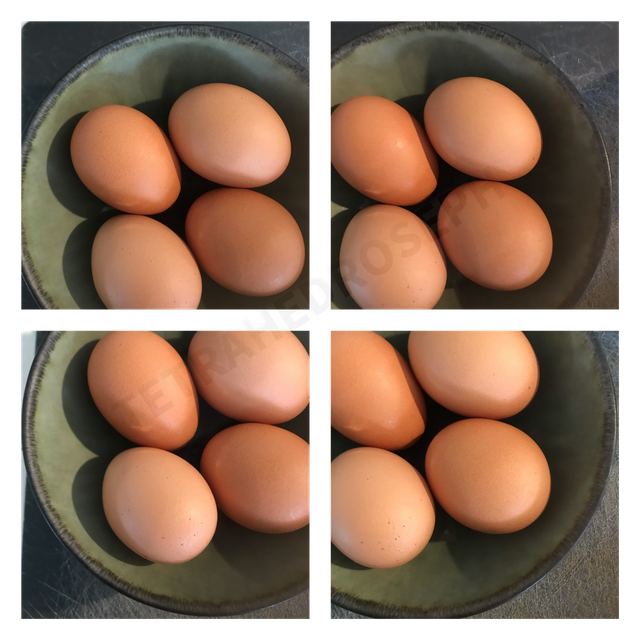 Hurry, I'm hungry.

1️⃣ First, add lubricant!
I used cold coconut oil to line the inside of the pan. The oil adds a little flavor. No fear, it's not too sweet.

I also added ghee again. Just a little ghee for flavor and because I plan to use turmeric (except I'm out).

2️⃣ Second, heat the pan slightly to get the oils moved around and melted.
Low heat should do it. After its nicely distributed, remove the heat and get your eggs ready.
3️⃣ Third, lightly break the egg open, taking care to preserve the yoke inside.
Add the raw egg to the pan and repeat with the other eggs.

4️⃣ Fourth, you should remove the egg shells.
I can break an egg with one hand and adde it to the pan. I feel cool doing it. Sometimes shell get in. It's not the type of crunch you want in this dish. If this happens to you, check the heat of the pan and carefully use you finger to fish it out of the pan.
5️⃣ Fifth, Add some of your diced peppers.
Not all of it yet! Save some for later to use like a garnish.

6️⃣ Sixth, cover the pan and cook it on low.
Don't peek too much, but imaging the glossy, wet eggs transforming into a soft puffy white texture. It's almost ready. Add a few pepper if you're a real pepper head, but either way, we will add more...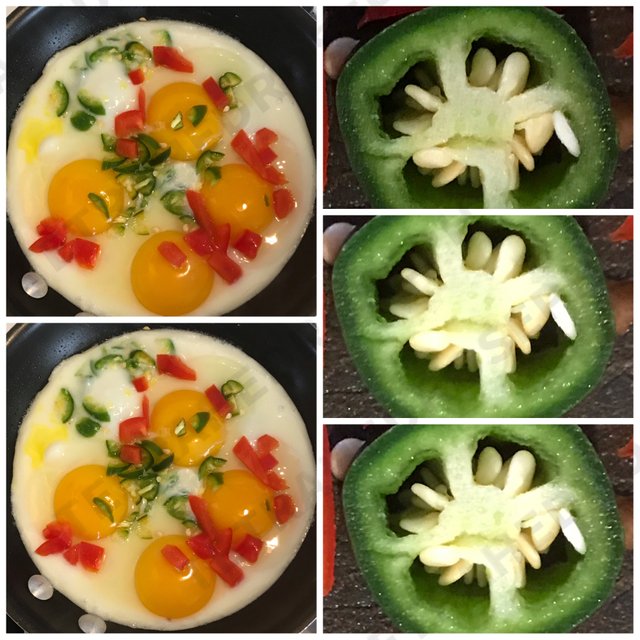 Look what I found!
No, not the infinity gateway to a pepper headed universe. (Coming soon?)
A delicious poblano pepper appeared from my Magic Pepper Drawer. These are delicious and also very resilient peppers. A Magic Pepper Drawer can hold on to the for a very long time.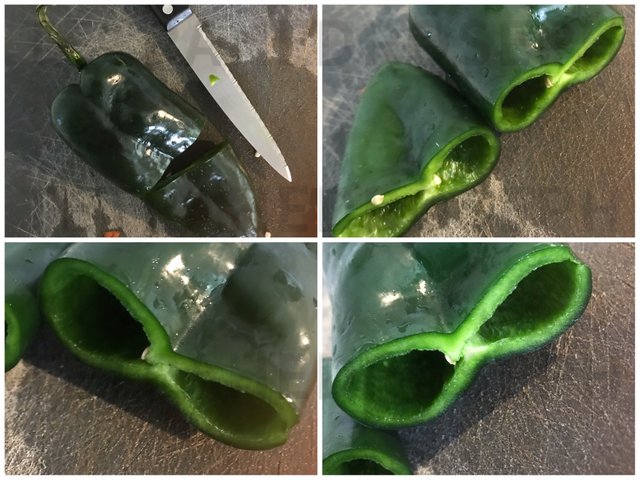 I'm not sure if... sh!t, who am i kidding?!
I'm just gonna add a few small pieces to the eggs. They will add a better crunch and hide any eggs shells that I might have missed... I didn't though.
7️⃣ Seventh! Jiggle it!
Seriously, jiggle the pan. How much to the yokes move?
Don't flip it.
It's ready, right? Turn the heat up a little if you want. Don't flip it. You covered it and this will cook the yoke just perfectly.
8️⃣ Eight, serve it up with arugula and a big raw slice of the red pepper.

YUM!
Red pepper is really good for us. It was once called a "supper food." (I would rather have an avocado.) I'm gonna take a look here:
https://www.chatelaine.com/health/healthy-recipes-health/five-health-benefits-of-red-peppers/

🍳🥚This was a 4 egg recipe. In my opinion, that serves two. 🥚🍳
Finally, give it all to the cat.
Go to KFC for a Donut Chicken Sandwich.

The End.
---
Oh, no wait. The extra stuff?!
I almost for got to tell you what I did the extra pieces of peppers.
After adding the first handful to the raw eggs, I added other handful after it was cooked more. This was not all of it. I also found a poblano in the Magic pepper drawer. It was all amazing, but what did I do with the rest...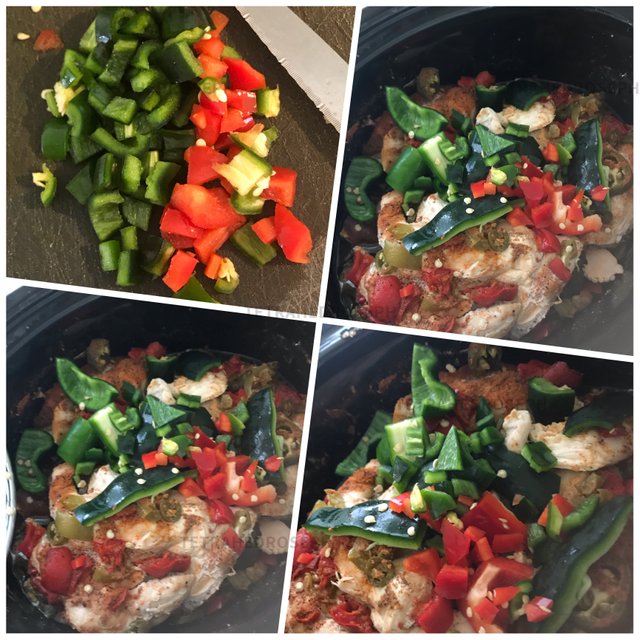 That is chicken.
I added the extra pepper to a crockpot full of someone's pre-made spicy peppers, chicken, and potatoes! It's been marinated with a chili type of spice. It's delicious and I added the rest of my peppers to give it another boost.
---
Thanks for reading and thanks for the support also. I hope you are giggling as you get hungrier reading this.

THANKS FOR FIGHTING FOR STEEM!!!
Other cool food stuff on Steem:
That community is fresh and ready for a spicy lambo. Get you peck... peppers out and show the PepperHead community how to really make an omelet.
Use the tag "foodie" and see if you can get a lambo or see if this is just click bait.
Show them some love.