Last year, my friend invited me over for lunch at her house after exercise class and she served me a salmon burger. I have been hooked ever since and keep these salmon patties on hand for a healthy quick meal loaded in protein and omega 3's.
You can serve them with slices of tomato, lettuce, avocado along with a variety of side dishes.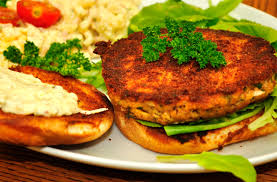 It is a part of the keto and paleo diet also which seem to be on the rise for those lowering their carb intake.
Most of all it is delicious and keep you full and energized for the rest of the day!