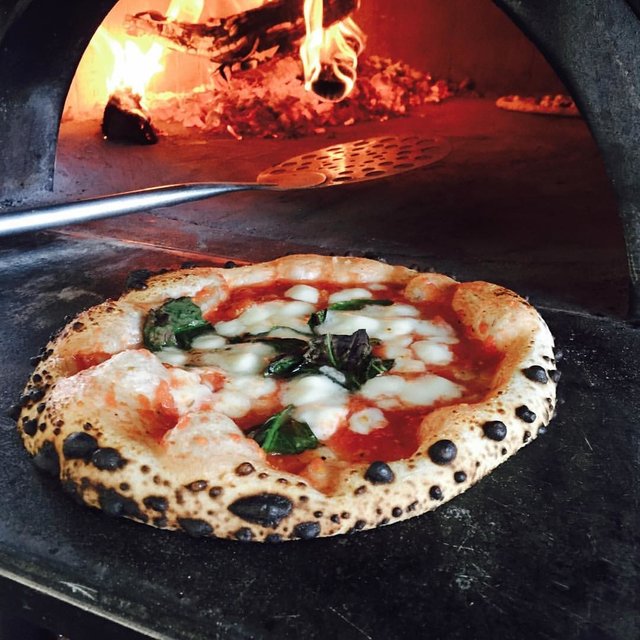 Yesterday morning started with a hike and ended with a belly full of pizza. 
After burning my fair share of calories hiking Quarryhill Botanical Garden, the largest Asian plant sanctuary in the US, I found myself craving authentic Neapolitan pizza and that meant one thing: a road trip to Vignette Pizzeria in Sebastopol, about 30 minutes west of Quarryhill.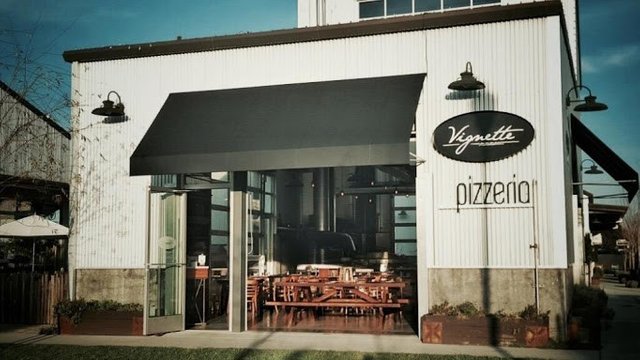 Vignette Pizzeria is located in the Barlow, an "outdoor market district" that comprises boutiques, breweries, wine tasting rooms, and restaurants. It's a former applesauce cannery. 
Arriving at Vignette Pizzeria
Vignette Pizzeria is just that - a pizzeria. It's located in the Barlow, a self-described "outdoor market district" that on the site of a former applesauce cannery (apples are grown in Sebastopol). It's chock full of brewpubs, wine tasting rooms, art galleries, boutiques and restaurants. 
Vignette is located in the heart of the property, with ample parking nearby. It's next to a greenspace, where parents sip coffee watching their kids play tag. 
I arrived at 1:30 PM and was seated a two top table. Usually when I'm there, the weather is warm and the windows and industrial doors are open, like the above photograph. On this day, the doors and windows were closed due to the chilly weather, creating a warm and cozy experience in the restaurant, despite its industrial design look.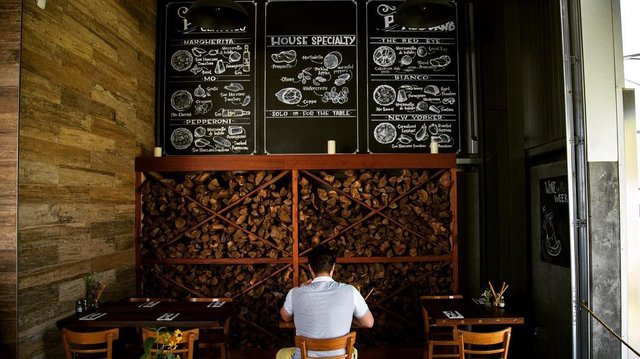 A giant chalkboard features illustrations of the house favorites. The wood lining the wall is used for the wood-fired oven.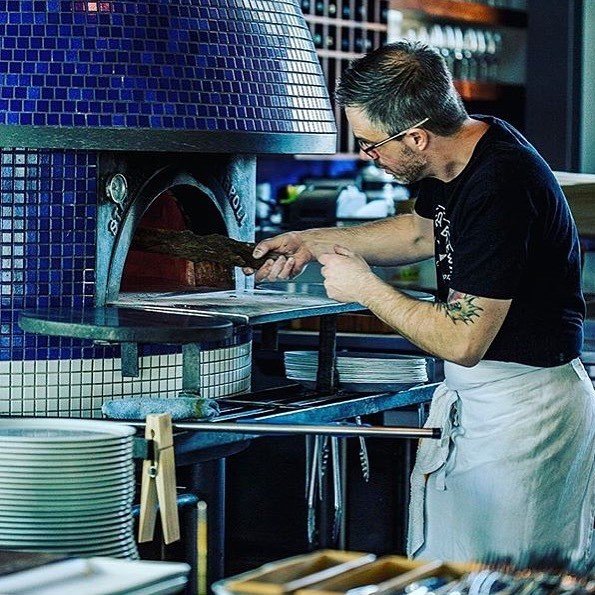 Pizzaiolo and owner Mark Hopper feeding his Italian oven wood. It will heat up to 850-900 degrees.
The philosophy at Vignette Pizzeria
Vignette is a labor of love by pizzaiolo (a person who makes pizza) and proprietor Mark Hopper. In his 30 years of working in the restaurant industry, Hopper was hired, fired and hired again by famed chef Thomas Keller - a rare accolade for anyone familiar with chef Keller's work ethic.
Like so many of us, Hopper's favorite food growing up was pizza. As a child, he enjoyed the pizza pies made by his Italian grandparents, who made pizza, fresh pasta, and served wine in their vast garden.
"I learned the beauty of repetition from Chef Thomas Keller doing the same task over and over always looking to improve and evolve; always respecting the product and its history. I found that beauty and love in making pizza .The rich history energizes me and the challenge of all the daily nuances humbles me. Using my hands, while reflecting on my grandfather's focus on the working of his craft in his day, with my heart I chase the vision of pizza perfection." - Mark Hopper
All of his food, minus salads, cheese and charcuterie, are prepared in a wood-fired oven imported from Naples, Italy. It's beautiful, covered in dark blue tiles.
But, don't let it's beauty fool you - it is no gentle creator of delicious things.
The oven heats to 850-900 degrees to cook Hopper's 12" pizzas and accompanying seasonal sides, which thankfully on my trip included Brussels sprouts.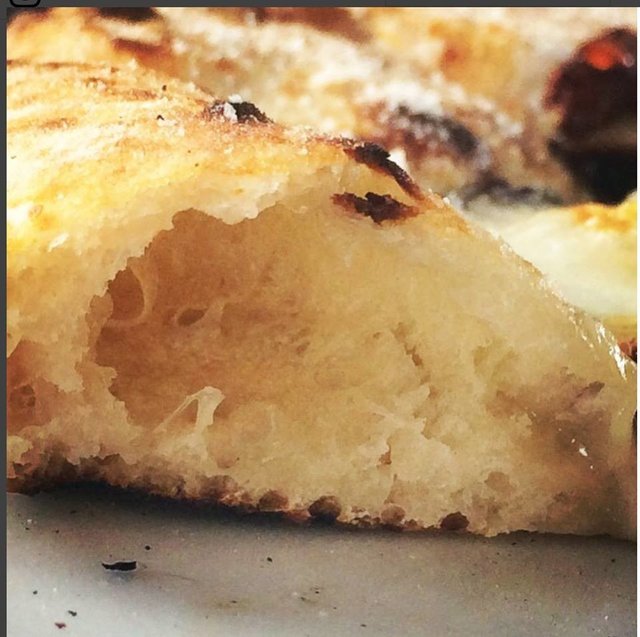 Hopper's Neapolitan pizza crust is made in the purest way, as it should be: organic flour, water, and salt.
The menu at Vignette Pizzeria
As you guessed, Vignette specializes in Neapolitan-style pizza. According to one of my favorite food writers, J. Kenji Lopez-Alt, it is the "simplist form of pizza." It was the first pizza - the original, created in Naples centures ago, it is such a vital component to Italian food culture that Neapolitan pizza is listed on UNESCO's list of intangible cultural heritage. 
In keeping with Neapolitan tradition, Hopper's dough comprises the simplest of ingredients: organic flour, water and salt. (Yes, for our vegan friends, it is indeed vegan!) Hopper uses a special type of "00" flour, which is high-protein and extra fine. The flour makes it crispy on the outside and fluffy and soft on the inside.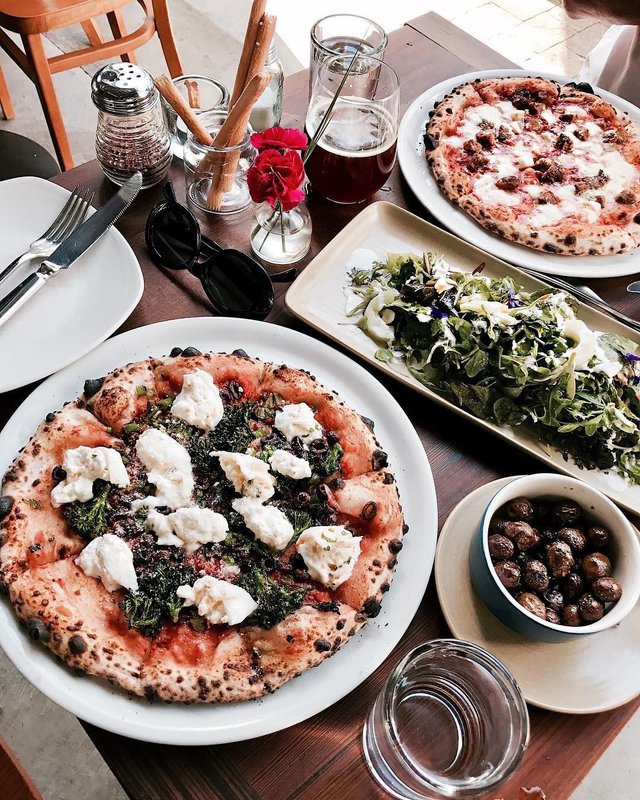 The Meatball (top) and Burrata & Broccoli (bottom) pizzas served with a market salad. Housemade breadsticks are offered, complementary, to nibble on while waiting for your food.
Vignette's specialities include classics and Hopper's own creations. Pizzas include a classic Margherita, a meatball pizza, and the vegan Mo, which is simply San Marzano tomatoes, garlic, oregon and extra virgin olive oil. Hopper's modern pizzas include the Red Eye (buffalo mozzarella, a farm egg, charred mortadella, and calabrian chili pesto) and Burrata & Broccoli (San Marzano tomatoes, olives, broccoli, burrata and chili oil).
Starters and sides include olives, lemon-rosemary bread, almonds, seasonal salads, and garlic with butter & herbs - all simple dishes. Hopper also offers a daily, oven-roasted seasonal veggie dish.
You can also order local beer and wine, many of which are made by wineries that have tasting rooms nearby in the Barlow.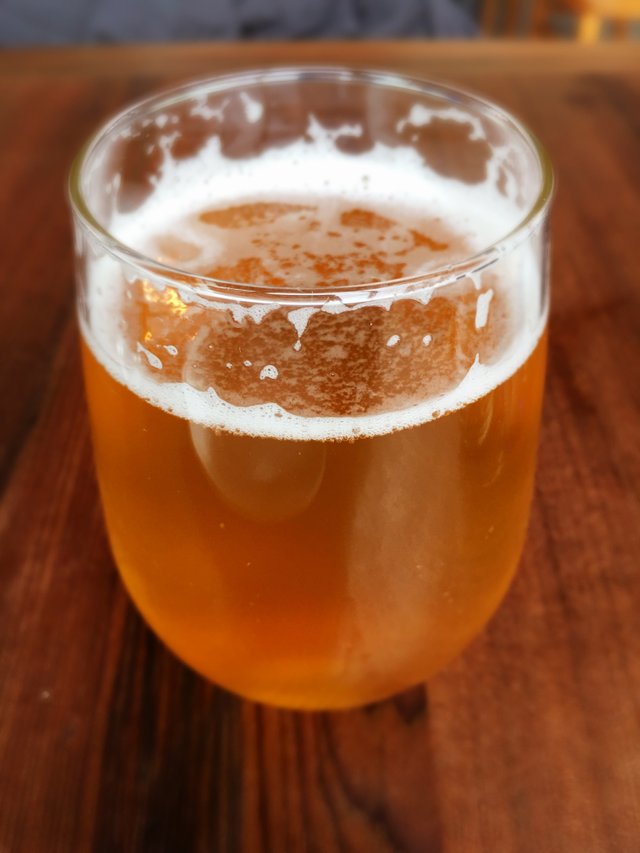 Time to eat (and drink) at Vignette
I wanted a nice, cold beer after hiking at Quarryhill. However, Vignette is not a go-to spot for beer enthusiasts - they only carry two ever-changing, albeit local, beers on tap and one beer by the bottle, the latter being Italy's answer to Budweiser, Peroni.
Today's beers were Bear Republic's Racer 5 IPA and HenHouse Brewing Company's Saison. I'm not an IPA fan and the saison made me nervous. A lot of local breweries like to make really strong, super fruity, smelly saisons. I expressed my concern to my server and she brought me a sample - it was really delicious! It reminded me of a crisp, refreshing Belgian-style ale like La Chouffe - at almost half the ABV (5.5%).
To complement my beer, I ordered the Margherita pizza - the mother of all pizzas - which is simply San Marzano tomatoes, buffalo mozzarella and basil. I added a farm egg on top I also ordered the day's seasonal veggie: oven-roasted Brussels sprouts with chili oil.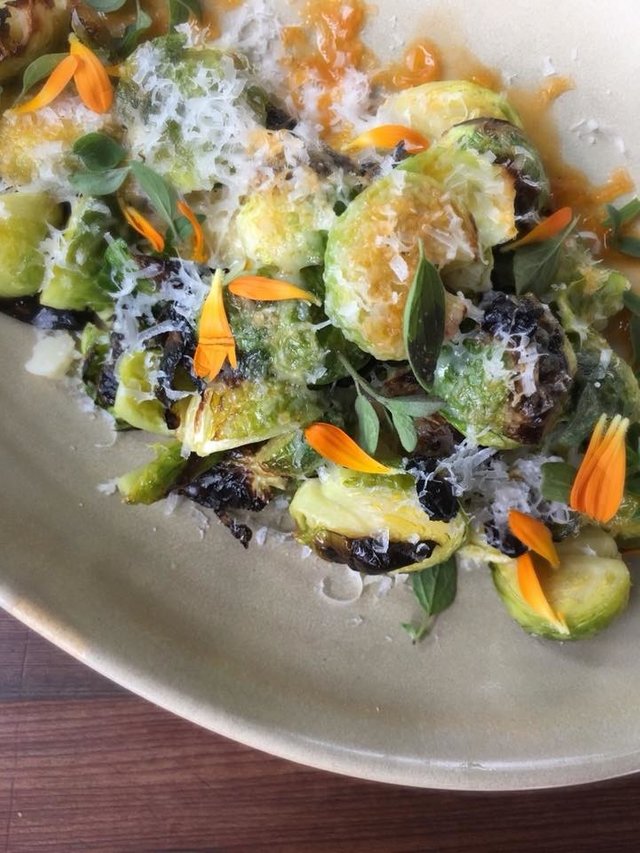 The beautifully presented Brussels sprouts arrived within moments from the nearby pizza oven (within a stones throw from my table). Touches of char graced select sprouts, which were halved. Freshly shaved cheese and flaked sea salt garnished the sprouts, alongside edible orange flowers, which added a peppery flavor to the dish. A touch of chili oil was drizzled on top, which wasn't as spicy as I expected - more savory.
Overall, the dish was not only one of the prettiest preparations of sprouts I've ever seen, it was delightful. A nice, delicate, savory plate that was refreshing in a world where sprouts are primarily served with bacon.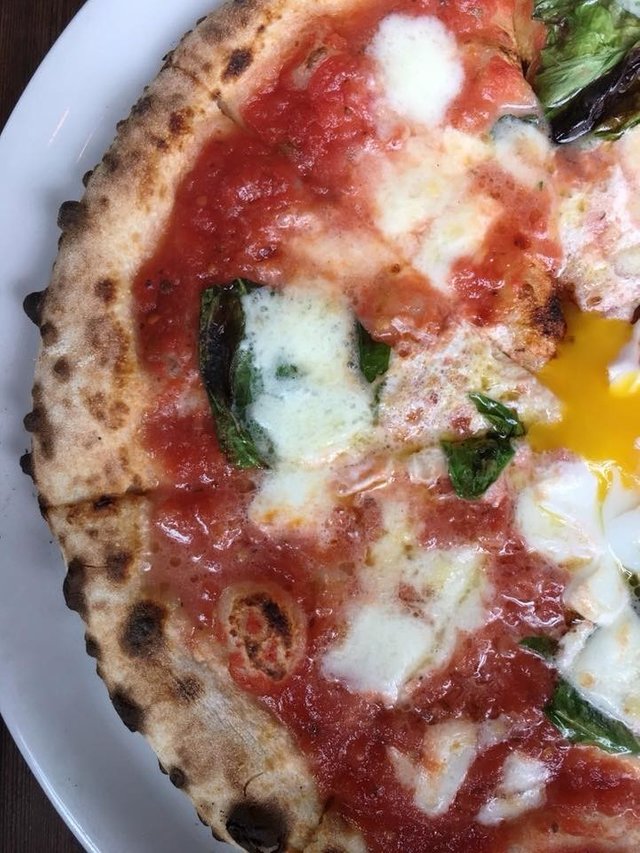 Next arrived my beloved Margherita pizza with an egg on it.
The edges of the crust were charred to prefection and the egg was perfectly cooked. An egg on pizza is a challenge, as it must be added onto the pizza in the very last second of cooking due to fear of overcooking the egg. I have literally had pizza's come out with hard boiled eggs on top. Not this pizza, thankfully.
The crust, sauce, cheese and egg were just delicious together - a perfect homage to Hopper's "mi familia."
For the record, I did, in fact, eat the entire pizza. I took half the sprouts home. I'm serious about my pizza. Here is a photograph I took in the summer, when I made the trip to Vignette, to which I captioned "don't judge me" on Instagram.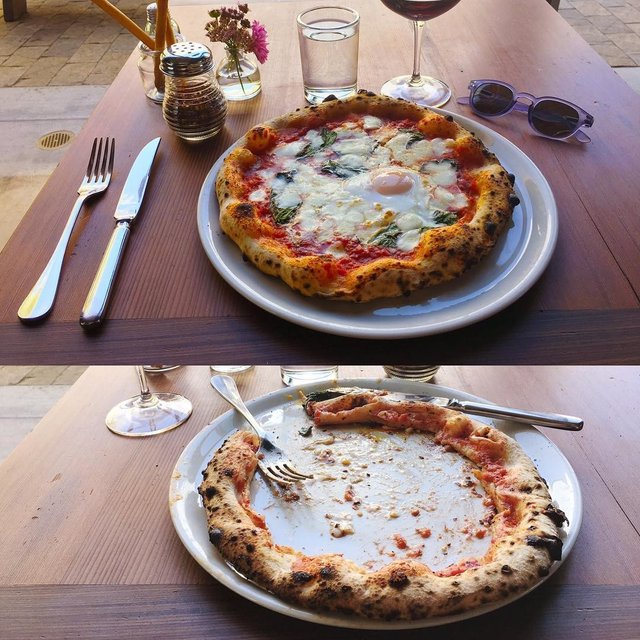 You may notice I do not eat my crust. For me, crust is a perfect vehicle for delivering pizza into my mouth. It also fills me up, and there is no way I'm going to waste all the delicious toppings in the middle!
Final thoughts about Vignette Pizzeria
I slowly worked through the rest of my beer after enjoyably devouring my pizza. I was ready to make the trek back to Sonoma, but not without a stroll around the Barlow to burn, at least, one or two calories, if I was lucky.
Vignette is a cool, hip pizza place that holds tradition on high. However, Hopper doesn't fear experimenting with fresh veggies and pretty presentations. I'll be returning time and time again to get my pizza fix.
Take note
Vignette Pizzeria is family friendly and dogs are allowed on their small patio. It's also ADA accessible.
Take action - visit Vignette Pizzeria! 
Stop by Vignette Pizzeria when you're visiting West Sonoma County. It's a great pit stop when wandering the wineries and breweries of the Sebastopol area. Relax with friends over a pizza (or two) and a drink, and wander the Barlow, checking out the many boutiques and tasting rooms.
Vignette Pizzeria is open Thursday-Monday for lunch and dinner. They are located at the Barlow, 6750 McKinley Street, Sebastopol CA 95472. Call (707) 861-3897 or visitvignettepizzeria.com/for more information.
About Sarah
Sarah Stierch is a journalist and photographer based in Sonoma, California in the United States. She primarily works in the realms of wine, travel, food and culture. Her work can be discovered in Wine Enthusiast, Sonoma Magazine, Smithsonian Magazine, KQED, Motorburn, The Huffington Post, North Bay Biz, North Bay Woman, the Bohemian, The Press Democrat, Sonoma Index-Tribune, and more. She's a former fellow at the Wikimedia Foundation, Smithsonian Institution, and Berkeley Center for New Media.
Photo credit
1. Pizza and oven - Courtesy of Vignette Pizzeria
2. Vignette Pizzeria - Courtesy of Zagat
3. Chalkboard and patron - @mrdanielparker via Instgram
4. Mark Hopper with oven - Courtesy of Vignette Pizzeria
5. Pizza crust - Courtesy of Vignette Pizzeria 
6. Pizzas and salad - @daisysfashiongarden via Instagram
All remaining photographs by myself.
!steemitworldmap 38.404101 lat -122.820185 long d3scr